Genocidal Violence: The Japanese Military Comfort System and Our Futile Indignation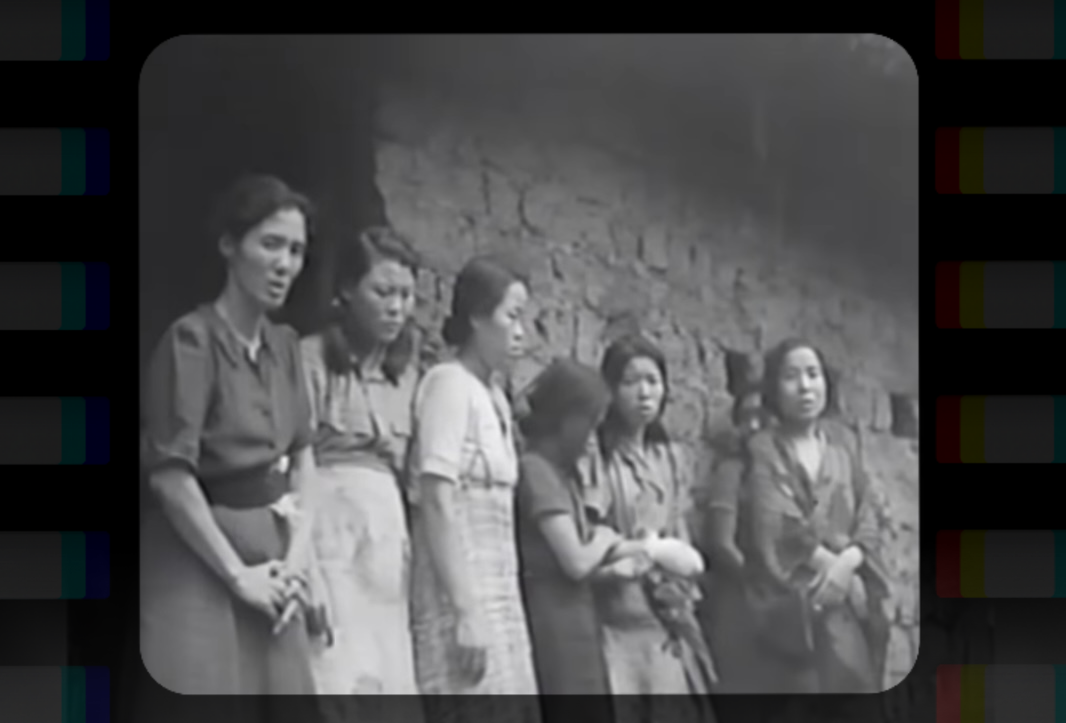 Image credits: Screenshot of The Washington Post's video of comfort women footage taken and edited by Ashley Leung.
Image Description: Six Asian women line up against a wall. Three women are looking at the camera with apprehensive expressions, and three are looking away. The photo is blurry and in black and white.
Trigger Warning: Discussion of sexual assault, human trafficking, and war.
The ongoing politics of genocidal violence is not only shaped by historically significant and atrocious occurrences but also shaped by our responses to such events, including memorializations, archival work, and revival movements. Do our seemingly remedial documentations and publications of such violence, which place victimized bodies at the forefront, contribute to any preexisting harmful depictions that further bind the victims? To answer this question for any instance of historical violence, we must carefully consider how we archive history, how we label bodies that were silenced by oppression and death, and how we address painful history without inflicting more pain on victims.
The fifth annual Racial Violence Hub workshop series titled "Feminist Approaches to Theorizing Genocidal Violence, Wars and Occupations" grapples with such dilemmas. The Racial Violence Hub is a virtual research and teaching network founded by Sherene Razack, Distinguished Professor of gender studies, and Penney Kanner, Endowed Chair in Women's Studies at UCLA. The series consists of six sessions from November to April that feature feminist scholars who collaboratively present their works related to the topic. 
According to Razack, "The theme emerged because we wanted to think collectively of the continuous sexualized targeting and killing of Indigenous women, the disposability of populations through wars and occupations, institutionalized anti-Blackness resulting in police killings, the prison industrial complex, and an unrelenting assault on a number of communities." The series attempts to answer several questions: How does the framing of genocide make visible and how does it obscure? How can writers write about such violence without spectacularizing it and inflicting further pain and suffering?
On Oct. 19, 2021, Laura Hyun Yi Kang, professor of gender and sexuality studies at the University of California, Irvine, gave a lecture on her book Traffic in Asian Women, published in 2020. This started off the series and a Transnational Feminist Series of UCLA's Department of Gender Studies. The book focuses on the Japanese military comfort system during World War II and the international response to it, using the figure of "Asian women" to analyze the "emergence, decline, and permutation of U.S. power/knowledge at the nexus of capitalism, state power, global governance, and knowledge production throughout the twentieth century."
The Japanese military comfort system is the "largest case of government-sponsored human trafficking and sexual slavery in modern history," according to an issue in Education About Asia. From 1932 to 1945, an estimated 200,000 women as young as 12 years old were forced into sexual slavery to serve Japanese soldiers. Many of the women came from Korea and China, but there were also women from Japan, Malaysia, Indonesia, Vietnam, Thailand, East Timor, the Philippines, and the Dutch East Indies, including European women in Japanese-occupied territories. Beginning in the 1980s, feminists in South Korea and Japan started politicizing the issue and forming the redress movement that educated the public and demanded the Japanese government to officially apologize and provide compensation. Despite numerous lawsuits filed by the dwindling number of survivors, to this day the Japanese government has failed to formally and adequately address the issue. This also reflects the failures of foreign governments to hold the Japanese government accountable, including the South Korean government, which recently dismissed compensatory claims against the Japanese government.
Focusing on the redress movement of comfort women is especially important considering it contributed to international campaigns that codified crimes like wartime rape, sexual slavery, forced prostitution, and violence against women, explained Kang. The movement helped shape the categorization and reassessment of human rights violations, which needed proper certification, documentation, and adjudication.
In the lecture, Kang summarized each section of her book as well as presented some archival records and international redress of comfort women. The book starts off with a story of how Asian comfort women emerged as a spectacular case of female injury and transnational justice in the late 1900s. The first chapter casts doubt on the visibility and justice (or rather, visibility as justice) the redress movement brings, proposing that Asian women are instead a more intractable and vexing puzzle. The second chapter analyzes three prominent categories of gendered abuse: traffic in women, sexual slavery, and violence against women. The last chapter examines three demands for and modes of redress: disclosure of truth, monetary compensation, and lasting memorialization.
Kang explained that by analyzing "categorical violence," she reveals the contradictory definitions of absolute, unqualified violence (like "genocide") and the limitations of our current system of classifying categories of violence. One question that Kang continues to ponder is how the terms and conditions of the institutional categories of violence have predetermined and constrained the ways we articulate, remedy, and redress violence. The definition of "genocide" can potentially bind victims, Kang argued in response to some scholars that have labeled the comfort system as genocidal because it left thousands of young women infertile. The emphasis on infertility actually constrains victims to "biological and generational reproduction and reinvests in their value as young, fertile women."
The U.S. state and military were invested and liable agents in the documentation and ignorance of Japan's violent conscription, Kang pointed out. This lack of will to recognize and problematize the Japanese military comfort system persists in the U.S.' response to its own wartime rapes and institutionalized coordination of prostitution.
Many traces of comfort women are found in memoirs and records of WWII veterans, including Nisei (second generation Japanese American) and Korean American veterans. These records were later discovered in the U.S. military archives. It has been overlooked that most interviews of comfort women were conducted and reported on by Nisei soldiers, said Kang. This ties back to the disregard for Asian American — especially Japanese American — efforts in WWII, a time when they were treated as second-class citizens by the U.S.
In her book, Kang suggests that readers focus on more mundane bureaucratic modes by which Asian women have been erased or made insignificant, illegible, and incoherent. For example, the current U.S. National Archives (NARA) still identifies the comfort women in a photograph as "Japanese prisoners," with the photograph found under the category "American military activities." The "Japanese prisoners" label erases the women's true identities as Korean, Chinese, etc. This is a visible record of not only the Japanese military comfort system but also the U.S. imperialist military activities abroad, said Kang.
At the end of the lecture, Kang showed the audience a short clip of the only known footage of comfort women. The women's fearful mannerisms when exposed to the camera reveals the disturbing nature of not just their situation but also the documentation of their situation. 
Kang concludes the lecture with a critical question: "If the camera is a weapon, how might we review these U.S. Signal Corps photographs and their self-referential, indifferent archiving as both the mode and record of U.S. imperialist racial violence?"
Therefore, when we turn the camera back to the photographers and our gaze back to the archivers and reporters, we may find that attempts to remedy the silence of victims are actually stifling them. How then, should we address historical violence without inflicting more pain? How should we give victims a voice without further binding them to our voice, our rigid categories and definitions, and our misunderstandings?
This series will continue to attempt at answering these questions, if there is an answer at all.