India Gears up for Genocide With New Defense Provisions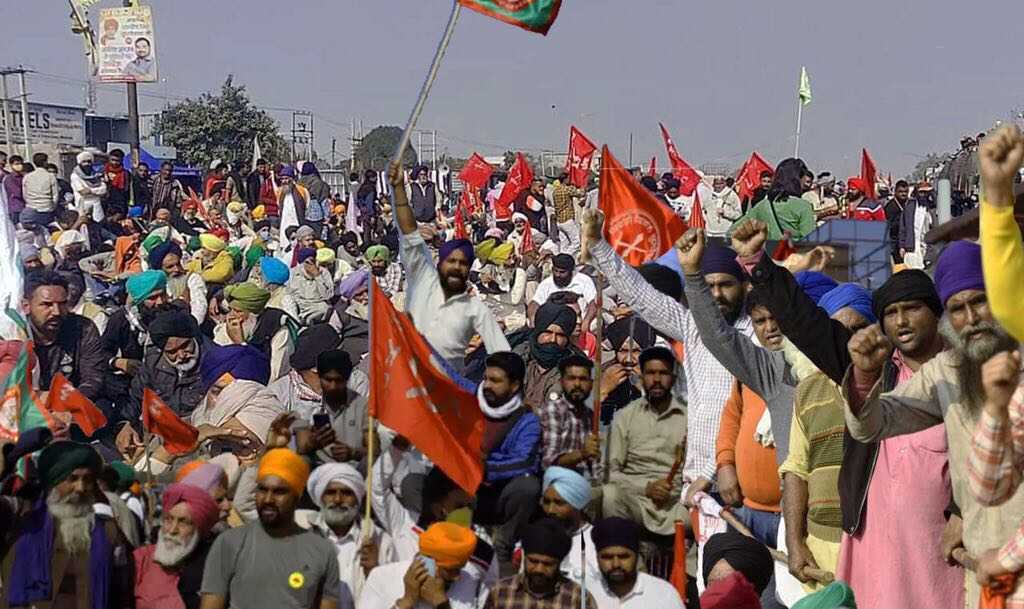 Design by Shannon Boland
[
Image Description: Layered photos of Sikh farmers protesting while waving the flag of AIKMS, All India Kisan Mazdoor Sabha.
]
This article serves as a follow-up on the previous insight into India's farmer's protest situation. Please click here for more contextual information on why the protest is occurring.
The farmers' plan on January 26th, 2021 –– India's Republic Day –– was to protest on a pre-decided route that the police were aware of and government officials had agreed upon. Farmers left in Punjab, and others nearby prepped their tractors to participate in the Tractor Rally as a show of solidarity to join the ones already in Delhi. The rows of tractors, people, and cars seemed never-ending. In the cold and foggy morning, the Sikh community sparked the farmers' courage and resilience through prayer. The farmers held their heads high, knowing today was a battle they must win in the long war.
Protesting farmers dealt with barricades along the route, despite having gotten permission for the protest from the police. A show of peaceful rebellion became violent when the police started to throw teargas at the farmers. As barricades were broken, the police and army charged at farmers with sticks and weaponry. While patients were tended for, the violence perpetrated by the military continued on those injured as well.
The most important event on January 26th –– and possibly that one that stirred further resistance from the Indian government –– was the Sikh community (the largest religious group among protesters) taking down the smaller Indian flag at the famous Red Fort. They then replaced it with the Sikh flag as a show of power and resistance against the tyranny and eradication of Sikh lives and culture their community has endured.
Despite all violence and propaganda used to vilify Sikhs, what's most concerning is India's current defense updates on national security.
As a pseudo-ally (only aligning themselves when it benefits them) of the United States, on January 28th, India partnered with Russia to acquire missiles. They shifted their interests as Biden's presidency took over and Trump's reign ended. However, in some ways, India remains a US Proxy as Ladakh border tension (long-standing feud over a border with India and China) with China increases.
As India builds infrastructure at the Ladakh border, China opposes. A back and forth game seems to continue between both nations as the other blames the other for who shot bullets and who didn't. On January 20th, both parties on the sides of the border fought with "sticks and clubs, not guns [, which lead to the] first fatal confrontation between [China and India] since 1975." Since then, both India and China have sent more troops to the border for reinforcement.
The missiles acquired by India was the S-400, which has a range of "several hundred kilometers and is capable of shooting down ballistic missiles." Although the weapon is designated for China-India border relations, India's reliance on Russia as a weapons supplier can not be ignored, especially with the growing tension inside the country with the farmers' protests.
As tension increases at the Ladakh border, India's investment in weapons doesn't seem ordinary since it has resulted in India's politicians increasing the defense budget. The new defense budget is stated to be the "highest-ever increase in capital outlay for defense in the last 15 years" according to Indian Defence Minister Rajnath Singh. Furthermore, the army — part of which is stationed at protest sites and is setting up barricades — has received "$4.9 billion in capital expenditure, which is an increase of 8.17 percent from the previous year's $4.53 billion."
This intelligence seems to convey that the purpose of India's defense budget increase is to protect the country's national security and forces. However, just like the constitution of India itself –– it's a sham. India has a history of deceiving the public of its actual military budget. The country broadcasts its:
"'transparent' military expenditures on websites. But the real expenditure in past years has been much greater than that exhibited on websites. In the past, India unnoticeably increased its military outlays in revised and then actual estimates. Thus the actual military expenditure is much higher than the initial estimates, quoted in international media under a hypnotic spell."
Although the Ministry of Defence (MoD) claims that the budget does not allow for any major weapons purchases from the United States and all extra money is allocated to cover previous orders of ammunition, guns, and T-90 tanks, the mystery remains whether India's MoD has the world fooled. India could be preparing to load up by supplying its army and police with more weapons and money than in the last 15 years to be used against the nation's growing civil unrest.
With India's interests shifting, defense budget increase, and history of minority oppression through massacre and genocide, it seems evident that India has started to prepare plans for committing mass genocide against its farmers.
Indian celebrities leading the Bollywood industry have tweeted along similar lines, using genocidal rhetoric. On February 3rd, Kangana Ranaut, a right-wing aligning actress, used the phrase, "the cancer in the body of this nation we were looking for has been located, identified and now the process of eradication will start." Other celebrity tweets were similar, talking of amicable resolutions that hint at farmers succumbing to the unjust laws and keeping up with only right-wing propaganda as correct propaganda.
At the borders in India, where protestors are camping out near Delhi, the Indian government and police have started to heavily increase security and construction by "adding iron spikes, steel barricades and hundreds of riot police in an attempt to stop tens of thousands of demonstrating farmers." India seems far from willing to "stand united and join together" as many celebrities have claimed; instead, it appears to be devoting all of its resources, ones that could have solved the farmer's crisis in the first place, to go to war with its citizens. Many units of the Indian military have been called into active-duty to prepare for what seems like a bloody war.
The ten stages of genocide, as proposed by Gregory H. Stanton, the president of The Genocide Watch, in 2016, can be seen emulated in current developments of the farmer's protest. As paraphrased from the graphic published by Gurpartap Baidwan on Instagram, who believes that currently, the situation is on stage 8:
Classification: The Indian government has created the narrative of US vs. THEM
Symbolization: The Indian government has labeled farmers as "antinationalists" and "terrorists."
Discrimination: Laws, customs, and political power have been used to deny farmers their rights.
Dehumanization: The laws, right to protest, and ability to speak up are dehumanized and not met rationally.
Organization: Every genocide is organized. Police and military agents are posted at every camp and protest site. RSS agents are embedded within the camps and are given free rein to do whatever they please to uphold the narrative against farmers.
Polarization: Indian media has been using propaganda to continue to divide the nation.
Preparation: Indian officials have shut down wifi, communication channels, water supply, arrested journalists at protest sites. They have also enlisted more military personnel to be stationed at protest sites.
Persecution: Victims are separated and targeted based on their identity. In the recent protests and marches, specifically Sikh farmers (which are more noticeable due to their articles of faith) are attacked and hurt violently. Protest leaders like Deep Sidhu, Nodeep Kaur, Disha Ravi have been arrested. Several farmers have gone conveniently missing or have shown up dead.
Extermination: This stage hasn't occurred yet. However, it would consist of mass inhumane killings and rapes of primarily Sikh women, men, and children, along with other Kisaans (farmers).
Denial: The Indian government has a history of denying all its genocides: the Sikh Genocide of 1984 and the Muslim Genocide of 2002. They have participated in getting rid of evidence and denying involvement.
India is approaching the ninth stage of genocide urgently: extermination. The government seems content with being at war with its citizens as opposed to meditating with them. Those abroad must recognize the situation and do their best to raise awareness. India is a nation whose method of reducing force has only historically come from global pressure and attention. It's time people's voice works on coalition building and allyship so that India does not fulfill its nazi-based agenda.
India's resources, especially its military, are divided between Ladakh and Delhi, which may mean that other factions can target India easily, unleashing more violence and complete disarray in the nation. The United States must be very vigilant with the situation because not only will trading with India be affected for several years (which will, in turn, affect the American economy heavily), but also the social kickback will be very severe; we have already seen a considerable spike in hate crimes against Asian Americans this year, and if the situation isn't handled in India or the US, we will likely see an increase in brutal hate crimes, targeted mass shootings, and further riots and protests that will ––
(1) give inspiration to violent factions, like Proud Boys, to rise and perpetuate harm and
(2) be led by the Sikh community abroad (who is gaining momentum from politicians and celebrities)
(3) lead to further civil unrest and an increase in hate crimes (of minority oppression and pressurized action for the White House to take).
Protests in the US have continued since December to call governmental action or intervention toward India. Protestors have gained momentum through global recognition of the situation via celebrities and media outlets, such as American ones like CNN, on the ground in one of the protest sites. (This may bring up a potential issue –– as the Indian government tries to limit reporting from journalists and control the narrative, American journalists/celebrities may be vulnerable to violence and jailing as seen with other journalists).
For over 30 years since the passing of the Sikh Genocide of 1984, widows, grieving daughters, scarred men, and children have beaten their chests about how the Indian government covered up their crimes and continues to let perpetrators roam free –– their screams dusting to silence to the adapted ear. Now, in 2021, the world will hear their screams again soon, but this time, when the world gives them their ear and decides to believe them, they might just be too late.
To keep up with the farmer's protest, visit baaznews.org for accurate reporting and analysis.