Kit to Make a Perfect You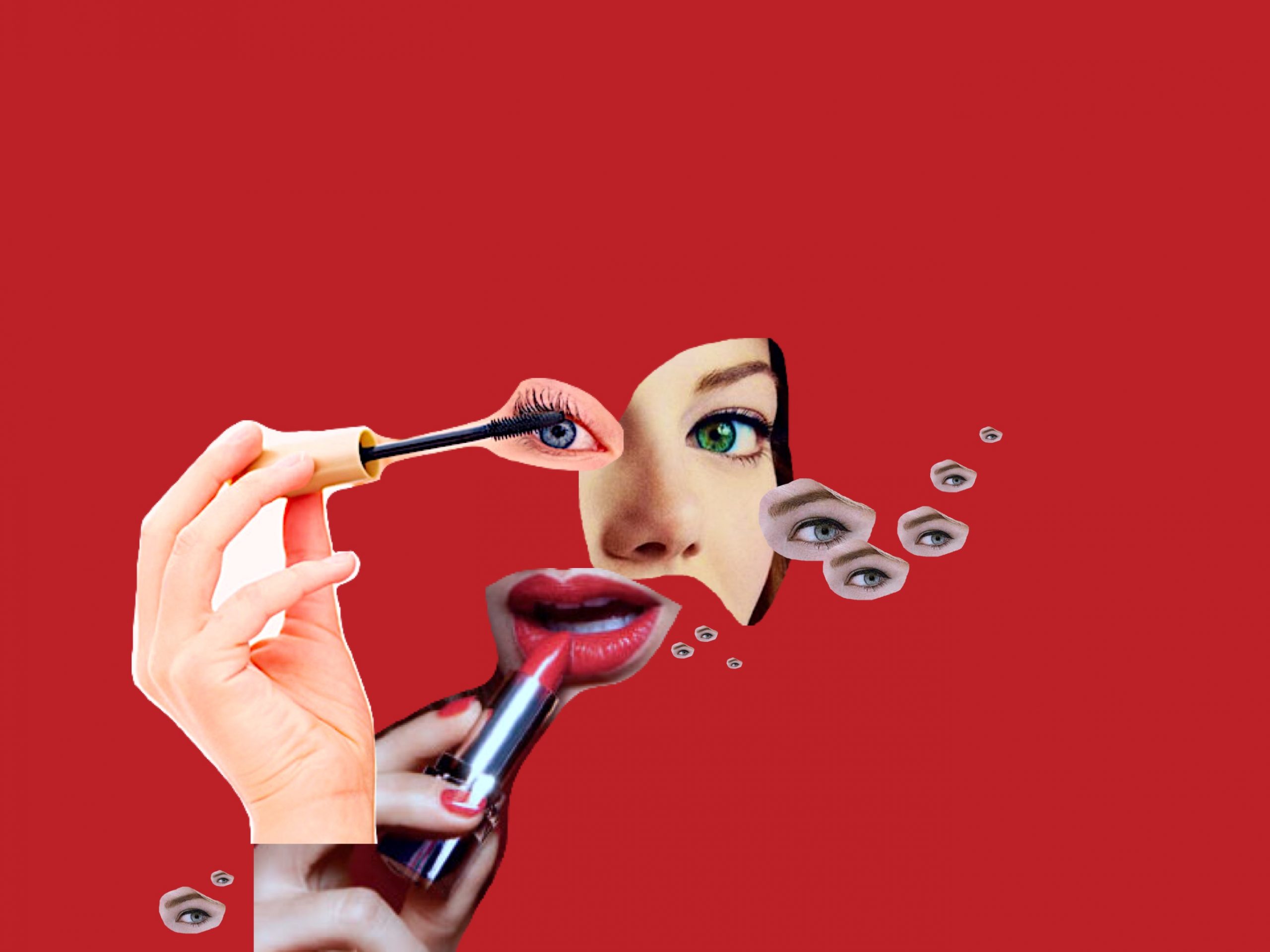 Image description: A collage of magazine clippings of makeup being applied layered over a red background.
YOU* are gorgeous. YOU are lovely. We know that YOU are not like other girls. YOUR life is set to upbeat music, footage of wick-thin white women dancing or riding red bicycles down the streets of sun-drenched Paris. YOU lure men in with the power of your gaze, staring sultry at the camera at a constant three-quarters angle. YOU wake up every morning to silky sunlight and slow-mo splash that face with dew. Rejuvenation. Purity. Natural beauty. 
In this pursuit for beauty, we here at Made-Up technologies have engineered the perfect YOU. Plastic, pale, and monstrously pulchritudinous. This kit comes with all you need to become–
*Any resemblance to actual persons, living or dead, is unintentional and purely coincidental. Limits may apply. See Terms & Conditions for more information. Only available in the US, Europe, and Canada. Must spend $500 or more on our products to qualify.
–YOU.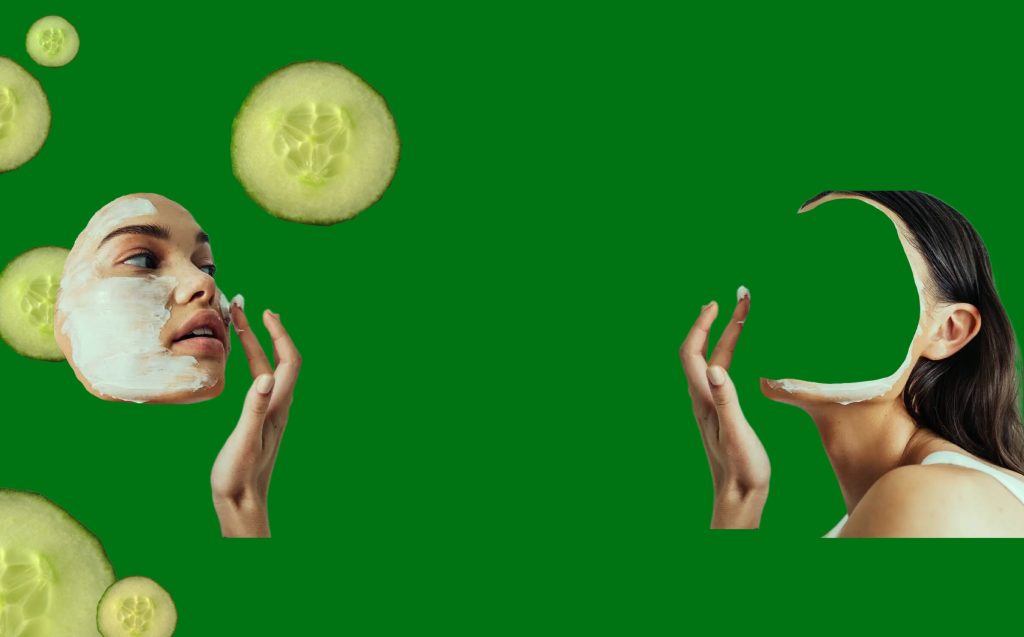 Skin & Skincare
Foundation

Beyond matching, this formula sucks into your skin and becomes one with it. Fresh, poreless, breathing, living; this lets the true YOU come through.
Comes in our all-inclusive shade range of whole milk all the way down to oat milk.
Face masks

Moisturize me! After our foundation has wreaked ample havoc on your skin, our masks will soothe and brighten, leaving cheeks plump and supple.
Directions:

Apply to face in a glossy layer.
Wait 10 minutes for your mask to harden.
Examine yourself in the mirror. There is an idea of you, you think, larva-like, chrysalis-child; bursting to hatch. You could unzip your skin tooth by tooth and step out of it, revealing a fresh you with wet wings; sizzling still beneath hot bathroom lights to dry, not minding how the time slips on tile floors wet with your rebirth; YOU are alive and breathing, a mask of ultrasound gel, cool to touch, but warming, warming, warming, warm–
Peel off the mask and revel in your new skin!
Makeup
Lip Plumper Injections Extreme

Remember like ten years ago when thin lips were all the rage, and people got bullied for having bigger lips? Haha, yeah. Anyway, with its special formula infused with bee toxins, our lip plumper delivers scientifically proven advanced volumizing techniques, giving your lips that luscious, irritated, paralyzed look. Mwwwwwah!
Mascara

Our new brush's gentle curves caress your lashes, enhancing your natural beauty by applying layers and layers of eye-wateringly supple pigment.
Because of its waterproof formula, this will never truly come off. No matter how hard you scrub, or how much you cry, you will never be rid of its influence.
Glitter-filled eyeshadow

Euphoria moment! With all those images of hypersexualized teenagers and romanticization of drug use, it can be hard to remember the real star of the show: the glitter. With non-biodegradable microplastics, the longevity of this product will render it a classic for centuries to come.
If glitter is a no-no for you, no worries! Mica is another shiny substitute for this product. Mined unsafely from deep within deforested land by underpaid miners and minors, YOU can sleep safe knowing that mica is naturally occurring.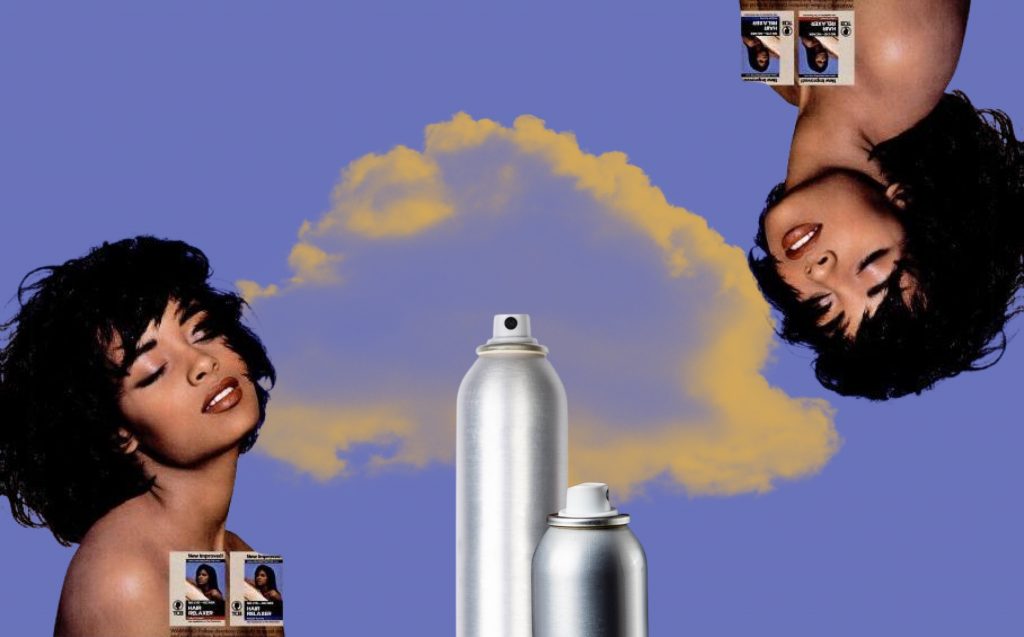 Hair Products
Hairspray

The ice caps may be temporary, but your 'do sure isn't! Keep your look on lock with our patented ozone-depleting spray. Our product will plaster your hair together like a low-poly, poorly rendered video game character for 72 hours, guaranteed.
If you are unsatisfied with the results, this spray also doubles as a can of Raid.
Hair relaxer

Set your hair free from harsh chemicals with our natural hair relaxer, equipped with plenty of parabens, phthalates, and various carcinogens to make your hair silky smooth.
Boss babe! As you feel the wind scrape through your straightened strands on your company vacation, know that any hair loss is definitely 100% for sure due to stress from shattering all those glass ceilings, not from our product. For sure.
Now go on. Treat yourself. You deserve it!