Kors, Hudson, and The World Food Program: What Does it Mean to be a Celebrity Ambassador?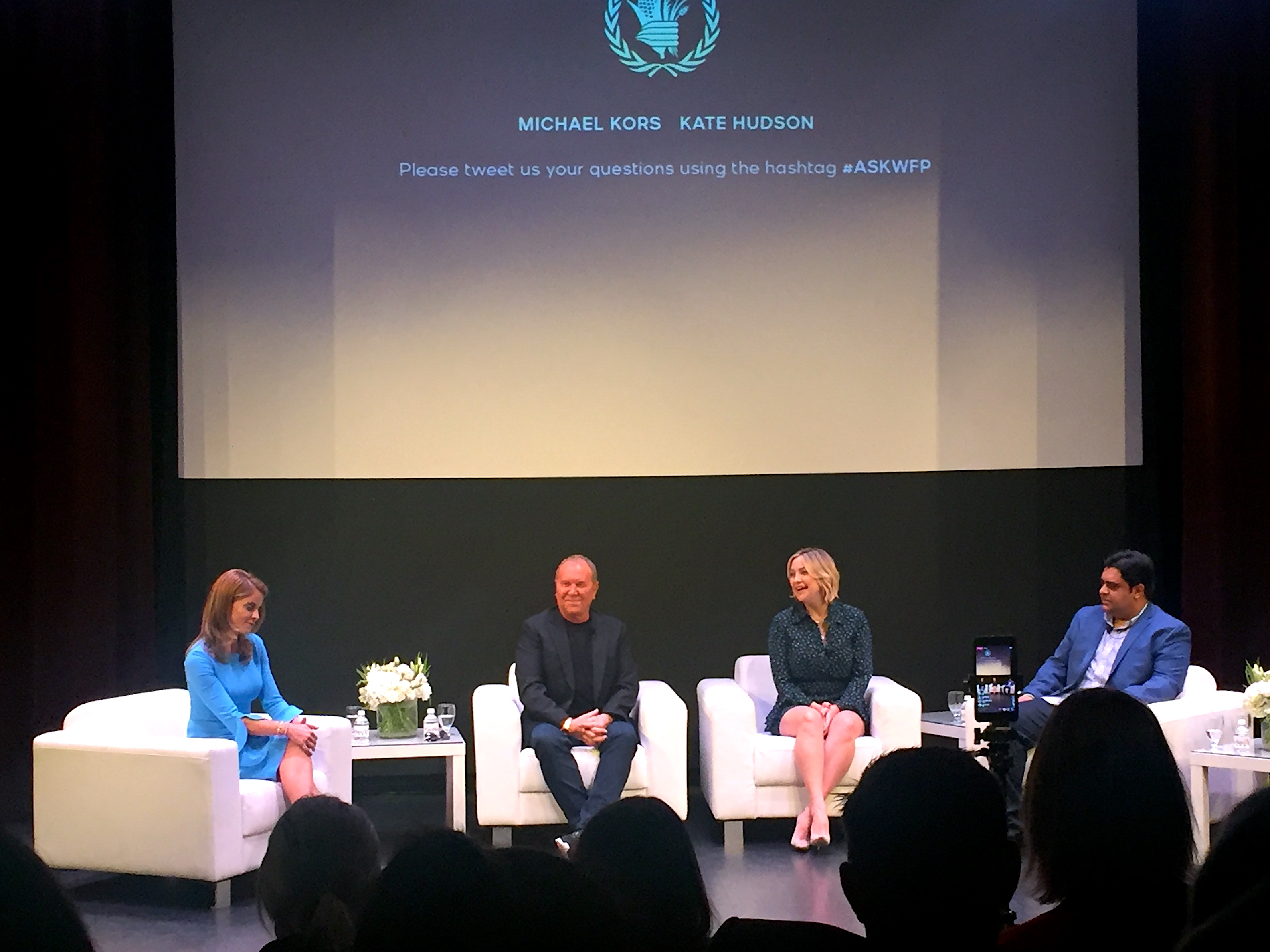 Photo by Deirdre Mitchell
The Campus Events Commission hosted an event called "A Conversation with Michael Kors, Kate Hudson, and The World Food Program" on Wednesday, Nov. 7, in the UCLA Northwest Campus Auditorium. This consisted of a moderated discussion between designer Michael Kors, actress Kate Hudson, and the United Nations Programme (WFP) representative Rehen Asad about their involvement and work with Ahad's organization to end world hunger. Both Kors and Hudson are ambassadors of the World Food Program and came to campus to raise the public's awareness of world hunger and encourage students to get involved.
The event was divided into two sections: the moderated conversation followed by a 15-minute question and answer section.
Kors originally became involved with WFP in 2013 by launching Watch Hunger Stop: a campaign to raise awareness and money for the WFP's School Meals programs. For every limited edition Kors' item sold, $25 goes to the WFP. He also promoted this program through his presence and influence on social media. Through his involvement, over 17 million meals have been delivered around the world and he was made a Global Ambassador.
Hudson became involved with the WFP when she joined Kors' Watch Hunger Stop campaign in 2015. Since then, she has gone to visit families, farmers, and schools in rural Cambodia who have been affected by this program. Now, as a Goodwill Ambassador for the WFP, Hudson will use her platform and influence to promote the WFP and their work as a way to gain support by her millions of followers.  
The conversation on Wednesday morning revolved around both Kors' and Hudson's involvement and contribution to the World Food Program and what it means to them to help solve world hunger. For Kors, this has been a personal cause since he lived in New York City during the AIDS epidemic in the 1980s. "No one knew what to do," he said, "People were overwhelmed and didn't know what to do to help." He recalled there being people hungry in the middle of the city, and it was something tangible that could be solved.  "Hunger is something we can solve together," he proceeded to say.
After Hudson's trip to Cambodia, she realized the importance and necessity of providing food to those who need it around the world. Her motivation for continuing this fight against hunger stems from her life as a mother. After having children of her own and then seeing Cambodian children grow up in a food-aware community, she recognized the severity and significance of this issue. She went on to describe how the development of children is dependent on nutrients and that children cannot be taught fundamentally in education  while hungry. "Their needs are simple," she said in reference to the people in Cambodia, "Food is vital."
With the event focused primarily on Hudson's and Kors' association with the World Food Program, it did not concentrate enough on what the program does to provide resources to countries around the globe. Representative Asad was nonetheless able to provide a brief insight into the organization and their work with countries, giving specific examples of providing money and groceries to families and teaching farmers about sustainable agriculture. By explaining that food is an incentive for students to go to school and bring it back to their families, he expanded on the school meal programs that Kors' products contribute to. He also discussed some factors contributing to world hunger including "human-induced conflict". With his knowledge, the audience was able to better understand the World Food Program's goal and how they were taking steps to accomplish it, but it was still too broad of an explanation to truly grasp their intent.
While both of their efforts to spread awareness of world hunger as ambassadors of this program are commendable, there were some issues with things said during this event. For instance, the idea that hunger is such a solvable problem was a constant theme throughout the conversation. Yes, hunger is something physical that seems like a simple solution, but it really is a global issue that affects over 800 million people each day and cannot just be fixed with a "mission" trip and donations. Additionally, the idea of the "mission" trip bordered the line of poverty tourism, a short trip to observe and research living conditions among an underdeveloped or poor community,  as it hyper-focused on the observed struggles of the Cambodian people. By calling life there "simple," Hudson displayed an ideology that western civilization is the only modern type of civilization, ignoring the idea that there are cultural differences. By concentrating on the problems being "solved" when speaking about foreign service trips, it teeters between the idea of being a white savior and performing charity.
During the Q&A portion of the event, the speakers were asked what students could do to get involved to help end world hunger. Kors responded by suggesting they buy one of his t-shirts, download the Share the Meal app, and donate money. Ahad said that students could volunteer at one of the 83 countries they supply food and resources to. While all of these are valid ways of specifically helping the World Food Program, they didn't speak about direct ways that students could go out and help end hunger in a more attainable approach. Within UCLA itself, let alone the city of Los Angeles, there are so many people who are food-insecure that students can help more immediately and tangibly. In fact, there are many students on campus, themselves, who are food-insecure and would benefit from a more feasible option. There could have been more resources and actions discussed for students to help end this global problem with a "think global, act local" mentality.
Admittedly, it was Kors' and Hudson's presence that attracted an audience to this event, but they cannot rely solely on their influence to gain support for the World Food Program. Even though their involvement has brought awareness and funds to provide meals to millions of people around the world, they should still be held to a certain responsibility as ambassadors to be conscious of the way they present and discuss the topic of world hunger.