Lecturers Deserve Better: UC-AFT's Informational Pickets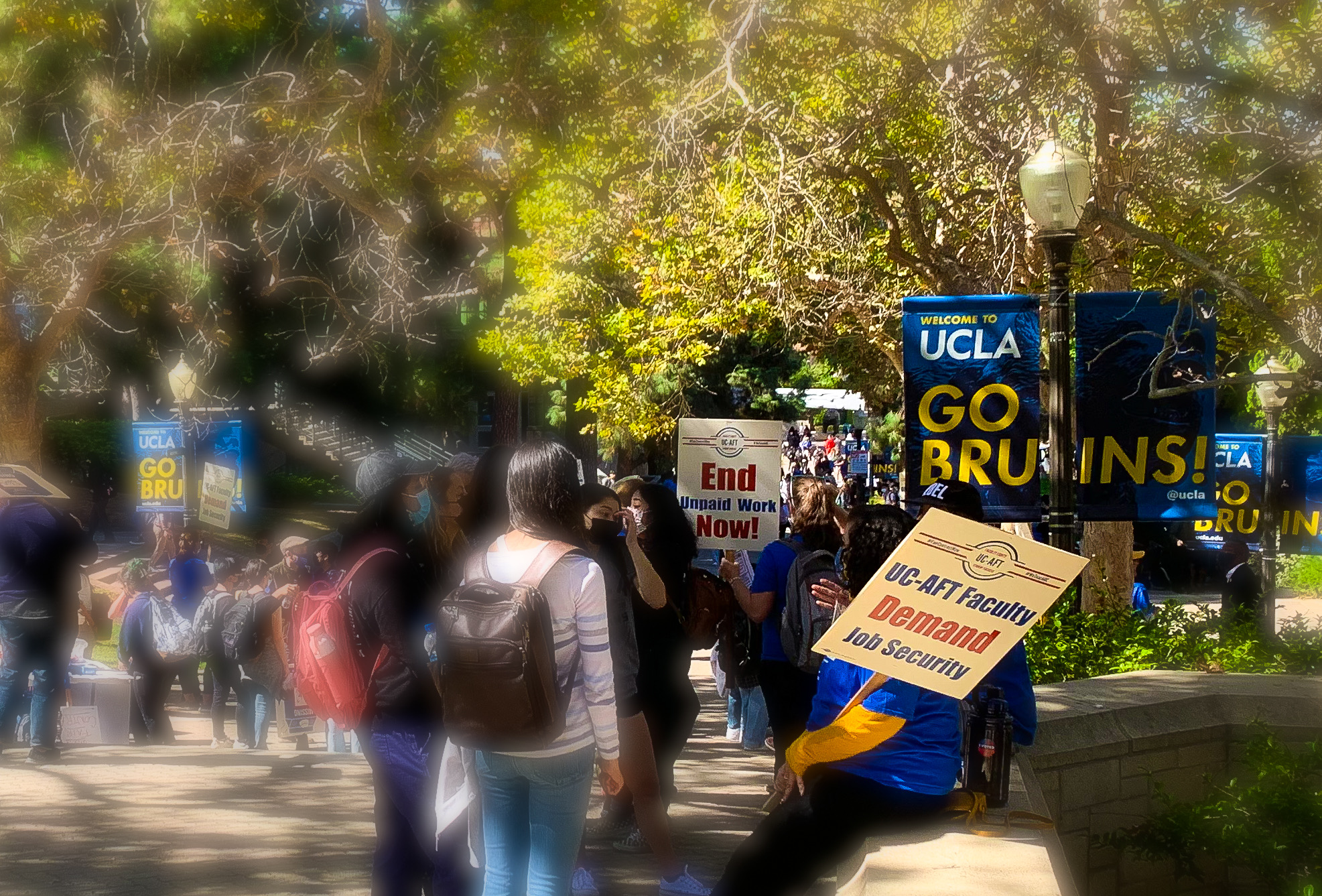 Image Description: Several students and UC-AFT members gather on Bruin Walk. One UC-AFT member, wearing a blue t-shirt, is holding a picket sign that says, "UC-AFT Faculty Demand Job Security." Another UC-AFT member wearing a blue t-shirt is holding a picket sign that says, "End Unpaid Work Now!" Near the two picket signs is a UCLA post lamp banner that says, "Welcome to UCLA GO BRUINS!" About six students are standing around the two UC-AFT members. Other students and UC-AFT members are blurred in the background.
The U.S. public education system has an ongoing history of underpaying and neglecting its teachers. Numerous sweeping teacher strikes across the country peaked in the past few years, calling attention to teachers' pay, class size, budget cuts, and more. This time, the spotlight falls on UCLA's very own lecturers.
You might've encountered your fair share of lecturers at UCLA. This wouldn't be surprising considering ⅓ of UC course credits (as high as 60% on some campuses) are taught by lecturers.
Courses led by lecturers can be just as — if not more — fulfilling and enlightening as those led by tenured professors. It's often difficult for us to distinguish between lecturers and professors if not for the job titles attached to their names. However, the treatment of lecturers falls short of what they deserve.
On Oct. 13-14, University Council-American Federation of Teachers (UC-AFT), a union representing University of California (UC) lecturers and librarians, led a two-day informational picket and rally to call for the proper investment of UC lecturers. Separated by distance but united by a common purpose, lecturers and students across the nine UC campuses publicized the cause and urged UC President Michael Drake to sign a fair contract with UC-AFT.
From 10 a.m. to 2 p.m., UC-AFT members passed out flyers on Bruin Walk in front of Kerckhoff Hall. Images and image descriptions of the flyers are below.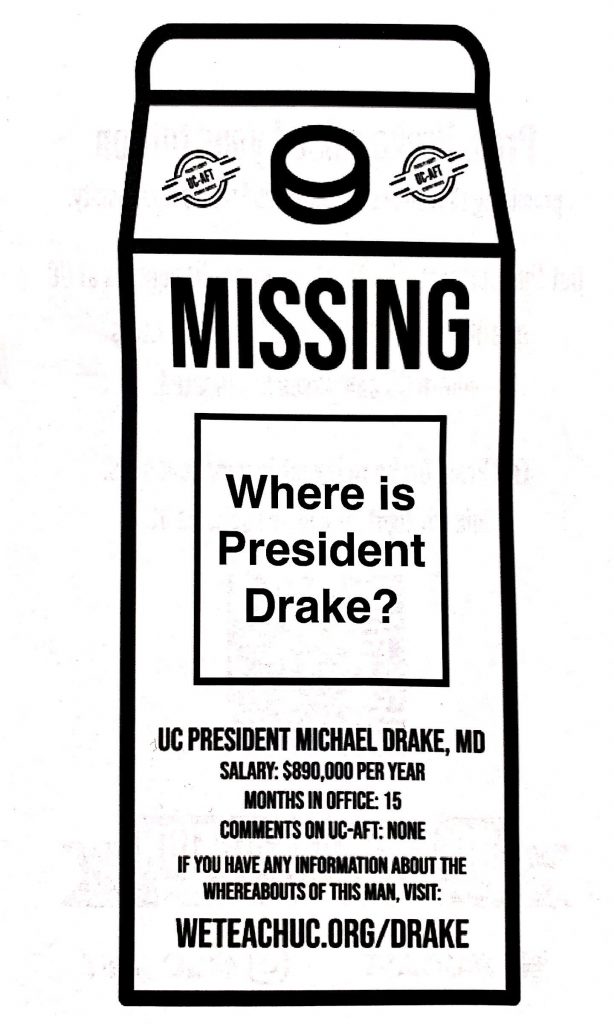 Credit: UC-AFT
Image Description: The first flyer has an outline of a milk carton. In large, capitalized letters, "MISSING" is written near the top. Beneath is, "Where is President Drake?" Beneath that is, "UC President Michael Drake, MD / Salary: $890,000 per year / Months in office: 15 / Comments on UC-AFT: None / If you have any information about the whereabouts of this man, visit: weteachuc.org/drake.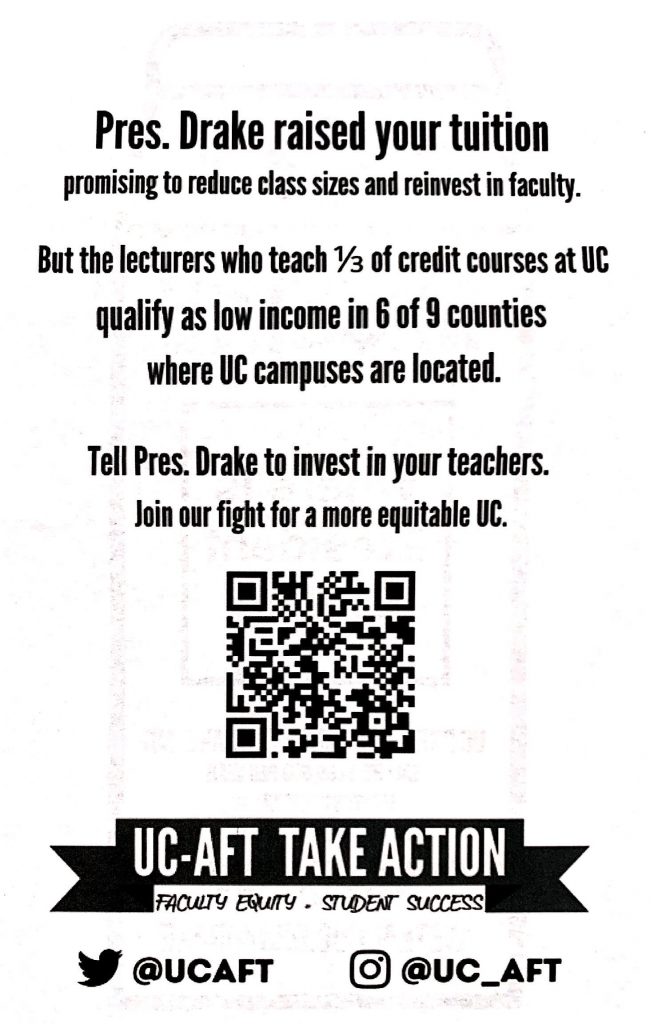 Credit: UC-AFT
Image Description: The second flyer starts with, "Pres. Drake raised your tuition." Below it says, "promising to reduce class sizes and reinvest in faculty. / But the lecturers who teach ⅓ of credit courses at UC qualify as low income in 6 of 9 countries where UC campuses are located. / Tell Pres. Drake to invest in your teachers. / Join our fight for a more equitable UC." Below this is a QR code, a banner with "UC-AFT Take Action" written on it, and a Twitter account handle (@UCAFT) and Instagram account handle (@UC_AFT).
On both days, more than 50 people gathered for the rally during which speakers explained the working conditions of lecturers. Members held various picket signs like "End Unpaid Work Now!" and "UC-AFT Faculty Demand Job Security." Supporters marched around the campus as UC-AFT members led chants like, "What do we want now? Fair contracts! When do we want them? Now!"
This strike, which 96% of UC-AFT lecturers voted in favor of, was authorized in June this year. Authorization means that a legal, protected strike can take place if UC management fails to address the previously laid-out concerns. After Mikhail Zinshteyn from CalMatters released a startling report about the working conditions of UC lecturers earlier this month, it became clear that a strike was necessary.
The report shows that UC lecturers only work for an average of two years and that over 25% don't return annually. UC-AFT attributes this high turnover rate to job instability and low pay. UC lecturers' median annual salary was about $20,000 in 2020, with many being part-time and ineligible for health insurance and family leave.
UC also does not provide review processes for lecturers, making the dismissal of instructors without explanation possible. This allows the UC to prevent lecturers from accumulating the semesters or quarters needed for a raise or more job security.
"The findings… suggest that the university system relies on inexpensive labor to educate its 285,000 students," writes Zinshteyn.
In contrast, tenured contracts "cannot be terminated except for good cause and after the opportunity for a hearing before a properly constituted advisory committee of the Academic Senate," states the UC Faculty Compensation Summary.
The annual review of Cal State University lecturers that now exists was also something the Cal State faculty union had to push for. For our educators, it seems like nothing comes to fruition without a fight.
As shown in the flyer, President Drake earns $890,000 per year. With UC students' tuition increasing each year, the root of the problem is not a lack of funding; it is the maldistribution of funding caused by greed and the overall lack of concern for educators — as if we have not seen enough examples of these issues in our public K-12 system.
It is crucial to point out that a fair contract is not just beneficial to UC lecturers. Not only do lecturers receive more humane working conditions, but students also benefit from experienced, long-term lecturers whom they can actually establish lasting, academic relationships with. When students and alumni reach back out for letters of recommendation or academic guidance, who can they turn to if lecturers are being replaced year by year?
The academic and social prestige of our universities needs to be reflected in the treatment of its people — of its faculty, staff, and students. How can we as students boast that UCLA is the number one public university if our very own instructors are struggling to make ends meet? How can UCLA promote itself as a place where students thrive if our pedagogical pillars are being constantly replaced, severing students' meaningful relationships with their educators?
If you've ever heard your lecturers mention that they have to work multiple jobs or that they are being underpaid, now you know why.
Students, staff, and tenure-track faculty standing in solidarity with UC-AFT is an important step in making the UC system and campuses more equitable.
If truly nothing comes to fruition without a fight, then we have no choice but to continue fighting.