Look to Our Elders, Listen to the Youth: Important Conversations at the Intergenerational Activism Conference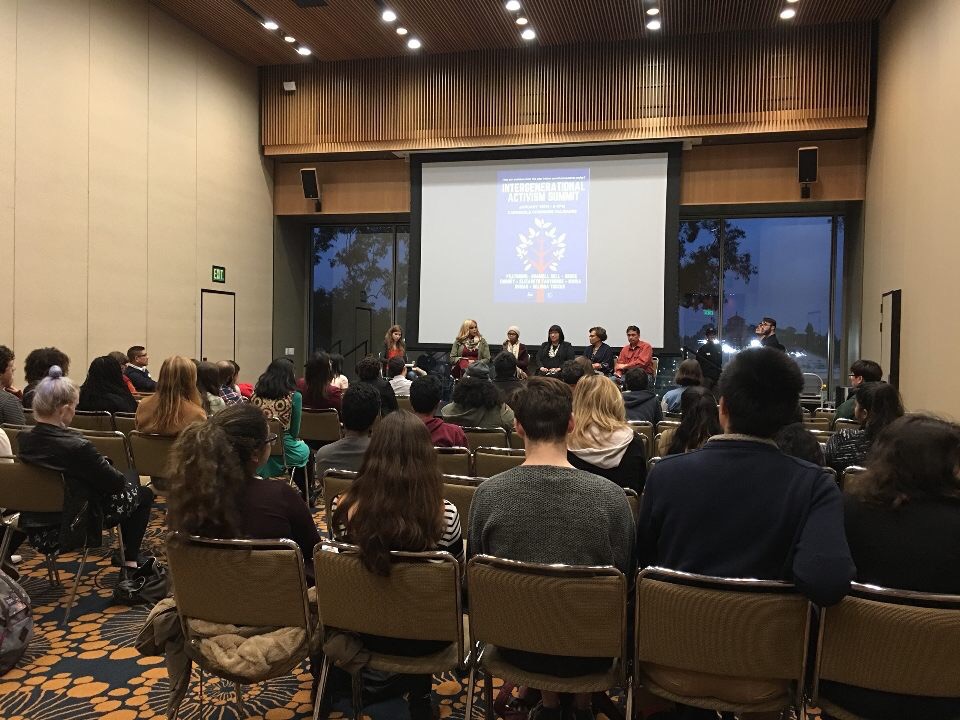 Photo by Anandamayee Singh 
On  Jan. 19 Intergroup Relations, under the Bruin Resource Center, hosted the Intergenerational Activism Summit. The summit was held in Carnesale Commons, and boasted a diverse panel of activists. The panelists were assembled with the aim of "learning from their experiences in different social justice movements, and critically examining the changes in activism over time," said Isabel Leamon, the summit organizer.
The summit began with panelists describing their experience in activism. One of the panelists, Professor Belinda Tucker, has been acting director of the Bunche Center for African American Studies. She co-lead the movement to pass the diversity requirement for UCLA undergraduates. Professor Tucker felt that social justice has become chaotic. "Current activists need more focused leadership, that unites the many strands of intersectional struggles," she said, when asked what social justice movements are lacking today.
PhD student in Culture and Performance, Shamell Bell, echoed this point, saying that the oppression of all marginalized folks need to be included in efforts of activism, but organization is necessary to achieve tangible change. Bell is a member of the original Black Lives Matter movement and part of The Undercommons at UCLA. Bell spoke about listening to the voices overlooked by the academic community. "There are hidden organic knowledge bases in our communities," she said. "We have to do work in validating that, because they are directly in touch with the issues." She also mentioned the importance of listening to young people, as she feels they're the ones who will win the activist battle. Bell stressed the vital role that radical love plays in activism. "Even if it is a love you have for yourself, your efforts will be rooted in protecting the ones you love," she said.
Panelist Bruce Embry spoke about the importance of recognizing the intersectional history of people of color. Embry is one of the co-chairs of the Manzanar committee, which educates and raises awareness whose mission is  to educate and raise public awareness about the incarceration and violation of civil rights of persons of Japanese ancestry during World War II. The committee's works led to Manzanar being recognized as a National Historical Landmark in 1985.  Embry also stressed the importance of allyship, stating that working within a framework of issues or community was helpful in preventing activist burn out. Without allyship, he says, "you cannot make progress in the issues you care about, or work towards liberating all your people."
Community organizer Maria Roman used powerful personal examples to echo Embry's sentiments. She mentioned her own experience as a trans-activist, and the brutal treatment she suffered at the hands of LAPD. Roman currently offers sensitivity training to LAPD officers in partnership with the Hollywood Police Department.
Her experiences made her realize that violence against trans bodies is not seen as egregious a crime as violence against other minorities. "I hope the Women's March will see more support for our community," she said. She also commented on the need for showing love, even towards those who do not love you, and using uncomfortable interactions as opportunities to educate.
Youth advocate Elizabeth Fasthorse stressed the importance of education. Her work with the Tribal Learning Community at UCLA School of Law and with Supporting Undergraduate Natives has directly increased enrollment of Native American Bruins. At the panel, she spoke about how, as a first generation high school and college graduate, her education helped her fight oppression. She hopes to provide platforms and tools through education to other marginalized folks. Similar to the other panelists, Fasthorse stressed the importance of working together.
The main takeaway from the summit, especially now, with a government that is already threatening the safety of  marginalized folks, is the need for a unified front. "Justice is our overarching theme. Your battle is my battle. Till we recognize that, we're going to have a real problem," said Professor Tucker, concluding the summit.