Love Shouldn't Be Scary! Bruin Consent Coalition's Halloween Themed Photo-Campaign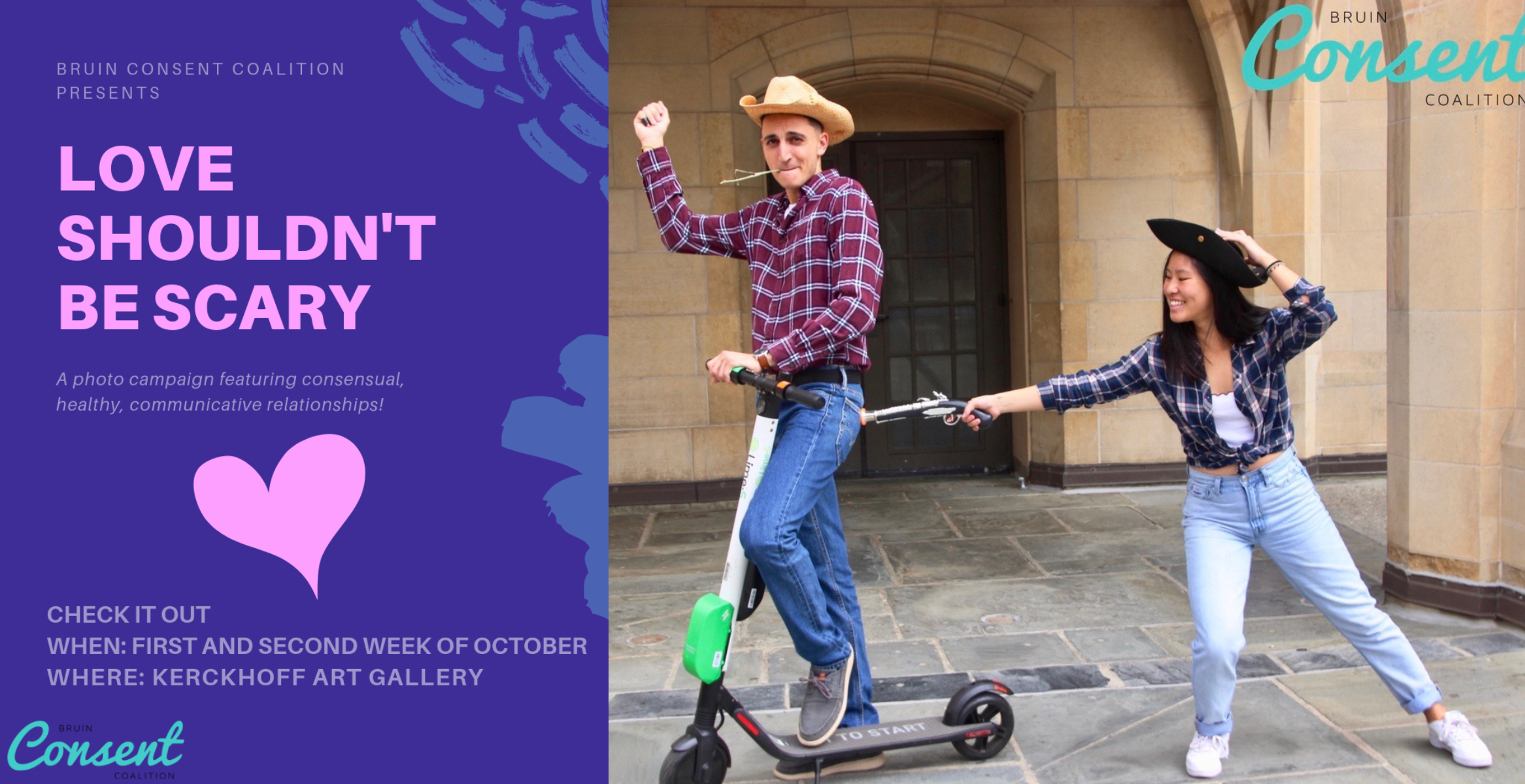 Photo courtesy of the Bruin Consent Coalition
On Monday, Oct. 8, UCLA's undergraduate student club Bruin Consent Coalition (BCC) debuted their week-long photo-campaign "Love Shouldn't Be Scary," taking a more wholesome and Halloween-themed approach to commemorate October as Domestic Violence Awareness Month and to facilitate dialogue around relationship violence — a topic that many struggle to address.
The photo-campaign will be displayed in Kerckhoff Art Gallery until Friday, Oct. 12. Students and visitors can view the campaign during the art gallery's open hours from 8 a.m. to 11 p.m. After the weekends, the photos will then be published on Bruin Consent Coalition's social media platforms.
The event's host, Bruin Consent Coalition, is an undergraduate student club at UCLA that is committed to raising awareness about and educating students on the sexual violence epidemic, and creating a supportive and inclusive environment for survivors.
The photo-campaign features candid photos of partners in relationships. The uncontrived nature of the photos is intended to allow viewers to feel the genuineness and compassion that exists in such relationships, as opposed to simply featuring devised photos that reduce the human and personal aspects that are integral to any intimate relationship. The photos feature partners in coordinated Halloween costumes, a play on the use of the word "Scary" in the title of the campaign.
The project intends to showcase what positive relationships look like, emphasizing those that are healthy, communicative, and consensual. BCC has taken the initiative to rename Domestic Violence Awareness Month as Relationship Violence Awareness Month in order to create a more inclusive environment and encapsulate the variety of shapes and forms that intimate relationships come in.
For Atreyi Mitra, a second-year studying Human Biology and Society who is also a co-director of marketing for BCC, it was very interesting being able to observe people with their significant others and see healthy and functional relationships in action. The events BCC has curated are designed to promote education and awareness about topics that are often times too difficult to discuss, and can benefit all students regardless of their prior knowledge.
If you're looking to further educate yourself on issues relating to consent and sexual violence, or are simply looking to engage with others in an open and inclusive space, some upcoming events that are programmed by BCC for Relationship Violence Awareness Month include:
#Bae-goals Dorm Chat, on Thursday, Oct. 12 at 6 p.m. in Saxon Commons. Here you can come join BCC for a presentation and discussion on relationship violence, particularly in the college environment. The event will also elaborate on what exactly it is that makes a relationship healthy versus unhealthy.

Candlelight Display on the Hill, from Oct. 30-31, where BCC will be distributing nearly 700 electric purple candles to stand in solidarity with those who have survived or been effected by relationship violence.

The candles will be displayed in Covel Commons Plaza, and those interested can take a candle and gain information on relationship and sexual violence advocacy and resources. At night, a projection will be shown on the side of Sproul Cove, instructing those with candles to light them and place them in their windows. The candles will be distributed on Oct. 30 to close out Relationship Violence Awareness Month.

The Walk in Silence for the Silenced will take place on Nov. 3 in Drake Stadium. An event put on in collaboration by BCC and Women of Concern, UCLA students and those in the Los Angeles community can walk to show support and solidarity for survivors of relationship violence. The walk will feature musical and artistic performances, guest speakers, and additional resources for relationship violence based in LA.
Additionally, if you're looking to get further involved in the critical work that Bruin Consent Coalition carries out, the organization meets every Wednesday from 5 p.m. to 6 p.m. in Ackerman 2408, and welcomes any undergraduate student at UCLA to attend a meeting if they are passionate about creating a more safe and inclusive college campus here at UCLA.