Marcha Verde: Corruption in the Dominican Republic Meets its Match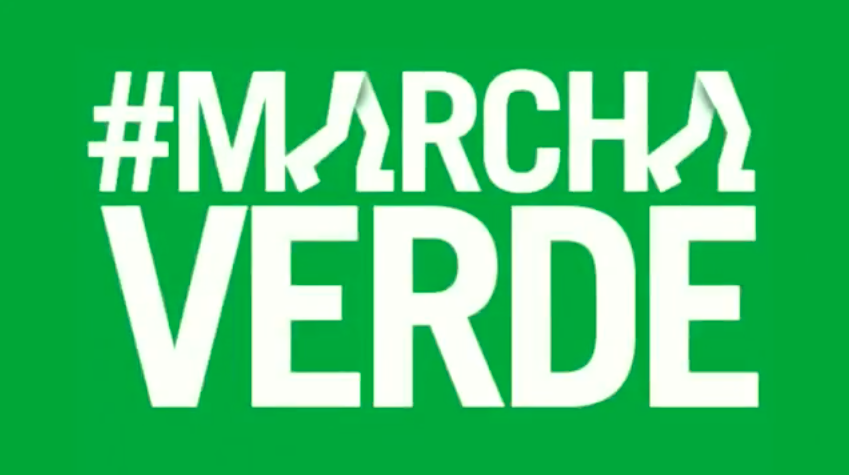 Image from La Marcha Verde sigue! by Ramon Morilla via Youtube
Last month, tens of thousands of protesters took to the streets of Santo Domingo to demand an end to impunity and corruption as well as the resignation of top government officials, including the president. The demonstration was one of seven in the Dominican Republic since January following a landmark corruption case which linked the Brazilian construction company Odebrecht to a worldwide corruption scandal.
Throughout the thread of demonstrations, protesters have dressed in green, the same color as the country's environmental movement and a symbol of hope, earning the movement the title 'Marcha Verde' or 'Green March.' The July protest was recorded as the biggest Marcha Verde demonstration thus far.
In a December hearing, Odebrecht was exposed as a culprit in what many refer to as the largest global corruption scandal in modern history. Operation Lava Jato (Car Wash) was led by officials in Brazil initially intending to expose the nation's oil company, Petrobras, in what was allegedly the biggest corruption scandal in modern Brazil. However, investigators soon discovered Petrobras had made illegal payments to other countries and foreign firms, deeming the incident the largest in the world.
Odebrecht was one of Petrobras's contractors and was found guilty for making bribes in over 4 continents involving 12 countries primarily in Latin America and Africa. The company totaled nearly $800 million USD in bribes between 2001 and 2016.
Authorities in Brazil, Switzerland, and the U.S. worked together to convict Odebrecht, sentencing the company to a fine of $3.5 billion USD — the largest fine ever for a foreign bribery case. Brazil will be compensated the majority of the fines.
Odebrecht began making bribes to officials in the Dominican Republic in 2001. After corruption investigations began heating up at home, Odebrecht moved from Brazil to the Dominican Republic in 2014. Odebrecht disbursed a total of $92 million USD in bribes to government officials from the Dominican Republic in exchange for 17 building contracts. Marcha Verde pushes for Odebrecht to be removed from the country and for each of the accused officials to be thoroughly investigated and punished accordingly.
Thus far, 14 top officials in the Dominican Republic have been indicted. Temistocles Montas, a close ally of President Dalino, and Victor Diaz Rua, the ruling party's treasurer, have both been jailed. Six others are under house arrest as they await trial. On July 8, the remaining six left their pre-trial detention in Najayo prison after paying the bond imposed by the court, prompting several protests in the Dominican Republic including the July 16 demonstration.
Protesters have four demands: prison for the corrupt; the recovery of stolen money; the cancellation of all Odebrecht contracts; and the establishment of an independent commission to investigate President Danilo Medina and former presidents Leonel Fernandez and Hipolito Mejia, among others involved.
Following the 30-year dictatorship of Rafael Leónidas Trujillo (1930-1961), politicians and elites established a deeply rooted system of privilege in the Dominican Republic which has manifested itself during President Danilo Medina's time in office. Since Medina's reelection in 2016, anti-government sentiment exposing daily grievances stemming from neglect, nepotism, corruption, and police brutality has flourished. In a nation long haunted by mass corruption of the political elite, Marcha Verde has assumed a bold role in ensuring that the Dominican Republic's government officials, unlike many before them, be justly punished for their greed. This means demanding an end to impunity, the persecution and imprisonment for the culprits, and for stolen funds to be redirected to supplying basic needs such as healthcare and education for the nation's people.
Other countries affected by the scandal have held demonstrations as well; however, Marcha Verde is the most coherent and organized, and it has remained vibrant and active. Organizers have even established smaller events across the country.
Surviving as a non-partisan movement, many name the movement's diversity as part and parcel for its success. Marcha Verde is comprised of people from all walks of life including rich, poor, and middle class; workers, farmers, and business owners; men and women; young and old. The movement has transcended national borders; Dominican immigrants marched in protests in other countries in cities including Miami, New York, and Madrid in solidarity with Marcha Verde.
While authorities are reported to be dragging their feet in terms of examining recent revelations in the investigation, the vivacious spirit which Marcha Verde continues to demonstrate is reassuring that corruption in the Dominican Republic will not remain unchallenged.