Midterms 2018: Meet Your New (Women-Led) Government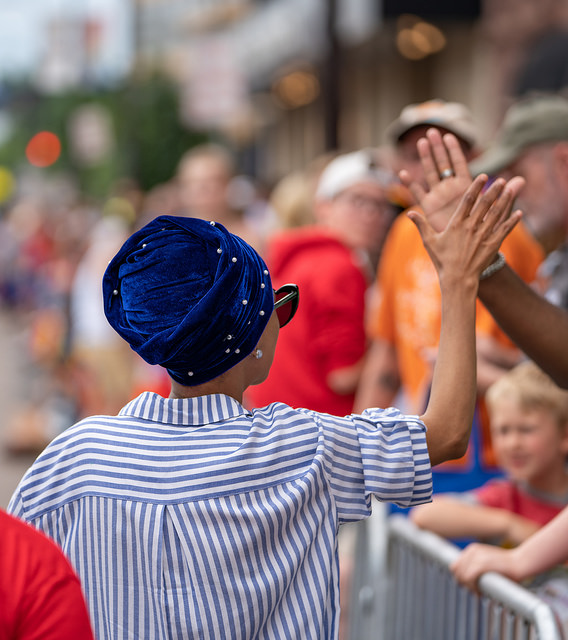 Image Courtesy of Tony Webster, Flickr Attribution 2.0 Generic (CC BY 2.0)
On Tuesday, November 6, citizens across the United States voted for change. This change was led predominantly by women from a variety of intersectional backgrounds. There were many inspiring women who ran for office in the 2018 midterms, and many still who made history by winning and by flipping long-time Republican districts. When women are elected to office, they take a seat at the table to advocate for all those who put their faith in them by casting their ballot. At that table, these women will have the chance to give a voice to the marginalized communities they represent, and who, in many cases, represent them. Below are 14 women whose victories stood out.
1. Jahana Hayes, Representative for Connecticut's 5th Congressional District
Jahana Hayes, 45, will be the first Black Congresswoman in Connecticut's history. The former National Teacher of the Year is new to politics, but not to the struggle many poor and working class people face every day. Hayes' mother suffered from drug addiction, and Hayes herself became pregnant at the age of 17. Despite the difficulties that came with her pregnancy, she continued to attend school and work, eventually earning her Masters and other advanced degrees. A former high school Social Studies teacher, Hayes knows the importance and value of the public school system, and made its preservation a central component of her campaign. She also supports single payer health care, passing gun control, and a pathway to citizenship for undocumented immigrants. Hayes won what had been considered a tight race in Connecticut's 5th district by over 11 points.
2. Lauren Underwood, Representative for Illinois' 14th Congressional District
Lauren Underwood, 32, will be one of the youngest members of the 116th Congress. She is both the first woman and the first Black person to represent Illinois' 14th district. Growing up with a pre-existing heart condition, she was motivated to run for office for the first time when her opponent, four term incumbent Republican Randy Hultgren, voted to repeal the Affordable Care Act. Underwood is a nurse who served as an advisor to President Obama's Department of Health and Human Services. She is pro-ACA, pro-public education, pro-gun control, and an avid supporter of reproductive justice. Despite an unabashedly liberal platform with endorsements from Former Vice President Joe Biden and former President Barack Obama, Underwood flipped a solidly Republican district and won by four points.
3. Abby Finkenauer, Representative for Iowa's 1st Congressional District
Abby Finkenauer, 29, is one of two women in their 20's who have been elected to serve in a House of Representatives with an average age of 57.8. A former state legislator, Finkenauer is not new to politics, but this will be the first time she's been elected to serve in the federal government. Her win is historic for her home state of Iowa as well; Finkenauer is one of the first two women to be elected to the House of Representatives for Iowa, a state with only four congressional districts. Born, raised, and a resident of the state all her life, Finkenauer's upbringing in a working class family gave her unique insight into the struggles of everyday Iowans. She ran on issues such as supporting infrastructure and a public option for the Affordable Care Act, and considers herself to be an advocate for working class people throughout the state. Finkenauer managed to flip the previously-Republican district and win by almost 5 points without compromising her values, including women's reproductive rights and protecting the environment.
4. Sharice Davids, Representative for Kansas' 3rd Congressional District
Sharice Davids, a graduate of Cornell Law School; a White House fellow under President Obama; a former mixed-martial arts fighter; and a member of the Ho-Chunk Nation became one of the first of two Native American women to be elected to Congress on Tuesday. She beat Republican incumbent Kevin Yoder by 9 points after running a campaign focused on healthcare and the economic issues like taxes and job growth. As the daughter of a single mother and a first-generation college student, Davids understood the economic obstacles facing the citizens of Kansas first-hand, and connected with middle-class voters who would be negatively impacted by the Republicans' new tax cut. Davids will also be the first openly-gay member of Congress elected from the state of Kansas, and the first lesbian Native American to ever serve in Congress. The Mom's Demand Action and EMILY's List endorsed her, and the congresswoman makes an effort to reach out to LGBTQ+ youth specifically. She is proud to represent and be an inspiration for Kansas youth in the community.
5. Janet Mills, Governor of Maine
Janet Mills went from being Maine's first female Attorney General to Maine's first female governor after a close election in which she ultimately defeated Republican candidate Shawn Moody by 11 points. Mills had served as Attorney General for five years before becoming Governor-Elect, and served as a district attorney, a state representative, and a state prosecutor before that. During her campaign, Mills made it clear she fully supported Medicaid expansion – unlike her Republican challenger, but, notably, like most people in Maine. She's also an ardent supporter of the public school system, and made education support and reform a central tenet of her campaign. Mills was perhaps known most prominently, though, for her focus on the opioid crisis. In the last decade in Maine, 8% of infants born alive were already suffering from drug addiction because of drug use by the mother during pregnancy. It seems as though Mills' efforts to bring attention and legislation to the issue were not only logical, but supported by her now-constituents as well.
6. Ayanna Pressley, Representative for Massachusetts' 7th Congressional District
Ayanna Pressley made history Tuesday night when she became the first Black woman elected to Congress from Massachusetts. Pressley made a stunning debut into the political sphere in September when she defeated 10-term incumbent Michael Capuano in the Democratic primary for Massachusetts' 7th district – a video showing her own surprise went viral shortly after the results came in. Pressley was endorsed in the primary by The Boston Globe, the biggest newspaper in Massachusetts, and by Maura Healey, the state's Attorney General. Despite trailing her opponent in fundraising, Pressley won by 17 points with her platform of implementing gun control, empowering women and people of color, fighting income inequality. Pressley describes herself as "an advocate, a policy-maker, and activist, and [a] survivor," and has spent her 8 year tenure on the Boston City Council proving herself as such. She established the Committee on Healthy Women, Families, and Communities. The Committee focuses on reducing poverty, preventing violence against women, and addressing issues that disproportionately affect women and girls, such as teen pregnancy, sexual assault, and even sex education reform in public schools.
7. Rashida Tlaib, Representative for Michigan's 13th Congressional District
Rashida Tlaib is one of the first two Muslim women to ever be elected to Congress. As a first time congresswoman, she will be representing Michigan's 13th district, though it won't be her first time holding elected office. Tlaib has served three terms as a state representative in the Michigan Legislature – where she was also the first Muslim woman to serve – and eventually became the Chair of the House Appropriations Committee. As a state representative, Tlaib focused on providing aid to relief programs like Meals on Wheels and free health clinics. In Congress, Tlaib hopes to focus on economic justice (such as working towards a $15 minimum wage and supporting workers' unions), healthcare reform through Medicaid-for-All, and immigration reform. As the daughter of Palestinian immigrants, Tlaib is particularly motivated to remove President Trump's "Muslim Ban," and wants to make sure Muslims feel welcome in the United States. She wants to create a pathway to citizenship for undocumented immigrants, and to ensure that those seeking asylum in the United States are treated fairly.
8. Gretchen Whitmer, Governor of Michigan
Gretchen Whitmer turned Michigan's Governor's seat blue and defeated her Republican opponent by an almost 10 point margin. Whitmer began her political career in the Michigan Legislature where she served as a state representative and eventually became the Senate Democratic Leader. More recently, she served as a county prosecutor and established a new Domestic Violence and Sexual Assault Unit to improve the court's functioning in these cases, help victims, and prosecute abusers. During her campaign, Whitmer made it a point to visit every county in Michigan to win the support of working-class voters everywhere, not just those in traditionally blue areas like Detroit. Whitmer's platform focused heavily on infrastructure and healthcare, but she also wasn't afraid to speak up when it came to her values. She spoke out against Justice Kavanaugh's nomination to the Supreme Court, supports the #MeToo movement, and promises to protect abortion rights.
9. Ilhan Omar, Representative for Minnesota's 5th Congressional District
Ilhan Omar is one of the first of two Muslim women and the first Somali-American to be elected to Congress. Omar came to the United States when she was 13 years old after fleeing Somalia with her parents during the country's civil war years earlier. She later became a citizen, and in 2016 was elected to serve as a state representative in the Minnesota Legislature in an election in which she and her team helped to raise voter turnout by 37%. Now, as the representative for Minnesota's 5th district, Omar is excited to take her vision to the national level. She is a long-time advocate for free and accessible public education, including "debt-free college." She supports single payer healthcare reform and Medicare for All. As an immigrant herself, she seeks to reform the immigration system, and supports a clear path to citizenship. Omar, like fellow Congresswoman-Elect Rashida Tlaib, faced discrimination during her campaign, despite running in a liberal district. She faced attacks from far-right media outlets that spread anti-Muslim rhetoric and lies about Omar and her family. Despite this, Omar held her head high and focused on the issues. When she won on Tuesday night, began her acceptance speech with the phrase "As-Salaam-Alaikum" – an Islamic phrase for "Peace be upon you" – to the sound of cheers from her supporters.
10. Mikie Sherrill, Representative for New Jersey's 11th Congressional District
Mikie Sherrill is a Navy helicopter pilot, a former federal prosecutor, and now, the Representative of New Jersey's 11th district. Sherrill flipped this seat, which had been Republican for over 30 years, for Democrats, and won by almost 14 points in the process. She was motivated to run when she saw how Republican policies in Congress were disproportionately affecting people in New Jersey. The Republican tax bill, for example, will cost many in New Jersey a loss in their average deductions, and hurt the state more than most. Attacks on Social Security and Medicare will also hit New Jersey residents hard, which is why Sherrill campaigned on protecting them, and her constituents. Her message made her popular one with those in her district and people across the country; so much so that Sherrill broke the state record for congressional fundraising with $7.5 million dollars, and got former Vice President Joe Biden to stump for her at a rally. Her incredible political success has made her a rising star in the Democratic party, and a name to watch in the future.
11. Alexandria Ocasio-Cortez, Representative for New York's 14th Congressional District
Alexandria Ocasio-Cortez became a household name in the Democratic party earlier this year when she beat out 10-term incumbent Joe Crowley in the Democratic primary for New York's 14th Congressional District, despite being outraised 10:1. Ocasio-Cortez made history on Tuesday by becoming the youngest woman ever elected to Congress at 29 years old. But it's not only her age that makes her a stand-out new face in the party. Ocasio-Cortez identifies proudly and openly as a Democratic Socialist. Far from turning voters off, her platform of tuition-free college, Medicare for all, and a Federal Jobs Guarantee excited New Yorkers even further and pushed her well ahead of her opponent. As a 29 year old working-class Latina with a campaign so far-left most establishment Democrats wouldn't touch it with a 20-foot pole, Ocasio-Cortez is redefining what kind of candidates can win congressional races, and what kinds of issues truly get people excited to vote.
12. Chrissy Houlahan, Representative for Pennsylvania's 6th Congressional District
Chrissy Houlahan made history in Pennsylvania's 6th district Tuesday night when she turned the district blue – for the first time in 160 years. Houlahan's victory follows the Pennsylvania Supreme Court's decision to allow the district to be redrawn after unconstitutional gerrymandering by Republicans. The more fair district maps resulted in far from a narrow victory – Houlahan defeated her Republican opponent by over 17 points. She was motivated to run after Trump's victory in the 2016 Presidential election. With an openly-gay daughter and a father who survived the Holocaust, Houlahan is deeply connected to those Trump's rhetoric sought to marginalize and attack. Houlahan herself is a third-generation military veteran who served over 15 years as a Captain in the Air Force Reserves. She earned an engineering degree from Stanford University and a Masters Degree in Technology and Policy from MIT. Houlahan recently worked as a chemistry teacher at Simon Gratz High School in Philadelphia, but is also a member of Teach for America and worked as President for Philadelphia-based non-profit Springboard Collaborative. She ran on a platform of affordable healthcare access for all, campaign finance system reform, better education systems, support for veterans, and protection of reproductive rights.
13. Veronica Escobar, Representative for Texas' 16th Congressional District
Veronica Escobar became one of the first two Latina women elected to Congress from Texas when she won Texas' 16th district by a landslide. The seat has been held by Democrats consistently – Escobar won the seat after rising Democratic star Beto O'Rourke left Congress to challenge GOP Senator Ted Cruz – but this will be the first time the majority Hispanic district will be held by a Latina. Escobar is a former County Judge for the El Paso area of this district. As a judge, she fought to expand access to healthcare for El Pasoans, reform a corrupt county government, and tackle the issues on immigration that frequently arise in this district which rests on the U.S.-Mexico border. Escobar described her platform during her campaign as two-fold: 1) "Standing Up for the Border" by addressing immigration reform and the district's economy, and 2) "Improving Quality of Life" by working for healthcare reform and protecting groups including disabled individuals, senior citizens, and working families. Escobar says that she is particularly proud of her historic accomplishment because it shows that politicians are starting to look more like the people they represent – especially in Texas, where nearly 40% of the population is Latinx/Hispanic.
14. Abigail Spanberger, Representative for Virginia's 7th Congressional District
Abigail Spanberger's win in Virginia's 7th Congressional District – where she will be the first woman to ever serve as a representative – was achieved after she narrowly defeated the Republican incumbent in what had been an incredibly tight race. The win was particularly significant because the Virginian district went for Trump in 2016, and represented by Dave Brat for the past four years – an anti-establishment, pro-Trump Republican. Spanberger, a former C.I.A. Operations Officer who previously worked to solve narcotics and money-laundering cases in the U.S. Postal Service, ran a campaign that was popular even among the traditionally Republican citizens of the Virginia suburbs: more affordable and better healthcare; the prevention of gun violence; protecting social security and medicare; and economic reform for working-class families and the middle class. She says she was motivated to run for office after the House voted to further a bill that would repeal the Affordable Care Act and take healthcare away from millions of Americans.