MMIW: Why Haven't We Found Them?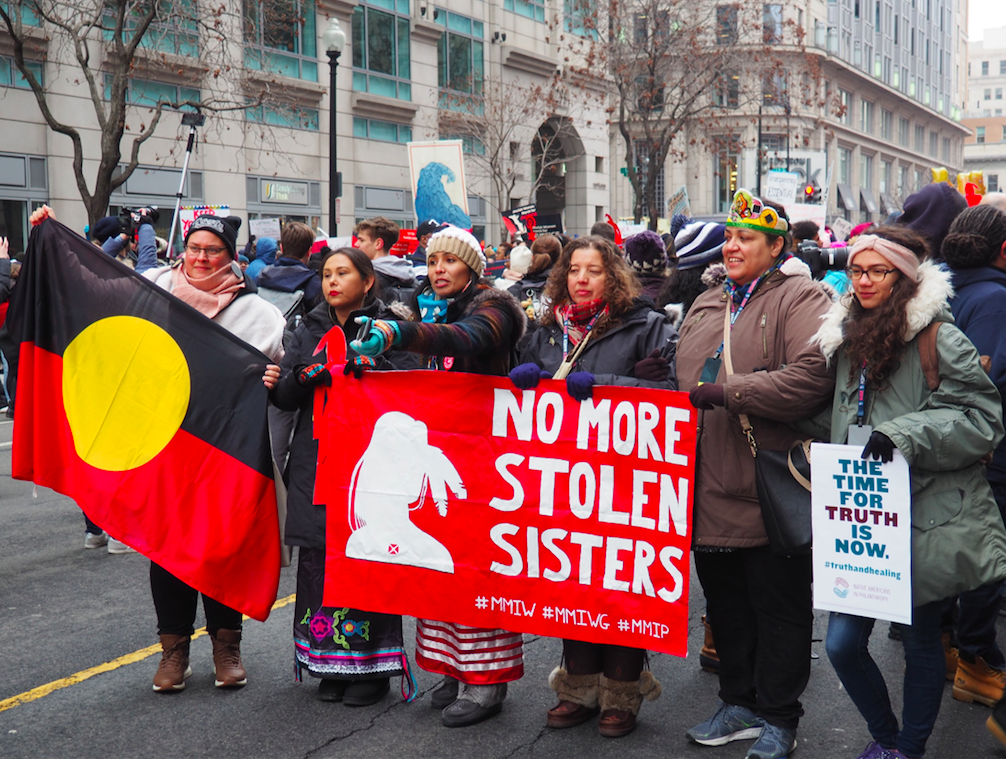 [Image description: A crowd of protestors are posing for a picture. One of the protestors is holding a red poster with the outline of a woman on it with white text that reads, "No more stolen sisters."]
Image via wikimedia commons
CW: murder, rape, racial violence 
On August 24, 2019, Kaysera Stops Pretty Places, an 18-year-old Indigenous woman, went missing in Hardin, Montana. Kaysera's body was later found in Hardin five days later. One might label Kaysera's murder as a tragic, isolated incident. It is not. Countless other Indigenous women throughout Canada and the United States have been murdered or gone missing. These murders are not a coincidence, but an act of racial and gender violence against Indigenous women.
In 2017, 5,646 Indigenous women were reported as missing in the United States. The Centers for Disease Control and Prevention Homicide found that homicide is the sixth leading cause of death for American Indian and Alaskan Native women ages 20-44 and the fourth for American Indian and Alaskan Native women ages 1-19. The murder rate of Indigenous women in the U.S. is 10 times the national average murder rate.
These statistics prove that there is an epidemic of violence against Indigenous women that urgently needs to be addressed. Yet, little attention has been given to the issue. In 2016, the U.S. Department of Justice database showed that there were 5,712 reports of Missing Indian and Alaska Native women and girls. Of those 5,712, the National Missing and Unidentified Persons System (NamUS) only logged 116 cases. The logging of cases with NamUS is vital because it provides the victim's family with free forensic services and investigative support to locate their loved ones.
In addition, the Urban Indian Health Institute (UIHI) analyzed the media coverage of 506 cases of missing or murdered Indigenous women living in urban areas. UIHI found that only 25% of those cases were covered by the media. Even in high-profile media cases, such as Kaysera's, there are insufficient efforts by law enforcement to resolve these murders and missing persons cases. The FBI and Montana Department of Justice have sat on evidence that was relevant to Kaysera's murder and have also ignored her family's request to meet with them. Murderers are being allowed to walk free without facing consequences for their heinous crimes due to the negligence of local, state, and federal law enforcement.
Why haven't officials made solving these cases of missing and murdered Indigenous women and girls a priority? It is because America has always neglected the health and well-being of Indigenous folks while also actively reproducing systems of oppression that marginalize them. America was founded on colonialism which included the genocide and theft of native lands. The U.S. then continued to treat Indigenous people inhumanely through enacting policies such as the Indian Appropriations Act which forced Natives to move onto reservations.
The American government's systemic and structural violence against Indigenous people is still occurring. The lack of investment in infrastructure by the federal government has left many Indigenous folks who live in the U.S.without proper water or plumbing. Indigenous folks who live in U.S. are also faced with limited healthcare access due to dwindling funding of the Indian Health Service. These failures to ensure basic human rights of Indigenous folks demonstrate that the U.S.'s inadequate response to the missing and murdered Indigenous women and girls is just a continuation of the government's negligence to resolve inequities caused by their racist policies.
But it is also important to note that the American government's policies actively contribute to disparate rates of violence against Indigenous women. State and federal governments have approved access to construction projects, such as the Keystone Pipeline and the Enbridge Line 3 replacement that run along Native land. The men who work on these projects are housed in "man camps." These man camps, which exist only because of the government's approval of construction, have lead to an increase in sexual assault and homicide.
Some would argue that the federal and state government have made efforts to address violence against Indigenous women. In 2019, former President Donald Trump signed an executive order, Operation Lady Justice which created a task force between government agencies to investigate unresolved cases of missing and murdered Native American women. Trump claimed that he would, "leverage every resource we have to bring safety to our tribal communities." However, many Native American leaders are skeptical of Operation Lady Justice. The executive director of Sovereign Bodies Institute, Annita Lucchesi, believes that the goals of the task force are too vague to achieve anything substantial. Annita also pointed out that the fact the task force was put together the year of the election seems suspicious. An unidentified member of the Blackfeet Nation also believes that Trump's executive order was a tool to gain more voters from the Native American communities while failing to provide long-term solutions.
Because of the lack of attention at the local, state, and federal levels, Indigenous activists have been fighting to make the epidemic of violence against Indigenous women more visible by creating the Missing and Murdered Indigenous Women (MMIW) movement. In 2012, Sheila North Wilson, who is the leader of an advocacy group that represents First Nation people, started the MMIW hashtag. Others have created more inclusive hashtags such as #MMIWG2 (Missing and Murdered Indigenous Women, Girls, and 2-Spirit People) and #MMIWG (Missing and Murdered Indigenous women and girls). A red handprint, that is often painted across people's faces, has become the symbol for the MMIW movement.
The MMIW movement has been sustained by multiple organizations rather than a central one, so there is no central list of demands. In general, activists are advocating for the Canadian and American governments to pass legislation that increases cold case investigations, data collection, and violence prevention efforts regarding MMIW. The National Inquiry Into Missing and Murdered Indigenous Women and Girls, a working group established by Canadian Prime minister Justin Trudeau, has provided recommendations which include:
1. Establish a national Indigenous and human-rights ombudsperson and a national Indigenous and human-rights tribunal
2. Launch health and wellness services aimed at Indigenous women, girls, and 2SLGBTQQIA (two-spirited, lesbian, gay, bisexual, transgender, queer, questioning, intersex, and asexual) people, particularly so that health care is available to vulnerable Indigenous people in their own communities
3. Fund policing in Indigenous communities so their services are equitable compared to those in non-Indigenous communities, including modern information technology, major-crime units, and crime prevention
4. Consider the welfare of Indigenous women, girls, and 2SLGBTQQIA people in planning resource-development and extraction projects
5. Increase Indigenous representation on all Canadian courts, including the Supreme Court
6. Develop knowledge and read the final report. Listen to the truths shared, and acknowledge the burden of these human- and Indigenous-rights violations, and how they impact Indigenous women, girls, and 2SLGBTQQIA people today
As we have seen with the Trump administration, recommendations and goals of government agencies can be filled with empty promises. However, these recommendations by the Canadian government show that the MMIW movement has been effective in compelling the U.S. and Canadian governments to take steps to resolve violence against Indigenous women.
What can you do to help MMIW?:
Master's student, Samantha Johnston, and policy researcher, Mackenzie Neal, Created a blog to help educate people on the MMIW crisis. The blog also includes a list on how to take action which includes:
Learn more about tribal, state, and local programs and services that support survivors of sexual assault, rape, and violence and/or work to address MMIW cases
Donate to crisis hotlines, women's shelters, and non-profit organizations
Participate in local gatherings, protests, marches, and vigils to show solidarity
Volunteer with local or national organizations focused on gender-based violence
Amplify Native voices and information about the MMIW crisis on social media
Talk to friends, family, coworkers, and community members about the crisis, and help dismantle myths, misconceptions, and stereotypes about Indigenous peoples
The Lakota People's Law Project has also organized a list of resources for Indigenous women.
At the very least, we can learn and remember the names of those whose lives were violently ended and acknowledge that their murders and/or abductions were due to the intersection of racism, sexism, classism, and other systems of oppression that Indigenous women constantly face.