Mother Organizations Release Statement in Support of Afrikan Student Union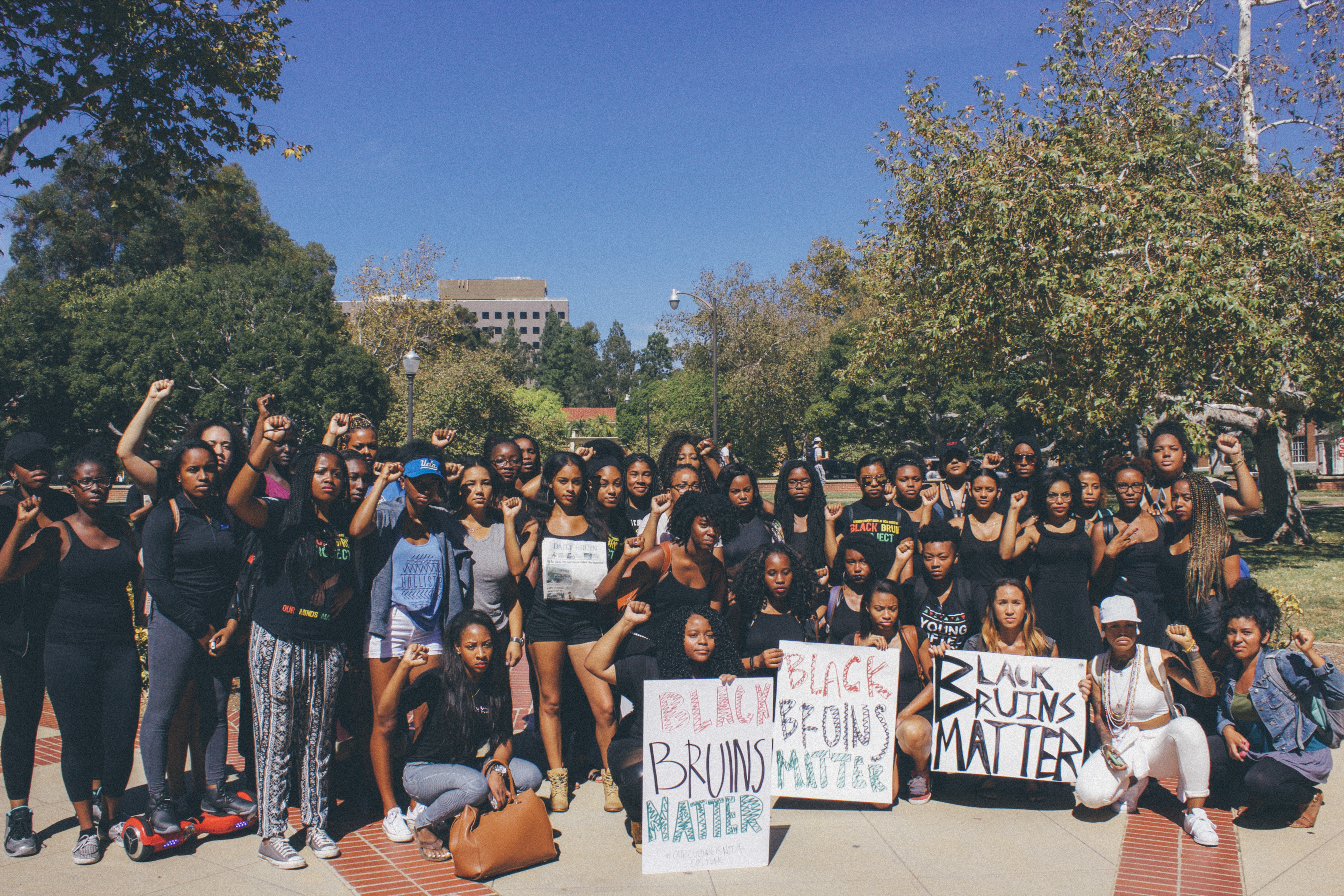 Image: Women of Color stand in solidarity and pride as the demonstration comes to a close on October 8. Photo by Ivy Briana Price / Nommo Newsmagazine.
The Mother Organization coalition is a coalition of student organizations housed at the Community Programs Office. These organizations, including the Afrikan Student Union, represent and advocate for students from underrepresented or marginalized groups at UCLA. Today, they released the following statement in support of the Afrikan Student Union and their demands for UCLA administration to take action against racism on campus and create a safer environment for African-American students:
Statement of Support
10/22/15
We, the American Indian Student Association, Asian Pacific Coalition, MEChA de UCLA, Muslim Student Association, Pacific Islands' Student Association, Queer Alliance, Samahang Pilipino, and Vietnamese Student Union at the University of California, Los Angeles (UCLA), are part of the Mother Organization coalition, a coalition of student organizations at UCLA created in response to the low numbers of students from historically underrepresented communities on our campus. Having systematically been restricted access to educational institutions and denied rights in this country, we are in solidarity with the Afrikan Student Union (ASU) in their demands to hold the university accountable in implementing practices and policies to support black students and students of color on campus.
In just the past five years at UCLA, there have been many counts of racial discrimination on and around campus that specifically target students of color:
2010: "Still Filthy" t-shirts with Mexican symbols sold in the UCLA Store.
2011: Student posts "Asians in the Library" video rant online.
2012: Racist and misogynist slurs written on Latina students' apartment door, law school professor calls UCLA admissions "discriminatory" favoring Black and Latino students, hateful flyers and graffiti target Asian women.
2013: Moreno Report finds racial discrimination among faculty without meaningful administrative support, UCLA Graduate School of Education & Information Studies stop class to protest professor's persistent micro aggressions.
2014: Hate mail directed towards black law students concerned about school diversity, more hateful flyers and graffiti targeting Asian women
2015: Racist stickers target #BlackLivesMatter protests and immigration, students attend fraternity party in blackface.
(Source for the above list here)
While these are recent acts of discrimination, racial discrimination, and micro aggressions committed against black students and students of color, many more go unreported for a myriad of reasons, including the fear of backlash and invalidation of one's experiences. The denial of systemic oppression at UCLA creates a harmful environment affecting the lives and wellbeing of many Bruins of color. We affirm the right to an education and campus climate where our ethnicities, cultures, backgrounds, and identities are respected, honored, and celebrated appropriately.
In recognizing the racial stratification and oppression of students perpetuated and aggravated by the lack of action by UCLA administration, we, the aforementioned organizations, are in solidarity with the Afrikan Student Union. We call upon Gene Block, Janina Montero, Jerry Kang, and the rest of the UCLA administration to fully honor and implement ASU's statement of demands, as well as demonstrate UCLA's True Bruin values of accountability (I will be accountable as an individual & member of this community for my ethical conduct) and respect (I will respect the rights & dignity of others).
Signed,
The American Indian Student Association at UCLA
The Asian Pacific Coalition at UCLA
MEChA de UCLA
The Muslim Student Association at UCLA
The Pacific Islands' Student Association at UCLA
Queer Alliance
Samahang Pilipino
The Vietnamese Student Union at UCLA