Moving Forward for LGBTQ+ Immigrant Youth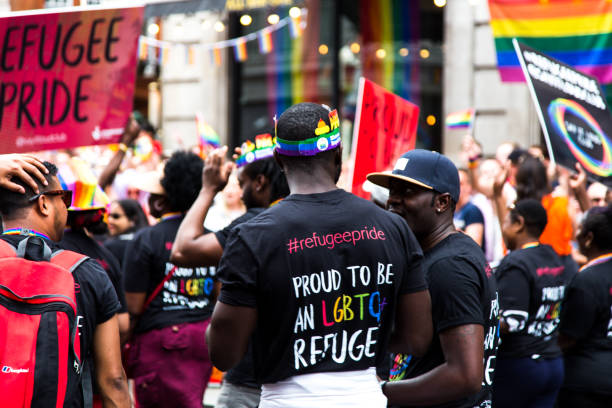 In a virtual event hosted by the UCLA Williams Institute, a think tank dedicated to sexual orientation and gender identity law and public policy, four speakers shared insights on topics related to LGBTQ+ immigrant youth: the challenges many of them face due to the pandemic, the resources they have available, and their expectations for the Biden-Harris administration. 
Winston Luhur, a research assistant at the Williams Institute, shared information about LGBTQ+ immigrant youth in California. According to him, there are around 57,000 LGBTQ+ immigrant youth in California, making the Deferred Action for Childhood Arrivals (DACA) program in the U.S. a pressing concern for these individuals' well-being.  DACA grants undocumented young adults, who were brought into the country at a young age (often by circumstances outside of their control), work authorization and temporary protection from deportation. According to Luhur, research shows that, on average, immigrants stay in school for less time than those born in the country due to systemic barriers in education. For example, the U.S. education system is hard to navigate for those who were born in the country, and it is only more confusing to immigrants who have less prior knowledge about this system and fewer resources. Additionally, it is difficult for undocumented students to apply for financial aid to go to college because they don't have a social security number. In conjunction with the Dream Act, DACA eliminates some of these barriers and provides young immigrants with new pathways to educational opportunities in the U.S. 
The Trump administration has been attempting to repeal DACA since 2017, although a Supreme Court ruling in June deemed this unconstitutional. Though DACA remains in place, the Trump administration is rejecting new applicants and only allowing participants to renew their status for one year rather than two. These narrowing pathways to access for immigrants are causing financial strain and stress for many who may be out of work, unable to continue their education, or otherwise burdened by the uncertainty of the pandemic.
These inequities have only been exacerbated by the COVID-19 pandemic. Like most people in the U.S., immigrants are facing the economic impact of the pandemic. Many have lost their jobs or received a reduction in hours, pay, or both. Additionally, as Luhur pointed out, immigrants make up a large portion of essential workers, putting them physically at risk as well. 
LGBTQ+ immigrant youth are also particularly vulnerable to the effects of COVID-19 due to their sexual orientation and/or gender identity. Zizi Bandera works for Equality California, an organization that advocates for LGBTQ+ rights at a local, state, and national level; they explained how COVID-19 impacts the lives and livelihoods of the LGBTQ+ community at higher rates. For one thing, members of the LGBTQ+ community are more likely to be exposed to the virus because they tend to work in highly affected industries, including jobs in restaurants and food services, hospitals, K-12 and higher education, and retail industries. In addition to the widespread economic repercussions of the pandemic, LGBTQ+ folks are more likely to be of a lower socio-economic status than straight and cisgender people to begin with. Furthermore, LGBTQ+ people use tobacco at a rate 50% higher than the general population, placing them at a greater risk for lung problems. This, in addition to the disproportionate rates of HIV and asthma amongst members of the community, makes LGBTQ+ individuals more physically vulnerable to the virus (which is more severe for people with lung problems and compromised immune systems). LGBTQ+ youth also face social barriers due to the pandemic — many are now isolated from their peers and support systems, putting their mental health at risk. This combination of factors demonstrates how LGBTQ+ immigrant youth face challenges in the COVID-19 era due to both their status as an immigrant as well as their gender and/or sexual orientation. However, this was also the case before the pandemic. 
Kerith Conron, the research director at the Williams Institute, discussed a study she conducted in Boston on LGBTQ+ youth born outside the United States. Within the group that Conron interviewed, there was wide variability in whether participants had come out as LGBTQ+ to their family and subsequently been accepted. Of those who were not out, many expressed fear and uncertainty as to whether their family (on whom most were dependent financially or otherwise) would accept them. In addition to family stressors, 80% of participants said they had experienced microaggressions in the past year due to both their status as immigrants and their gender and/or sexual orientation, which demonstrates the challenges they face with identities at the intersection of multiple marginalized populations. 
Matthew Santiago, an executive administrator and research assistant at the Williams Institute, gave an overview of the Biden-Harris administration's important initiatives for LGBTQ+ immigrant youth as well as future challenges. These initiatives include fully restoring DACA, rescinding travel bans that target 13 (primarily Muslim) countries and reuniting families separated at the U.S./Mexico border. Other proposals include drafting a bill that creates a pathway to citizenship for 11 million immigrants, restoring access to gender identity-based facilities for transgender students, and restoring protection from discrimination in health care. 
However, the Biden-Harris administration faces significant challenges due to the pandemic. Now more than ever, it is difficult to engage with LGBTQ+ youth through school and other support systems, which poses a threat to their mental health. Bandera noted that it is also important for the new administration to focus on not repeating the policies of former President Barack Obama, whose administration deported more people than any other.
Toward the end of this virtual event, Bandera shared some valuable resources for LGBTQ+ immigrants. One major tool is the COVID-19 LGBTQ Help Center, which directs users to national and state resources related to healthcare, mental health, education, domestic violence, housing, legal help, and more. One can access the COVID-19 LGBTQ Help center through the website or call the helpline at 323-448-0126. The Immigrants Advocacy Network is also an important tool because it connects people with legal resources related to immigration. 
There are also resources available for LGBTQ+ immigrant students at UCLA, including the LGBTQ Resource Center, the UCLA Gender Health Program (which provides personalized care for transgender and gender-diverse individuals), the Undocumented Students Program, and the UCLA Civil Rights Project (which can direct students to legal services related to immigration). Undocuqueer and QTBIPOC (Queer and Trans Black Indigenous People of Color) also offer a list of resources for LGBTQ+ undocumented students and BIPOC at UCLA. These resources can be accessed at the links above for those in need.