Mujeres de Maiz: Celebrating 20 Years of Intersectional Artivism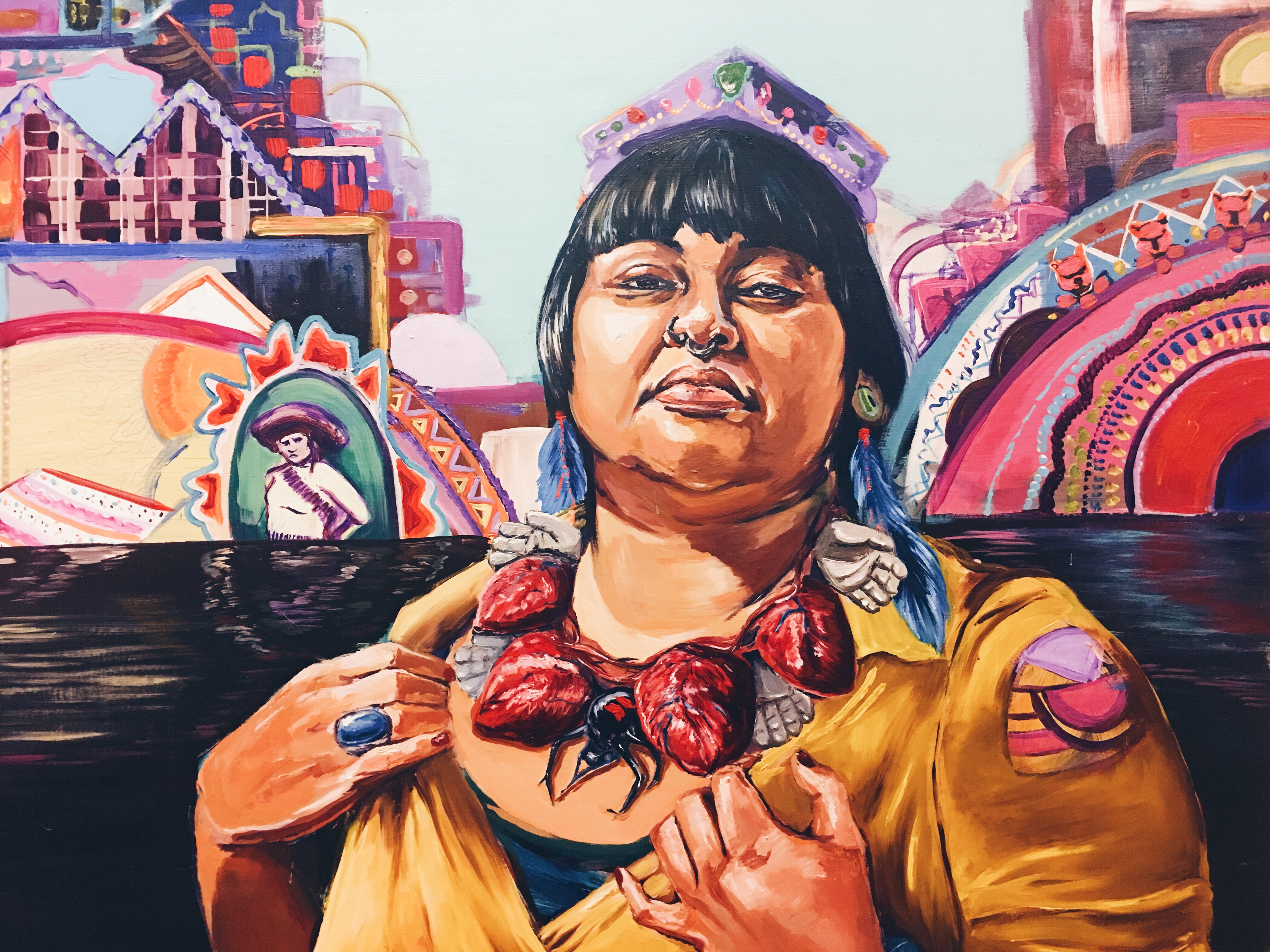 Crystal Galindo, "Coalticue State: Josie Channels the Goddess," 2012
The Indigenous people of America view corn  as a sacred item, which inspired the name of the East Los Angeles collective Mujeres de Maiz, or "Women of Corn." After 20 years of artivism, the group is celebrating with an exhibit  at  La Plaza de Cultura y Artes, entitled "Mujeres de Maiz: 20 years of ARTivism and Herstory en L.A."
Mujeres de Maiz began in 1997 as an activist organization with the intention of empowering women through the arts, combining a social, political, and creative space for women of East Los Angeles. Through their work, MdM works on elevating women to a sacred status.
"Mujeres De Maiz dedicates this installation to motherhood, our mothers, and the ultimate mother, Madre Tierra," co- founder Felicia 'Fe' Montes says.
In addition to being sacred, corn can also be viewed as a symbol of colonialism: there are nearly 19,780 different samples yet only 12 types of corn are produced today. This reflects is the binary between women, one can only be good or bad, but just like corn, there is variety.   
Mujeres de Maiz is not exclusive to Chicanx feminists. One caption, next to Carlos Montes' 1968 piece "Surveillance Photograph of Brown Berets," reads, "MdM reflects the diversity of activist organizing: its founding members include Chicana, Filipina, Sri Lankan, African American and queer individuals." MdM recognizes the intersectionality between the struggles of communities of color and the contributions they have provided throughout the past 20 years.
One of the most intriguing pieces of the exhibit is a rasquache table called "La Mesa de las Madres" by Fe and Michelle L. Lopez. The table is adorned with tamale leaves, apples, a molcajete, pans, and other kitchen items. Underneath the table hangs transparent  PVC  photographs of women who have passed away. Some of the women include Sandra Bland, Wilma Mankiller and Maria Felix. The images hang above a circle divided into four separate blocks: black beans, maize, pumpkin seeds, and blue corn, all essential in Indigenous communities of the Americas. Candles lie in each block and a calavera  lies in the middle. It is an offering for all the powerful women that have marked our contemporary lives and have passed on.  Individuals are encouraged to write a small note, with feelings, thoughts, or emotions.
Felicia 'Fe' Montes' "Botanica del Barrio" displays the the herbal remedies that are utilized to cure illnesses: copal, white sage, nettle leaf, oatstraw, among more herbs and remedies on top of a traditional paletera cart.  The piece carries a deeper meaning after the House of Representatives' vote to repeal Obamacare, endangering many people who may lose health coverage for pre-existing conditions.
With the new administration's focus on cutting funds, not just in healthcare, but in arts and education, "Mujeres de Maiz" is a reminder of the power of unity and organization within the Chicanx community. But the resistance didn't start on November 8 with Trump's election. Rather, MdM demonstrates that women of color have been fighting for representation for 20 years. It serves to show resistance is not about who is in office, but about the institution that continues to displace the narratives of Chicanx women as well as other women of color. The exhibit is  through May 29, open Monday thru Thursday from 12-5pm, Friday thru Saturday from 12- 6pm. Admission is free.