Nigeria's Movement to #EndSARS: A Struggle Against Police Brutality, State Power, and Neoliberalism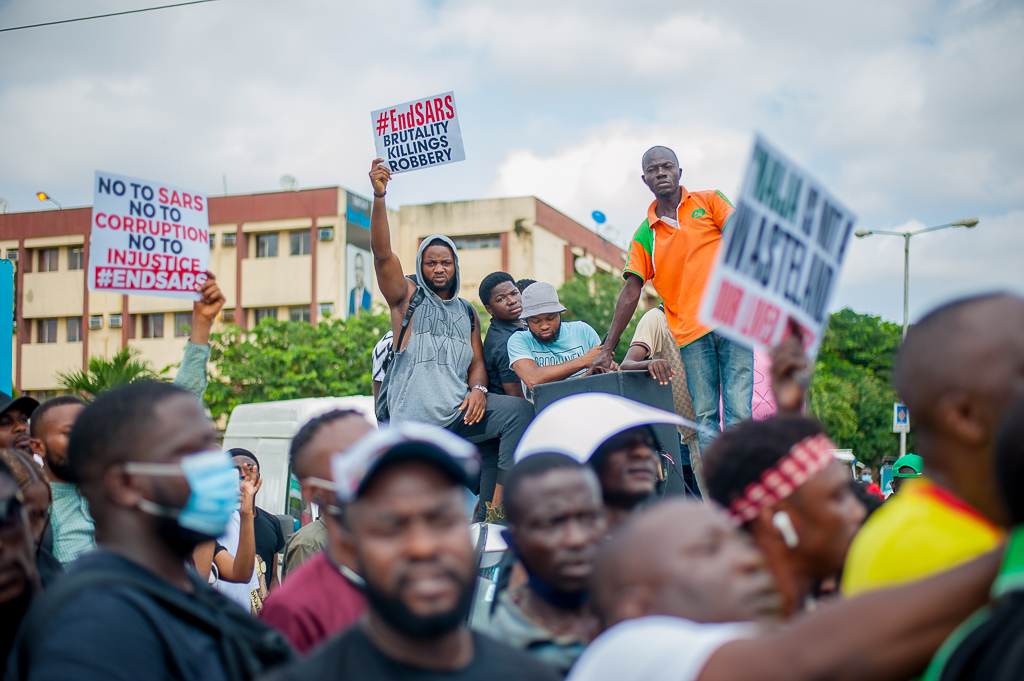 Image captured on October 13, 2020 by Kaizenify, licensed under the Creative CommonsAttribution-Share Alike 4.0 International License.
Image Description: Protestors gather at an #EndSARS protest in Lagos, Nigeria. A few protestors are elevated above the crowd, with one protestor holding a sign that says "#EndSARS BRUTALITY KILLINGS ROBBERY." Another protestor on the left holds a sign that says "NO TO SARS NO TO CORRUPTION NO TO INJUSTICE #ENDSARS."
October 2020 saw a surge of nationwide protests against police brutality in Nigeria, specifically against the country's Special Anti-Robbery Squad, or SARS. This wave of protests follows the emergence of videos showing SARS officers shooting and killing a young man in front of Wetland Hotel in Ughelli, Delta State. The event sparked outrage across the nation and social media as many called for the disbandment of SARS altogether. Millions across Nigeria have mobilized in demonstrations to #EndSARS, a movement aiming to end the abuses of the nation's notorious anti-robbery police unit.

Nigeria's #EndSARS movement has its origins back in 2017, after Amnesty International, a non-governmental organization dedicated to fighting human rights abuses, released a report detailing the various instances of torture, unlawful arrests, extrajudicial executions, and other forms of police brutality, as well as the lack of accountability for officers engaged in such violence. Thus, the hashtag #EndSARS was created and used to organize protests calling for the disbandment of the Special Anti-Robbery Squad.

The revitalization of the #EndSARS movement has been characterized by both its online and offline presence, with at least 28 million tweets under the #EndSARS hashtag on Twitter (as of October 12, 2020) along with the masses in the streets. The movement is largely decentralized and youth-led, with social media as one of their most significant tools in organizing. For example, protesters use location-sharing features to build large crowds at protests, or social media is used to share pre-identified strategic locations for protests in order to create the most effective disruptions.

Even though #EndSARS is a broadly decentralized movement, protestors have released a list of five clear demands, stated as such on an official infographic:
1) Immediate release of all arrested protesters.
2) Justice for all deceased victims of police brutality and appropriate compensation for their families.
3) Setting up an independent body to oversee the investigation and prosecution of all reports of police misconduct (within 10 days).
4) In line with the new Police Act, psychological evaluation and retraining (to be confirmed by an independent body) of all disbanded SARS officers before they can be redeployed.
5) Increase policy salary so that they are adequately compensated for protecting the lives and property of citizens.

Back in 2017, it appeared that the protests had only led to considerations for reform and the outright dismissal from SARS officers of these accusations of abuse. Now, with the recent resurgence of the #EndSARS movement, there have been renewed calls for the complete disbandment of the anti-robbery police unit, as well as accountability for SARS officers. In response to the massive protests, inspector general of the police Muhammed Adamu announced on October 11 that the Special Anti-Robbery Squad would be abolished.

However, given that there have been three previous similar announcements of either disbanding or reforming SARS, and that all SARS officers were to simply be reassigned to other police units, many activists remain concerned that Adamu's announcement would not be nearly enough to meaningfully address Nigeria's issue of police brutality. SARS officers will still be in positions of power that enable them to continue committing acts of police brutality while facing no accountability. This left many to view the dissolution of SARS to be "a mere name change." This sentiment was proven to be true, as only two days after the announcement to dissolve SARS, Adamu moved to create the Special Weapons and Tactics, or SWAT, to replace SARS.

Protests have continued across Nigeria despite the government's attempts to pacify the public, and #EndSARS has grown into a global movement, as international demonstrations have joined the protests in Nigeria in solidarity. Members of the international Nigerian diaspora have organized protests globally in countries including Canada, England, Germany, the United States, and more.

With continued protests, violence between protesters and police has only escalated, with at least 56 people having died since the beginning of the protests, as of October 23, 2020. At least 12 of those people were killed during peaceful protests on October 20, in what became known as the Lekki Massacre. In the face of a 24-hour curfew imposed in Lagos, demonstrators remained in the streets, blocking roads and camping at the Lekki toll plaza. Amnesty International reported Nigerian security forces opening fire into the crowd, killing 12 and injuring hundreds. The extrajudicial executions only led to intensified global outrage as CCTV cameras and electricity were cut at the Lekki toll gate to hide evidence and Nigeria's military denied responsibility for the massacre.

The continual protests going well past the announcement to disband SARS made it clear to many that #EndSARS was not only about police brutality, but also the deep systemic problems and moral bankruptcy that existed within Nigeria's political economic status quo.

British-Nigerian researcher Annie Olaloku-Teriba describes how "SARS was just one of many police units used to protect the criminally rich from the consequences of the extreme poverty that surrounds them." She further explains that because of the massive inequality in Nigeria, corruption and extortion have become means of income for public servants with unlivable wages, including the police. Thus, unless the matter of poverty is meaningfully addressed, dissolving SARS simply moves the problem around.

Lagos-based socialist activist Sa'eed Husaini pinpoints the root of SARS in the neoliberal policies of the late 20th century, in particular, Nigeria's structural adjustment programs. With structural adjustment programs, Nigeria's economy is modeled around free market principles, short-term profit-maximization, austerity, and dependence on Global North-dominated International Financial Institutions such as the World Bank and the IMF. It is from this period of economic insecurity, rampant poverty, and subsequently, widespread crime, that SARS emerged.

Abiodun Aremu, activist and secretary of Joint Action Front, a coalition of Nigerian pro-labor civil society organizations, points out that the youth generation most victim to these neoliberal policies are the ones leading the #EndSARS movement. This is a generation faced with over 40 million unemployed youth, disproportionate targeting and brutalization by the police, and repression by the state. However, as Aremu further explains, the youth are also armed with social media and technology that allow for the organization of a large-scale movement like that of #EndSARS. It was only logical that such a massive movement to end police brutality and state repression would culminate from those socio-political and economic circumstances.

Femi Aborisade, a socialist, writer, and lawyer from Lagos, writes how, "What started as a protest against police brutality evolved quickly into protests to end all forms of impunity and deprivation." As he describes, calls to #EndCommercializationofEducation, #EndHunger, #EndUnemployment, #EndLackofFreeMedicalCare, and countless more can be added to the calls to #EndSARS. While the movement was sparked by outrage against police violence, #EndSARS has come to represent a collective struggle for Nigerians against all forms of state repression, and for the rights of its people to not only be free of brutalization from its own government, but to live dignified lives.

Nigerian journalist and social anthropologist Doris Okenwa explains, "Protests do not last forever, they are not meant to. Protests are a short-term catalyst for long-term transformation." While fundamental changes to Nigeria's political and economic system won't occur overnight, the #EndSARS movement has laid the foundation for the political consciousness and generational transition in politics necessary for lasting, radical change.