No Diet, More Love: International No Diet Day & Be You Festival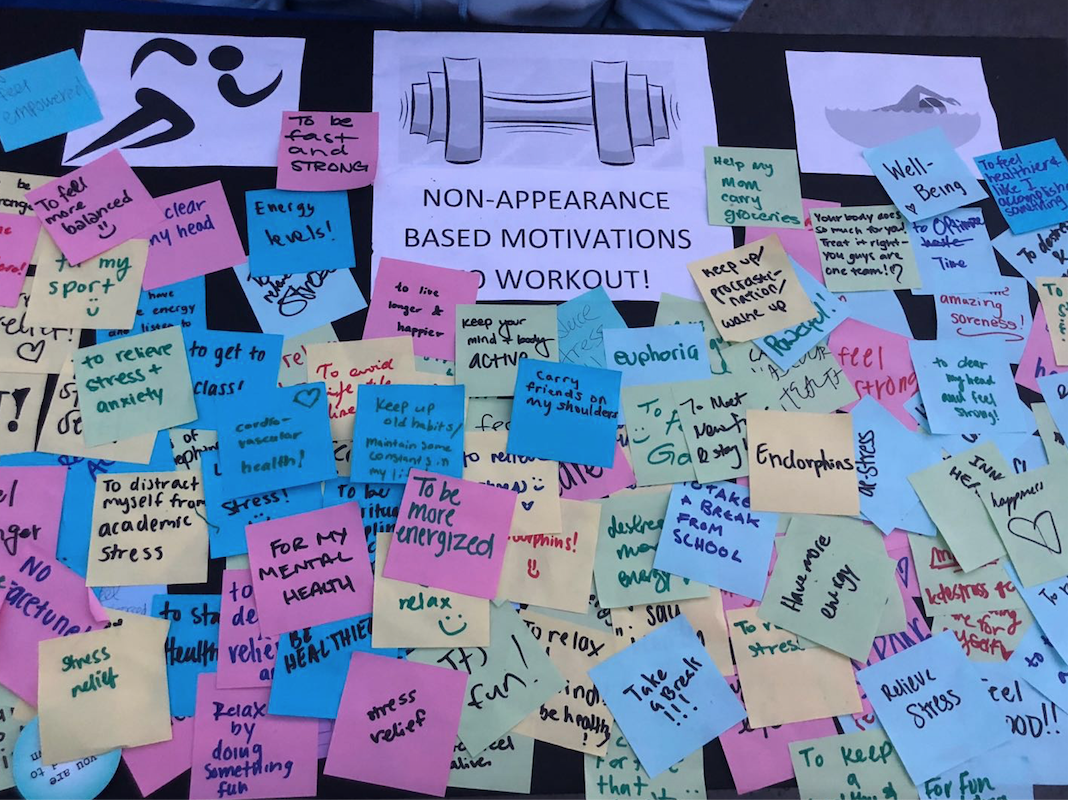 Photos taken by the author
Tie dying, bracelet making, hula hoop contest … this is how UCLA students celebrate self-love and beauty on the International No-Diet Day.
On May 2, UCLA Student Health Education & Promotion (SHEP), UCLA Ashe Center, Student Wellness Commission (SWC), and UCLA Housing organized the "International No Diet Day & Be You Festival," where they hosted a series of activities at Sunset Village to celebrate diversity in beauty, raise public awareness of toxic body images, as well as the futility in dieting. Students could take pictures of themselves power posing, get glitter tattoos, design self-love buttons and bracelets, and write about reasons for exercising besides obtaining conventionally attractive appearances. Free cookies and popcorn were provided at the event as a reminder for people to focus more on developing a healthy lifestyle and balancing their diet rather than restrict from eating many foods altogether.
"The message we want people to take away is in the name of International No Diet Day," said Varshni Nandakumar, co-director of Student Health Advocates (one of the committees of SHEP). "Don't diet for the wrong reasons, and just be you. Don't hung up on this one idea of what it means to be beautiful because there are so many different ways. You are fine being you, and just sort of embrace that as you go through all these activities."
Going through a variety of activity booths in the plaza, one in particular was hard to miss. Boxes of free condoms lay on the table with detailed feature descriptions, small square shaped boxes which turned out to be condom holders, and titular dick headbands. This was Bruin Love Station, sponsored by SHEP. Passers-by were encouraged to take pictures wearing the headbands, and friend groups enjoyed laughter from playing the ring tossing game "Dick Head Hoopla." The main objective of this booth was to advocate for people to appreciate every part of their body, and that measures for protecting sexual health should be available to everyone.
"Penis IS a body part [laugh]" added by Uriel Dimontevedl from SHEP, "it should be normalized. It's about sexual positivity."
Besides wearing a titular dick headband, there were many other creative ways in which one could embrace one's unique self. Right across the entrance of the Mailing Center, there were display boards covering different culture and beauty standards in areas around the globe. Moving forward into the plaza, one could either make a bracelet, or write down one's favorite body parts on a mirror.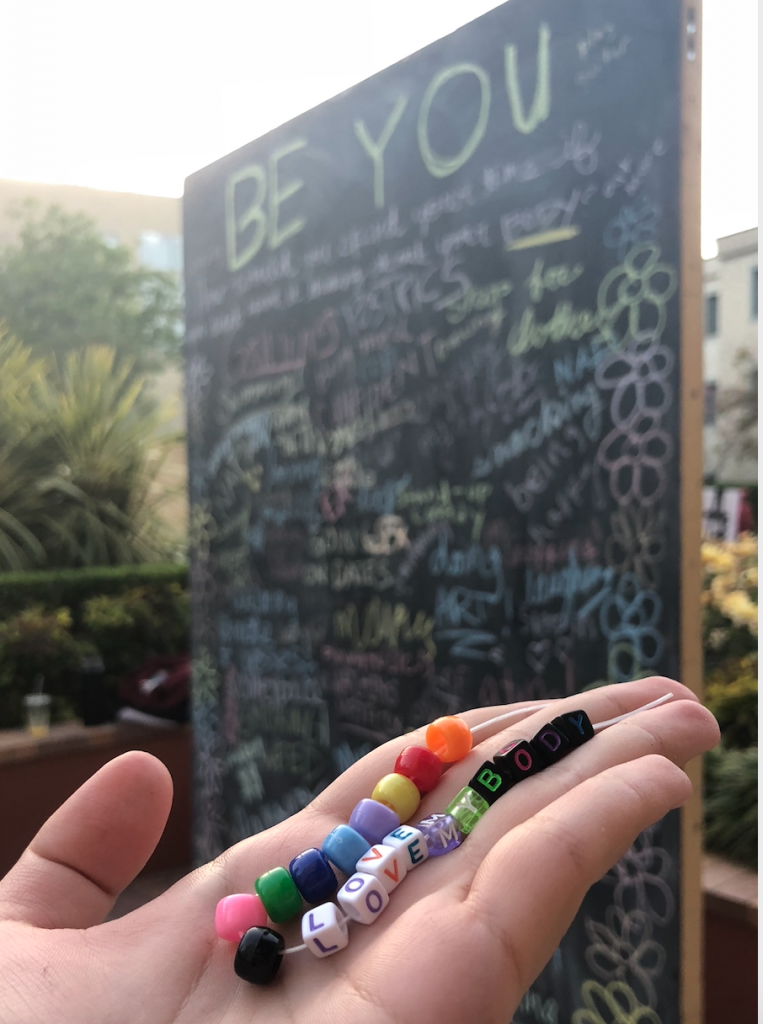 Galy Kouyoumjian, a student intern from SWC, talked about her understanding about different bodies. "I think everyone has their own beauty, and it's about loving who you are and appreciating every body shape. Making bracelets is a good way to express and encourage all that. I see people make words such as 'Authenticity' and 'love yourself' into their bracelets. When they wear it, it spreads the message about positive feelings."
"The International No Diet Day & Be You festival" at UCLA campus is inspired by International No Diet Day (INDD), an annual celebration of diversity in shapes and body acceptance. This celebration began in 1992 with British feminist, Mary Evans Young, who once battled with body shaming and anorexia nervosa. She was inspired by similar struggles of many other women she talked to and the futility in dieting she observed on TV. She celebrated the first INDD with several women by having a picnic in Hyde Park and wearing stickers that said "Ditch that Diet." What she didn't realize at the time, was that her actions were to trigger a global movement.
In addition to body positivity, an equally important message from this event is the futility and dangers associated with diet restrictions. Traci Mann, once a UCLA associate professor of psychology, led a study in 2007 that analyzed every study that followed people on diets for two to five years. She found out that one-third to two-thirds of people on diets gained more weight than they lost within four or five years. However, there is still an estimated 45 million Americans who go on a diet each year.
"There are so many different reasons for different people to go on a diet," Varshni Nandakumar added. "I talk to and I meet people that are on a diet. I think [the influence of] advertisements these days are subconscious and powerful, making us see perfect body all the time which [body] is hard for people to relate to."
Uriel Dimontevedl also shared her view about dieting. "Everyone's body is beautiful. Diets in general are so harmful, and rather than striving to be [look like] a certain way, [it is better to] strive to be healthy. Healthy looks different for every single person for every single body. So instead of thinking you should look this way, do what feels good for your body, and accept all different body types."
Body positivity is such a strong source of power for people to feel accepted and confident. Beyond this date, UCLA also provides various resources and events for students to feel and celebrate their natural beauty. The Student Wellness Center's committees such as Health, Nutrition, & Fitness, Student Health Advocates, and Body Image Task Force put on events and projects that aim to help students cultivate healthy and positive body images. The Body Project of SHEP offers skill-building workshops led by trained UCLA peer coaches to help students resist cultural pressures to conform to the ideal standard of female beauty and to reduce the onset of eating disorders.
"[It's difficult for] people that don't look like what they see [on TV or social media. But you see there are already models with diverse body types being hired," Varshni Nandakumar continued, "it's getting better."
The event was three hours in length with various activities aiming to increase the visibility of different body types — as opposed to the single beauty standard that trends on major media platforms — in order to promote self-assurance and self-love. The sun slowly dipped below the ground, with its remnant brightness stretching along the horizon. The sunlight shed on people's smiling faces, leaving a mixture of happiness, warmth, and hope. It was a day of creativity and self-empowerment. It was a celebration of diversity and love.