November is Sikh Awareness Month, Go talk to a Sikh!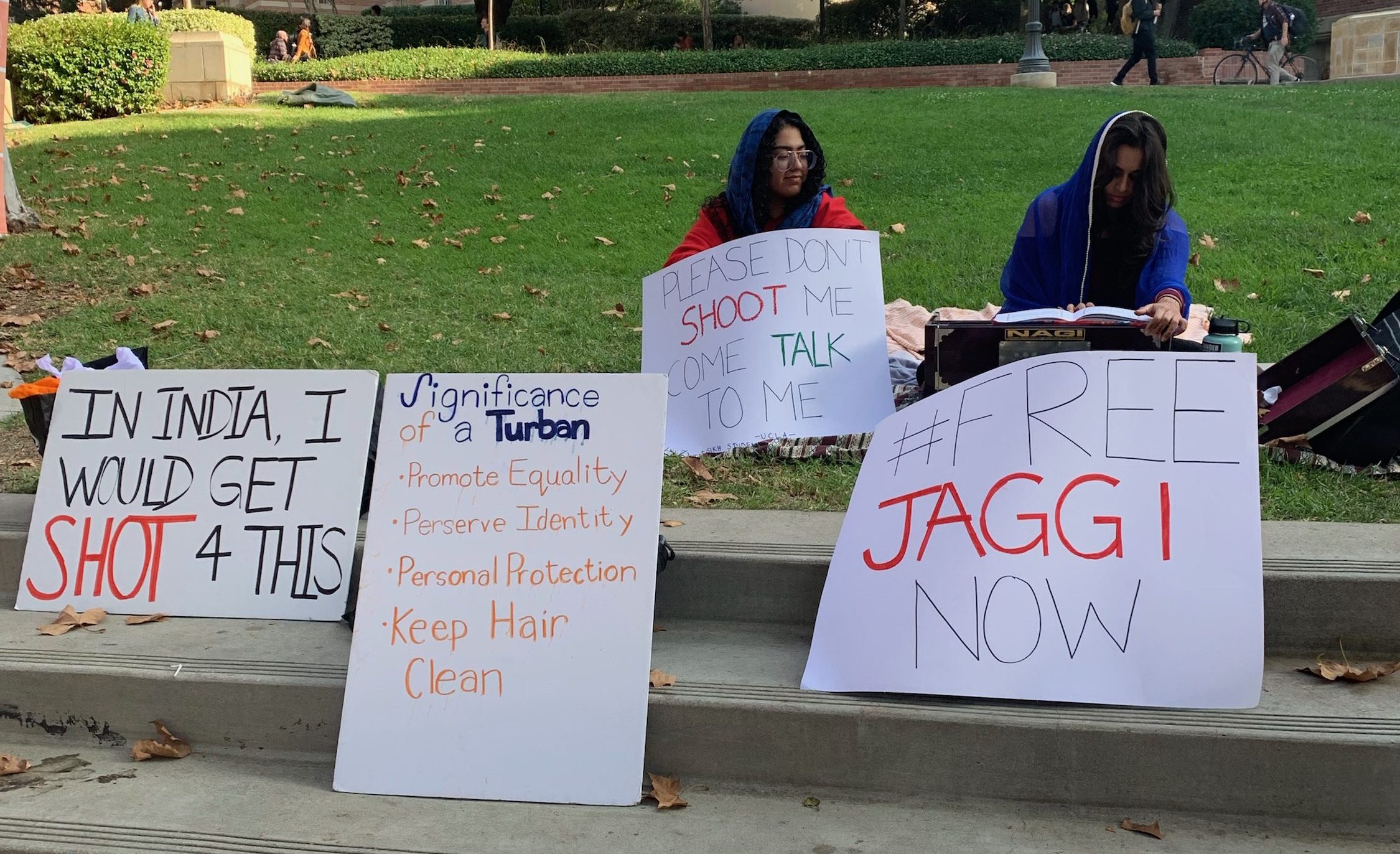 The Sikh Student Association (SSA) at UCLA was founded in 1920 at UCLA. Sikhi was founded in the 1400s by the first Guru, Guru Nanak Dev Ji, in the Punjab region of India. Sikhi follows a panentheistic theology, believing that God resides in everyone. We believe in one God, selfless service, equality, honesty, and humility. Since the foundation of the SSA, the organization has made active efforts to make its voice heard and known, and has been an ally to all religious communities on campus. Every year in November, Sikhs around the world, especially on campus, celebrate Sikh Awareness Month.

Sikh Awareness Month highlights some of the biggest messages of Sikhi: humility, equality, honesty, and selfless service. The month at UCLA starts off with two fundamental events: a silent protest in awareness and kirtan at Meyerhoff Park. The silent protest consists of signs that say, "Please don't shoot me, come talk to me" and "#Freejagginow." Jaggi is a Sikh who has been detained without being given any rights or counsel because he was researching the Sikh genocide of 1984 and the Indian government didn't like that. Kirtan is the act of singing praises of God, usually in some melodic structure, through genre, beats, and coordinated harmony. Sikhs believe that kirtan is one of the closest ways to reach God.

Free langar (food) is handed out on Bruin Walk every year to bring awareness to the Sikh population and feed any hungry Bruins. Selfless service is a major concept in Sikhi, very different from the idea of community service. Sikhs believe that God resides and is present in all individuals and, therefore, Sikhs should see God as they serve others, feeling as if they are serving God. Along with that, gatka demonstrations are given on the Bruin Walk stage. Gatka is Sikh martial arts using swords, shields, stickers, throwing speers, and much more. It is a martial art that embodies the values of standing up against any injustice that may occur.

On a Tuesday during the month, USAC passes a resolution every year to honor the 1984 Sikh Genocide, a genocide in which Prime Minister Indira Gandhi planned and systematically organized an attack on the holiest shrine of all Sikhs and used institutional authorities in her control to almost annihilate the entire Sikh population. This resolution is very empowering for Sikhs, as a lot of their parents and grandparents were killed in the 1984 genocide and are still traumatized by it. The Sikh youth today work on reclaiming the narrative that the Indian Government has falsely spread. They also try to raise awareness to prevent the Indian government from perpetrating another genocide.

Lastly, the month comes to a close with private prayer sessions and interfaith events. This year, UCLA will be hosting its first interfaith storytelling event, sponsored by the UCLA Sikh Student Association, Student Affairs, and the University Religious Council. The Sikh Student Association believes that coalition-building between religious groups on campus is very important not only for campus climate, but also to develop allyship for communities to continue to support each other.

Some ways that individuals can celebrate Sikh Awareness Month are stopping by the Sikh events in Bruin Plaza and Bruin Walk and talking to a Sikh. They can also attend the Sikh Student Association meetings or reach out to them to find out more. The Sikh Student Association's interfaith event is coming up next Tuesday, November 19, from 5:30 p.m. to 8:00 p.m. The Vice Chancellor and his staff and many UCLA deans will be attending this event.You can RSVP and get more information at HTTPS://TINYURL.COM/YXUWXCB.
If you would like to know more Sikh Awareness Month events or about Sikhs in general, contact the UCLA Sikh Student Association: [email protected]!