Now More Than Ever, We Need Parks Equity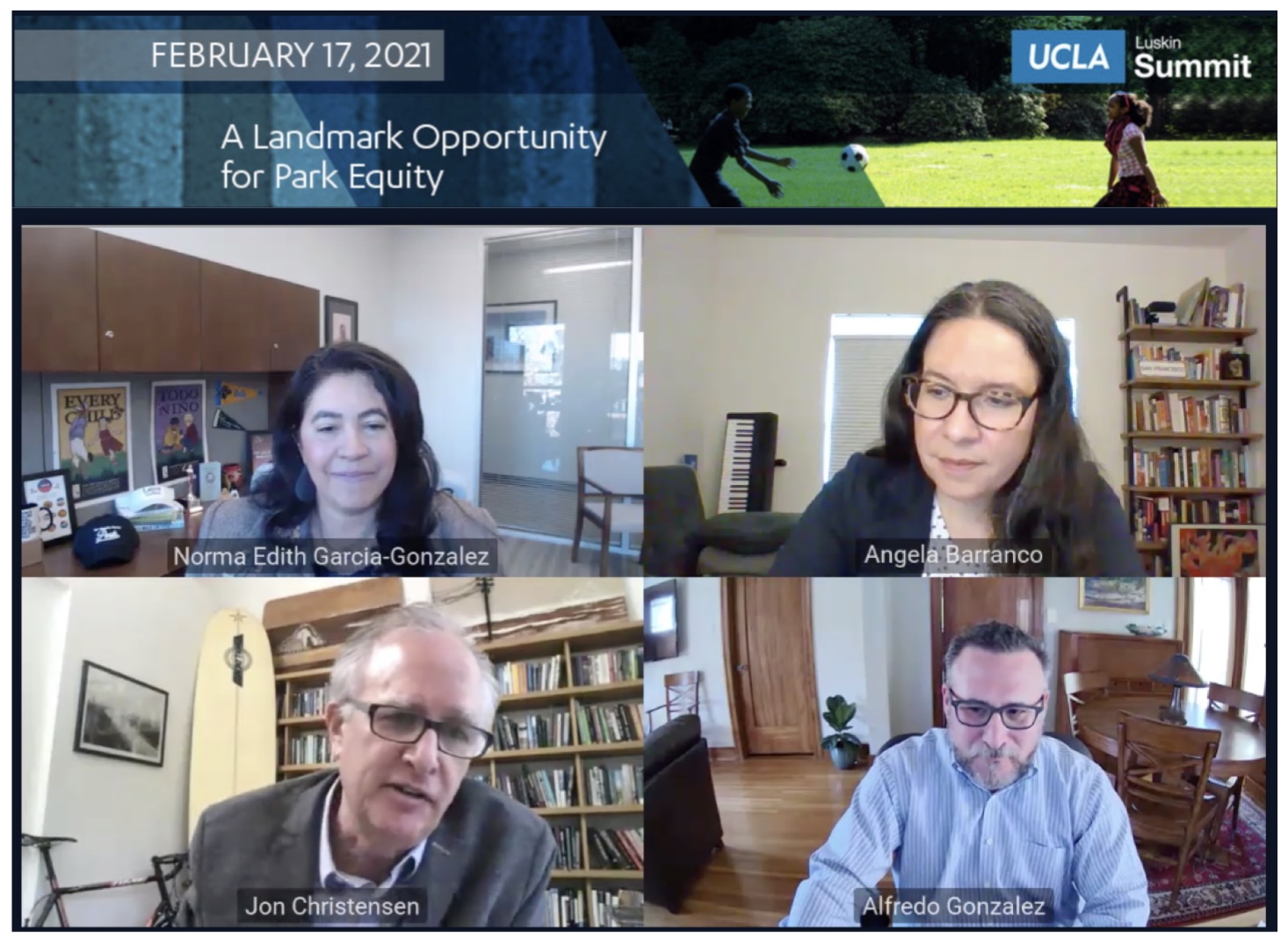 Image Description: A screenshot of the webinar shows four speakers: Norma García-Gonzalez (top left), Angela Barranco (top right), moderator Jon Christensen (bottom left), and Alfredo Gonzalez (bottom right). The UCLA Luskin Summit Header is displayed across the top.
The COVID-19 pandemic has revealed — to an even greater extent than before — how certain communities are disproportionately affected by public health issues. In addition to disparities concerning access to healthcare, quality housing, income, and job conditions, the pandemic has also shed light on something else: inequitable parks access. Whether it is at the state or local level, public parks have proven to be essential this past year, as the outdoors serve as one of the few safe venues for socially distant activities and gatherings. For many, going to parks has been one of the key ways to maintain physical and mental health; unfortunately, however, not all communities have equal access to them.
UCLA's Luskin School of Public Affairs addressed this issue in a discussion on Feb. 17, 2021 as a part of their webinar series, Luskin Summit 2021: Called to Action, which focuses on the impacts of the COVID-19 pandemic and associated public policy issues. The conversation featured moderator Jon Christensen, adjunct assistant professor at UCLA and faculty member of the Luskin Center for Innovation, along with panelists Angela Barranco, Norma García-Gonzalez, and Alfredo Gonzalez. One in four Californians have no public park or open space access within walking distance, while six in ten live in "park-poor" areas: places with very limited access to parks. The group acknowledged the urgency of this issue — especially its disproportionate effect on communities of color — and each panelist then shared how their sectors were taking tangible steps to improve parks equity through proper allocation of funding and resources.
The discussion began with Angela Barranco, the undersecretary at the California Natural Resources Agency. Barranco primarily focused on parks equity at the state level and the actions that Governor Newsom's administration is taking to ensure equal access. Her agency is focused on protecting and expanding existing access programs through community partnerships, proposition funding, and federal partners. Most importantly, Barranco highlighted the need to incorporate justice and inclusion into the conversation, especially in leadership roles: "We have to reflect the values of all Californians."
Norma García-Gonzalez, a UCLA alum, echoed this sentiment of prioritizing justice in parks equity by asserting that "investing in parks for underrepresented youth is justice reform." As director of the Los Angeles Department of Parks and Recreation, García-Gonzalez emphasized that parks are "critical infrastructure" for Los Angeles during the COVID-19 pandemic. Since last March, the county has utilized its public parks for food distribution, youth programs, 2020 Census centers, voting centers, and COVID-19 testing and vaccination sites. Despite this, she acknowledged that there are "deep disparities" in regard to parks — especially in marginalized communities. García-Gonzalez stressed that addressing these disparities starts with young people. Measure J, which involves investing in youth park programming such as after-school care, summer camps, nature activities, sports, art, and jobs, aims to impact communities most affected by racial injustice.
Southern California director of the Resources Legacy Fund Alfredo Gonzalez added to Barranco and García-Gonzalez's views, specifically calling for both increased park access and protection of vulnerable communities from the effects of climate change in general. He also emphasized the need to define accessibility as more than just transportation between physical locations. Accessibility must also include jobs, programming, and how parks will be operated and maintained so that they have long-lasting social impacts. Additionally, Gonzalez called for careful consideration of other issues that may arise with implementing new parks, such as gentrification and displacement of existing communities.
Parks equity is just one issue of many that can help improve the physical and mental well-being of all communities, during the current pandemic and in the future, and in Los Angeles and beyond. It sheds light on the ever-growing need for environmental justice as issues like climate change and environmental racism continue to affect marginalized groups at higher rates. Additionally, parks equity is a crucial step toward diversifying the outdoors. With so much of our lives being digital right now, it's more important than ever to ensure that everyone can enjoy the outdoors for the breath of fresh air we all deserve.