Our Story: Building a Counter-Narrative at the Hammer Museum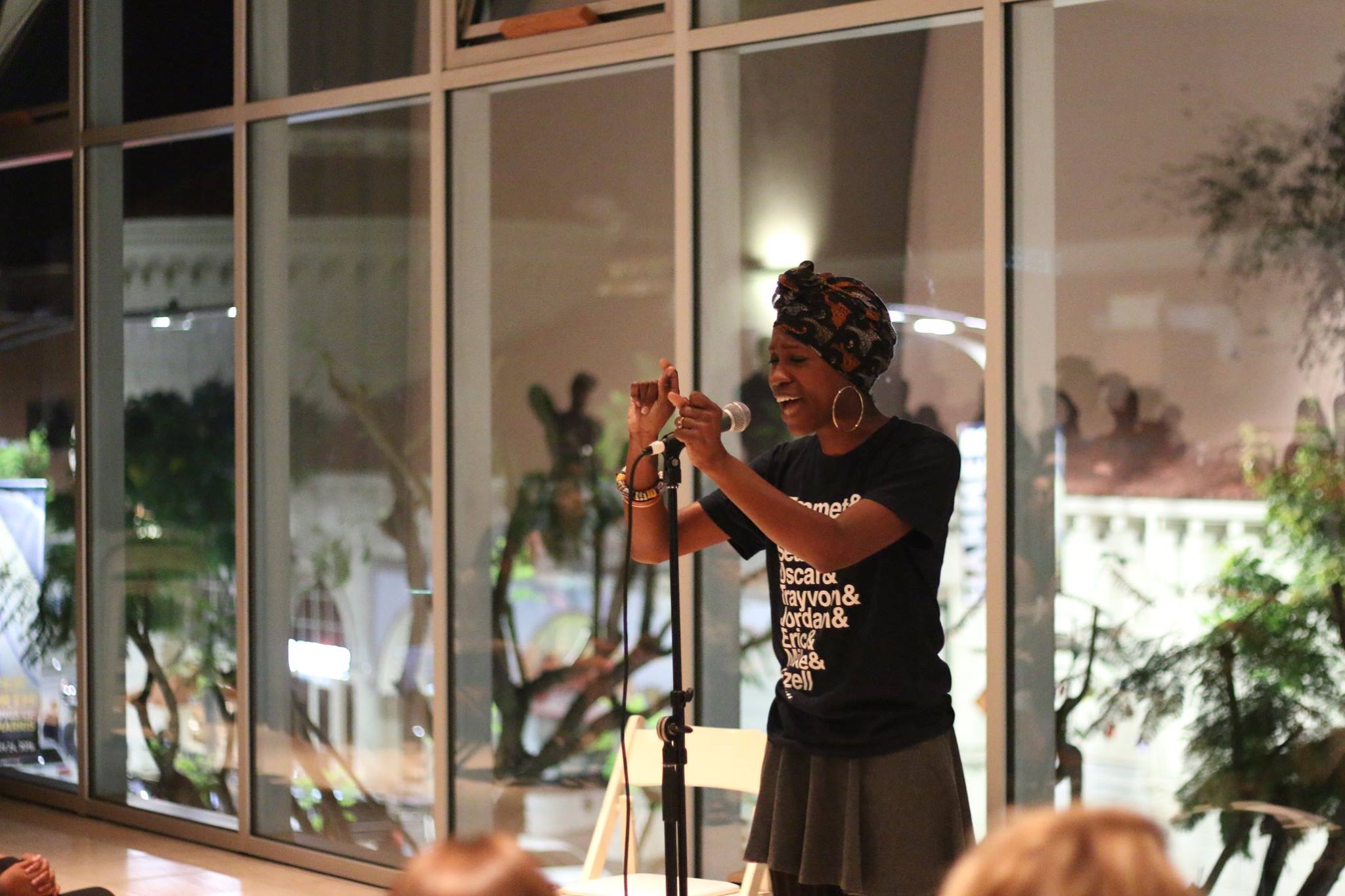 Image: Alyesha Wise speaking at Our Story: The Counter-Narrative. Photo by Sookie Kwak via UCLA Cultural Affairs Commission. 
On Monday, October 19th, the Hammer Student Association hosted Our Story: The Counter-Narrative, a showcase of spoken word and music by selected local performers. It was presented by UCLA's The Word on Wednesday in solidarity with Black Lives Matter LA. The lineup included prominent slam poets Rudy Francisco, Tonya Ingram, Aleysha Wise, and Ki NG.
The performances were interspersed with thoughtful commentary by MC Shamell Bell and her four-year-old son. Bell is a PhD student in the UCLA World Arts and Cultures program and is also a core organizer of Black Lives Matter LA. She informed the audience of the origins of the movement —  Black Lives Matter LA was founded when she was an undergraduate at USC and active in the sphere of social justice. She was contacted, along with several others, by Patrisse Cullors, one of the founding members of the movement, to organize under the larger umbrella of Black Lives Matter. Bell also shared with the audience her ideas and visions for social justice. Finally, her son led the audience in the Assata Shakur chant, an anthem of black protestors across the nation, which is: It is our duty to fight for freedom/It is our duty to win/We must love and support each other/We have nothing to lose but our chains.
Events like this are absolutely essential to the process of challenging anti-blackness and creating a positive ideology of pluralistic black identity. The intersection of art and social justice is a powerful one; artists, as Bell mentioned during the event, have a duty to use their voices and their platform to amplify the voices of those who cannot be heard as widely, especially in the light of recent events at UCLA. A few of these are the "Kanye Western" themed party at a fraternity house and the incident last year where people stuck racist stickers outside the Afrikan Student Union's office following the murder of Freddie Gray. The mainstream narrative and dialogue surrounding these issues is not one of condemnation and the word "racism" is rarely used. But the performers on that stage were contributing to the ideological momentum of the Black Lives Matter movement. We have gathered and will continue to gather force against the rationalization of racism on this campus and in the general public sphere.
We at FEM strongly support UCLA students in their efforts to use their artistic expression and sphere of influence to challenge the ideology that surrounds racial discourse, or lack thereof, on this campus.