Please Draw a Heart on My Arm: A Day of Remembrance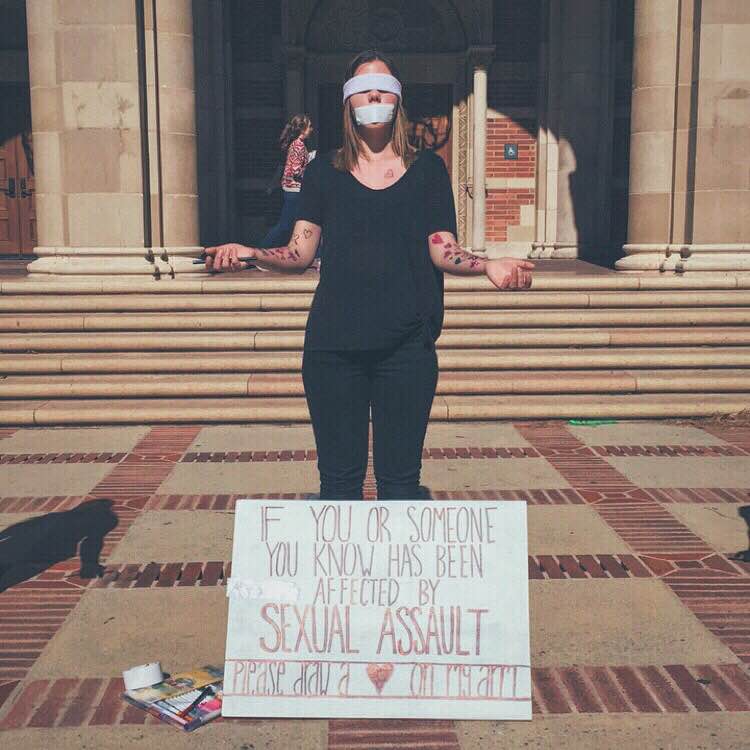 Photo by Devyani Rana.
Three women stood blindfolded in front of Royce Hall on Tuesday afternoon, February 2nd, with their mouths taped and their arms adorned with hearts. There, at the center of their art protest, stood a poster with the words, "If you or someone you know has been affected by sexual assault, please draw a heart on my arm." In the midst of midterms stress, students stopped to take in this devastatingly beautiful demonstration that, though silent, echoed a powerful message of support and solidarity for survivors of sexual assault.
Though it is impossible to ever know its full impact, this silent protest worked to create a safe space for survivors to heal, and for other members of the UCLA community to show their support. For some survivors, this healing may come from drawing a heart, speaking of their assault without having to recount their experience in words. For others, it may simply be being surrounded by a support system that has been affected by sexual assault in some way.
They also used blindfolds and tape in the protest for two reason: 1) It allowed people to feel comfortable enough to approach the three women without feeling the need to interact and 2) it symbolized the way in which survivors have experienced their consent being taken away from them. Laura Savage, executive producer of "The Vagina Monologues" at UCLA and one of the three women featured in this piece of art activism, shared that "the cool part about the protest is that we're not just demonstrating – we're involving people. We're asking people to step forward and say 'yeah, this has happened to me, or my friend, or someone else I love dearly.'"
This intimate interaction forced people to confront the continued silence and apathy towards gender-based violence, even though sexual assault so profoundly affects survivors and the community as a whole. Savage expressed that she "felt strangely panicky about the whole thing," uncertain if people would respond respectfully or even respond at all. However, within one hour of the demonstration, Savage revealed, "My forearms were already filled; people wrote messages on me in Spanish and Korean; three women wept in my arms; families approached me to draw commemorative hearts for sisters, mothers, aunts; a woman laid flowers down; a man whispered, 'Thank god. I was starting to think I was alone.'"
The demonstration of solidarity on that bustling afternoon is only the beginning of a month of events hosted by the V-Day Movement at UCLA. This entire month of action will be leading up to three performances of "The Vagina Monologues," a play written by Eve Ensler. Though "The Vagina Monologues" was originally created to break the stigma against the female body, the power of the movement has since outgrown the play and has turned into the V-Day movement, which executive director of "The Vagina Monologues," Carly Dreme, describes as an "intersectional artistic movement to end gendered violence worldwide." While "The Vagina Monologues" has received backlash for being transphobic and cis-normative, Dreme states that the V-Day Coalition has worked to "expand programming to be as inclusive as possible" as "art is never perfect."
"We asked little and offered less," Savage expressed humbly. As I saw these three brave women hold up their arms for hours upon hours under the beating sun, as I stood in front of the demonstration watching the hearts cover every last surface of skin on these women, I respectfully disagree.
Doors open for "The Vagina Monologues" at 7:00 p.m. on February 25th-27th at the Northwest Campus Auditorium. The show starts at 7:30 p.m.