Politics' New Princess: The Performative Celebration of 'Alt' Second Daughter Ella Emhoff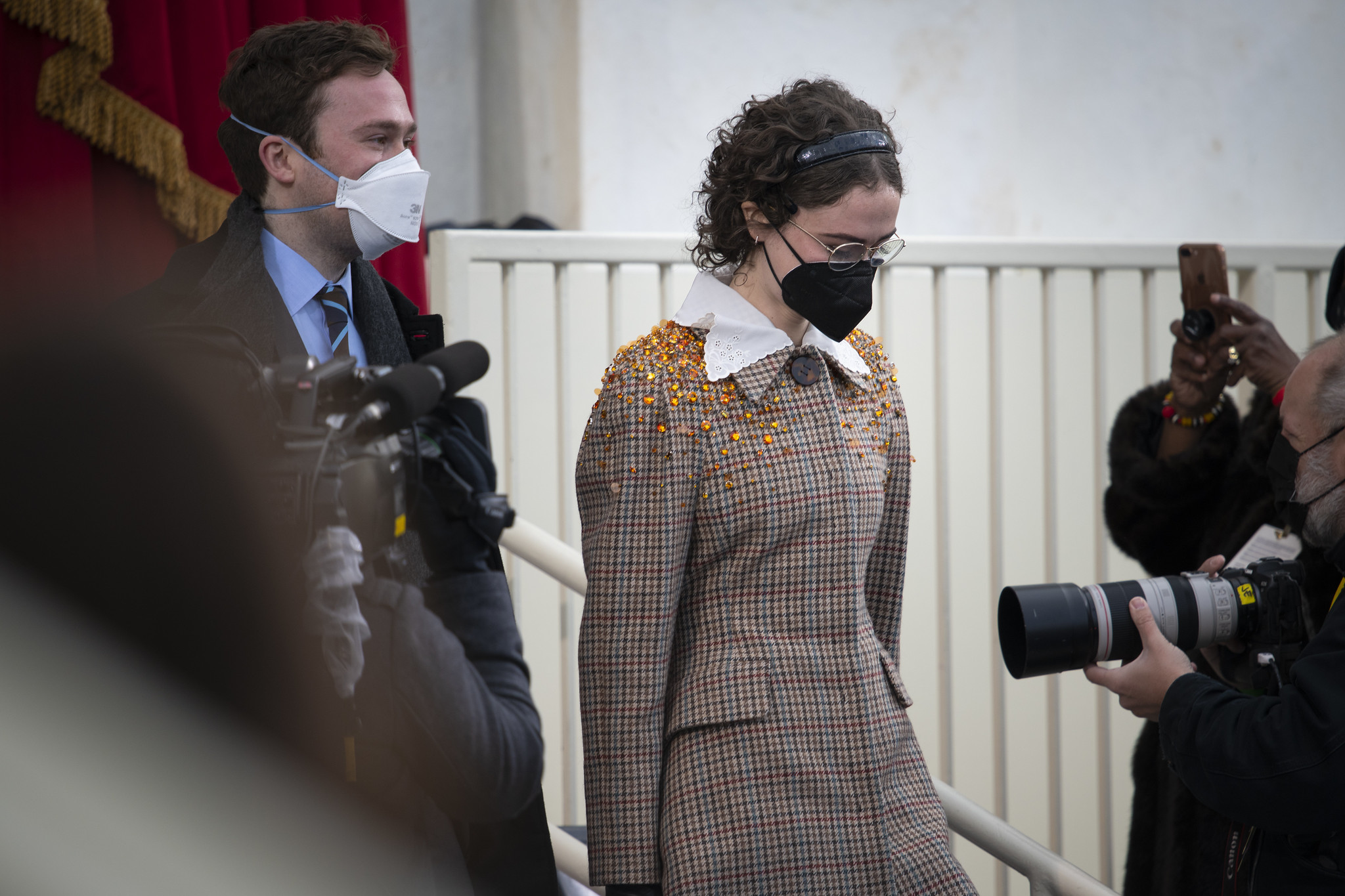 Image via flickr
[Image Description: Ella Emhoff walks down White House steps in mask and coat as paparazzi follow. Emhoff's coat is a full length jewel encrusted Miu Miu with embellished shoulders and an oversized white collar.]
At an inauguration with plenty of noteworthy moments for women, from Kamala Harris becoming the first Black and Asian American Vice President, to Amanda Gorman being the youngest poet laureate and even J.Lo finally not wearing the green Versace dress, somehow a 21 year old white woman became the star of the afternoon. I speak of no other than Ella Emhoff, the step daughter of Vice President Kamala Harris.
So who is Ella Emhoff? Emhoff is the daughter of second gentleman Doug Emhoff, a pre-White House prolific entertainment lawyer, and his ex-wife Kerstin Emhoff, a film producer and CEO of the production company Prettybird. Doug Emhoff's career highlights include being partner at major law firm DLA Piper and representing everyone from a "Real Housewives of Beverly Hills" husband to an advertising agency suing the Taco Bell chihuahua. Ella Emhoff's mother, Emmy Winning producer Kerstin Emhoff, runs a production company that has had a hand in everything from feature films to iconic music videos like Beyonce's "Formation", Harry Styles's "Watermelon Sugar", and Lil Nas X's collaboration with Billy Ray Cyrus "Old Town Road." Even before a foreseeable future as the second stepdaughter of America when her father wed Harris in 2014, Ella Emhoff was a child of powerful parents. She went to a cushy "independent progressive" school in West Los Angeles, then moved to New York where she's currently a senior at the prestigious art school Parsons School of Design. Despite her well connected background, Emhoff had managed to escape the foreground of the media attention surrounding her family as Kamala Harris's political career took off. That is until Ella Emhoff became the talk of the inauguration with her short curls, one of a kind burgundy Batsheva Hay dress, and a jewel encrusted Miu Miu coat.
Somehow amidst all the record breaking, pop singing, and political tension-avoiding that was Joe Biden and Kamala Harris's inauguration, Ella Emhoff was the viral talk of the town. She became somewhat of a White House phenom with her tattoos and kitschy Instagram posts that thousands flocked to after the inauguration (she gained over 250,000 Instagram followers in less than a week after the event). The biggest news, however, was when the story broke that she had been signed to top modeling agency IMG Models within about a week of her viral inauguration buzz.
Publications raved about the new wave of relatable quirk chic Ella Emhoff was bringing to Washington. Vogue dubbed her "First Daughter of Bushwick" for her Gen-Z fondness of knitting, stick and poke tattoos, and Brooklyn zest. Emhoff herself said she was excited to "bring a bit of Bushwick into the high fashion realm", which I guess means posting yourself in knitted sweaters on Instagram and very relatably wearing glasses to your step mother's vice presidential inauguration. President of IMG Models, Ivan Bart said "it's not really about shape, size, or gender any more" and that "Ella communicates this moment in time." An interesting statement to release considering Ella Emhoff is the epitome of the fashion industry's beauty standards as a rich, skinny, white cisgender woman. What moment in time is she communicating other than this country's desperate craving to return to its performatively progressive past?
It is nothing short of reductive to take a movement like the increased demand for representation of fat, non-white, disabled, and trans- and non-binary people on runways and assign a rich, skinny, white, cisgender woman as its representation.
Commentary on Ella Emhoff's immediate success in the modeling industry a mere days after her nationwide debut cannot exist without examining it from a political lens. Her debut itself was political –– it was the inauguration of the president and vice president of the United States. The day was a shift of power as Donald Trump officially lost his title of standing president and returned to his previous title of ex-reality show host. Liberals across the nation gave a sigh of relief as Joe Biden's non-polarizing musical guests sang their versions of American songs. Was the moment in time that Ivan Bart was referring to the previous complacency of past Democratic regimes? Times when people like Tina Fey and Amy Poehler could host the Golden Globes (they're doing it again this year) without fear of a celebrity taking a knee or saying a controversial statement on anything other than the entertainment industry when the camera pans to them? Yes, it must be.
Ella Emhoff's political adjacency being snapped into a modeling contract is indicative of America's desire to integrate the politician with pop culture. Ella Emhoff represents this moment in time because she is the step daughter of the first Black and Asian American vice president and has stick-and-poke tattoos. That "diversity" is how she "communicates this moment in time."
The media's new fixation on Ella Emhoff suggests that we take the admiration and interest we have in how she does her hair to distract from the inevitable moment when the Biden-Harris regime starts sliding into their roles of upholding our nation's imperialist, racist, and capitalist framework. The center-left so desperately wants us to return to the era when our focus was on the swag of Barack Obama's tan suit and not on how he deported 1.18 million people during his first three years in office compared to Donald Trump's ~800,000. It is the same reason why politicians are Twitch streamers or go on late night talk shows. When the politician is integrated into pop culture, their role as an entertainer distracts from their role as public servant and can allow for greater mishaps with fewer calls for accountability.
This is not to say that Ella Emhoff is responsible for the memes the Biden-Harris social media interns will create to distract us from not having our stimulus checks. No singular person can be put to blame for the centuries of oppressive institutions embedded in our nation's history and present day. It is simply our role to be wary of the growing separation between the government acting as public servants versus A-list celebrities. At the end of the day, the true root of Ella Emhoff's individual success exists not only because she is the social media savvy second stepdaughter of the United States but because she is skinny, white, and cisgender.