President's Day: Looking Beyond the United States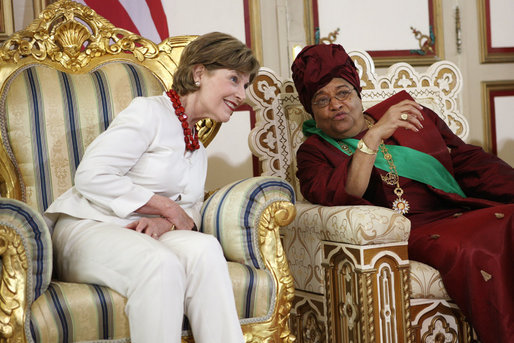 White House photo by Shealah Craighead – whitehouse.gov, Mrs. Laura Bush listens to Liberian President Ellen Johnson-Sirleaf
It is no secret that the United States has yet to elect a woman as president. This President's Day, let us then appreciate the powerful women heads of state around the world, and remember those who came before them. Each with their strengths and faults, their unique stories and passions, they remind us of the possibilities of a nation and world in which individuals of all genders are given the opportunity to lead. In no particular order:
Queen Elizabeth II – United Kingdom and the Commonwealth

Queen Margrethe II – Denmark

Marie-Louise Coleiro Preca – President, Malta

Bidhya Devi Bhandari – President, Nepal

Nkosazana Dlamini-Zuma – Chairperson of the African Union

Park Geun-hye – President, South Korea

Kolinda Grabar-Kitarović – President, Croatia

Dalia Grybauskaitė – President, Lithuania

Ameenah Gurib-Fakim – President, Mauritius

Sheikh Hasina Wajed – Prime Minister, Bangladesh

Hilda Heine – President, Marshall Islands

Tsai Ing-wen – President, Taiwan

Ellen Johnson-Sirleaf – President, Liberia

Kersti Kaljulaid – President, Estonia

Saara Kuugongelwa-Amadhila – Prime Minister, Namibia

Cécile La Grenade – Governor-General, Grenada

Theresa May – Prime Minister, United Kingdom

Angela Merkel – Chancellor, Germany

Doris Leuthard – President, Swiss Confederation

Pearlette Louisy – Governor-General, St. Lucia

Marguerite Pindling – Governor-General, The Bahamas

Patsy Reddy – Governor-General, New Zealand

Aung San Suu Kyi – State Counsellor, Myanmar

Erna Solberg – Prime Minister, Norway

Beata Szydło – Prime Minister, Poland
May many more follow.