Pride and Politics: A Truth Not Yet Universally Acknowledged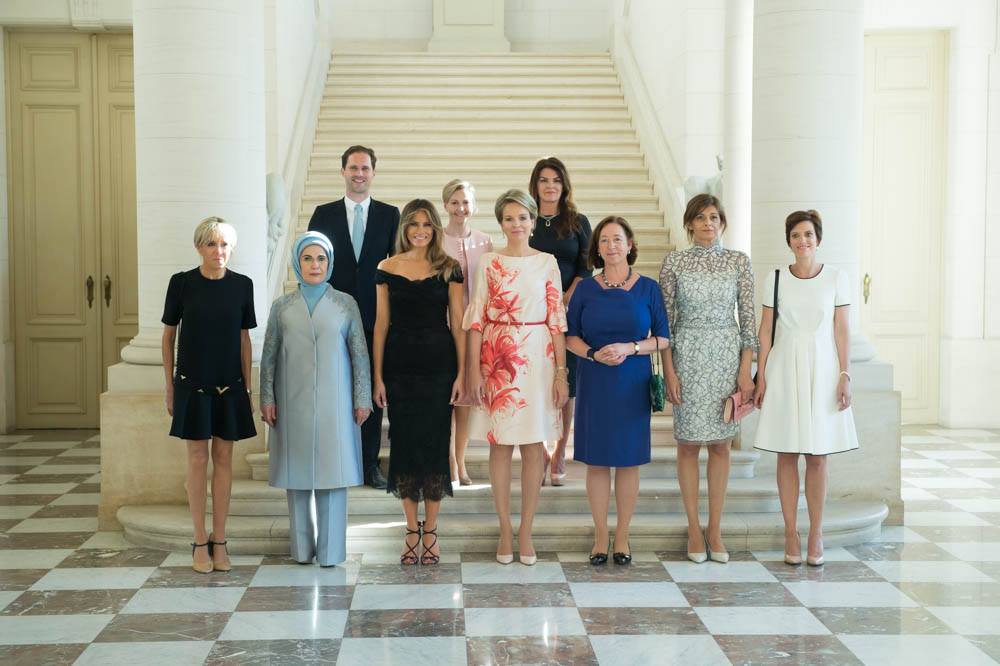 Queen Mathilde of Belgium meeting with the First Ladies and First Gentlemen of NATO members at the Royal Palace in Brussels via Wikimedia Commons / Public Domain
On May 27, the White House posted a photograph of First Lady Melania Trump standing with the spouses of other leaders representing states in the North Atlantic Treaty Organization (NATO). The President and First Lady were in Europe as a part of Trump's first trip abroad, and while President Trump declared the series of visits to be a "great success," several of his actions and subsequent reflections engendered controversy. One of such moments was the caption accompanying this photograph of NATO spouses that omitted the partner of the Prime Minister of Luxembourg: First Gentleman Gauthier Destenay, married to Prime Minister Xavier Bettel. Hours later, Destenay's name was added to the list of nine wives, yet the White House was already under fire for the homophobic exclusion.
Destenay, a Belgian architect, is the first same-sex spouse of a European Union leader. Prime Minister Bettel is currently the only openly gay head of government, following former Icelandic Prime Minister Johanna Sigurðardóttir and former Belgian Prime minister Elio Di Rupo who led their respective countries until 2013 and 2015, respectively. Prime Minister Sigurðardóttir was also the first woman to serve in this capacity for Iceland.
Notwithstanding the seeming attempt by the current United States administration to ignore individuals who do not comply with heterosexual norms, a fourth country is prepared to make history with respect to LGBTQ+ representation. Leo Vardkar, the current Minister for Social Protection, is on the cusp of being elected the next prime minister of Ireland; he would be the state's youngest premier, as well as the first leader who is openly gay and of Asian immigrant descent (Vardkar's dad is a doctor from Mumbai). Ireland became the first country to legalize same-sex marriage by means of a popular referendum in May 2015, a noticeable departure from the state's Catholic and socially conservative roots.
In 2000, former U.S. President Bill Clinton declared June to be 'Gay and Lesbian Pride Month' in commemoration of the Stonewall Riot. Nonetheless, President Trump has consistently opposed marriage equality, a view affirmed by his selection of Mike Pence as his Vice President and Trump's support of what the Human Rights Campaign had dubbed the "most odious anti-LGBTQ+" law in the country: North Carolina's recently repealed House Bill 2 (frequently referred to as the 'bathroom bill'). However, the election of 2016 also witnessed a victory by Oregonian Kate Brown, the first openly LGBT governor in the United States (Governor Brown identifies as bisexual). 
LGBTQ+ rights are not just under attack in the United States. While progress such as Taiwan's legalization of same-sex marriage are a positive, transnational advocacy networks including Human Rights Watch continue to report on the abuses faced by individuals because of their gender identity and/or sexual orientation. For example, gay men in Chechyna are currently subjected to torture and murder, and a raid in Bangladesh on May 19 arrested 28 men and paraded them before the media after accusing them of being gay, a flagrant violation of privacy rights and example of the persistent pressure faced by sexual and gender minorities in Bangladesh. Only 21 countries have legalized same-sex marriage; in ten countries, homosexuality is punishable by death.
Leaders like Prime Minister Bettel and First Gentleman Destenay are still pioneers as LGBTQ+ persons openly occupying positions of power worldwide. The treatment and visibility of individuals expressing a diversity of gender identities and sexualities vary widely across states. Particularly this month, it is imperative to recognize the progress that still must be made to guarantee the mental and physical health, safety, and justice accorded to LGBTQ+ individuals both in the United States and across the globe.