Rock UCLA for Bernie: Sanders' Supporters Discuss Media Bias and Feminism at UCLA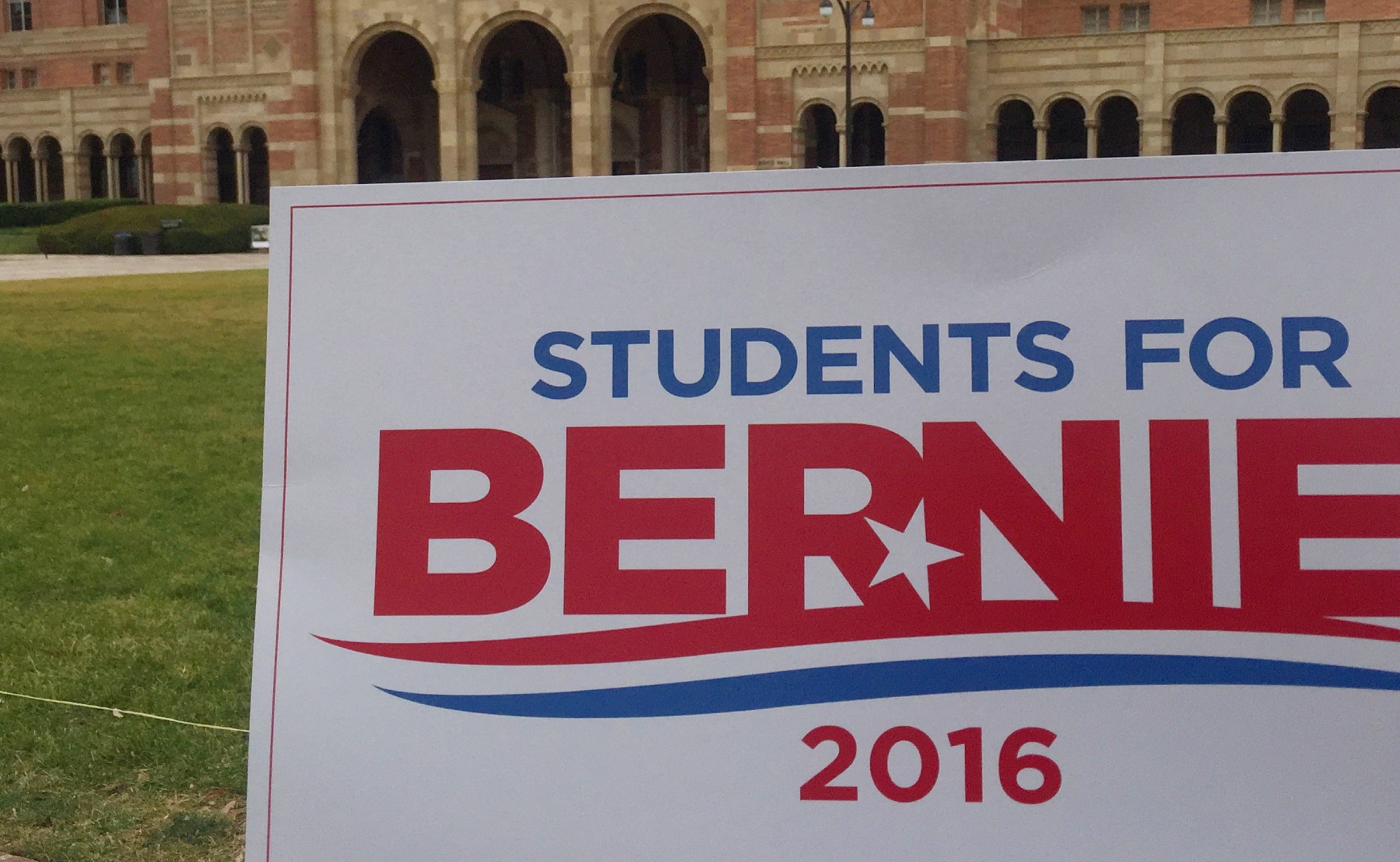 Photo by Patty Viramontes.
On May 10th UCLA students, journalists, and celebrities gathered together at the "Rock UCLA for Bernie" rally at UCLA supporting presidential candidate Bernie Sanders. The rally, programmed by Bruins for Bernie, led to an interactive panel where prominent activists spoke on topics regarding voter suppression, media bias, and the role of feminism in the Sanders campaign.
The rally was an effort to encourage UCLA students to register to vote in California before the May 23rd deadline. Celebrity activists such as Josh Hutcherson, Zoë Kravitz, Max Carver, Kendrick Simpson, and Rosario Dawson helped students register as they handed out voter registration forms and posed for photos with registered voters.
Following the rally, supporters attended a panel at UCLA's James West Alumni Center where Dawson joined UCLA Bruin Denea Joseph, journalist Greg Palast, comedian Katie Halper, and veteran advocate Maricela Guzman, to answer questions concerning voter suppression and their support for Bernie Sanders.
The panel began with a discussion on how the Sanders campaign has challenged the nation's status quo.
When asked why she supports Sanders, Dawson emphasized Sanders' ability to raise campaign funds without contributions from wealthy corporations. Dawson stated Sanders is distinct in that he is running on "people power," and thus, she argued, represents the interests of regular people and not of the corporate world.  
Dawson also examined Sanders' commitment to his supporters. She argued, if elected, Sanders will "keep the door open for us, and not close it."
Student leader Denea Joseph contributed to the discussion as she elaborated on the power students have in transforming the nation's socio-political environment. Joseph received applause as she encouraged students to practice their political power, stating one does not "have to be a student leader, you just have to be you."
The questions naturally transitioned to topics involving voter representation. Specifically, the manner through which the mainstream media often fails to recognize the support many feminists and ethnic minorities have for Senator Sanders
The panelists defied the idea corporate media often promotes where Bernie supporters are often defined as white male college students, or popularly referred to as "Bernie Bros."
"There's actually a lot of Latinos, Chicanas, Hispanics, who are voting for Bernie," Maricela Guzman stated. The media often ignores the prominent voices of minority activist who support Sanders. Feminists and ethnic minorities are rarely depicted as Bernie supporters, as the media has become comfortable with their constructed image.
Following Sanders' wins in Hawaii, Alaska, Washington, media outlets, such as CNN, stated these states held a largely white population. This statement fit well with the skewed perception many have of Sanders' supporters. Katie Halper, a panelist, responded to CNN's inaccurate statement through an article where she discussed the popularity #BernieMadeMeWhite gained on social media. She challenged the media's attempt to whitewash Sanders' supporters.
Guzman, who served in the military from 1998 to 2002, countered the image of Sanders' supporters through the example of her parents. Both Guzman's parents became United States' residents during the Reagan administration, and both support Sanders. Guzman shared a story of her mother's efforts at garnering funds for the Sanders campaigns, collecting $138 after going door to door in her neighborhood of Compton, California.
Given her parents' status as residents, Guzman's mother and father cannot vote. Thus, Guzman encouraged voters to remember the universal impact of their vote, as she stated her "vote is not just for [herself] but for [her parents] too."
When asked to expand on the role gender has in the election, Halper spoke on how feminist Sanders' supporters are often negatively viewed. She defined herself as an intersectional feminist, arguing that "gender can't be looked at in vacuum, " and, thus, it cannot be assumed all women favor a certain candidate.  
Moreover, Halper discussed her constant need to defend her preference for Senator Sanders over presidential candidate Hillary Clinton, as she is often "viewed as a traitor to feminism."
"It is sexist," Halper argued, to be told "that you're supposed to support a certain candidate because of your gender."
While the panel touched on issues involving media bias and minority support for Sanders, it largely highlighted the importance of understanding one's social responsibility. The panel, along with the rally, made strides towards encouraging the youth to become more politically active and socially aware, to question the status quo, and uncover the power within each other's voices.
As Rosario Dawson stated, our generation has shown it will not settle for the norm, but instead, is the generation that says, "We are going to yelp this government."