Slavery Exists in 2017. What You Need to Know about Libya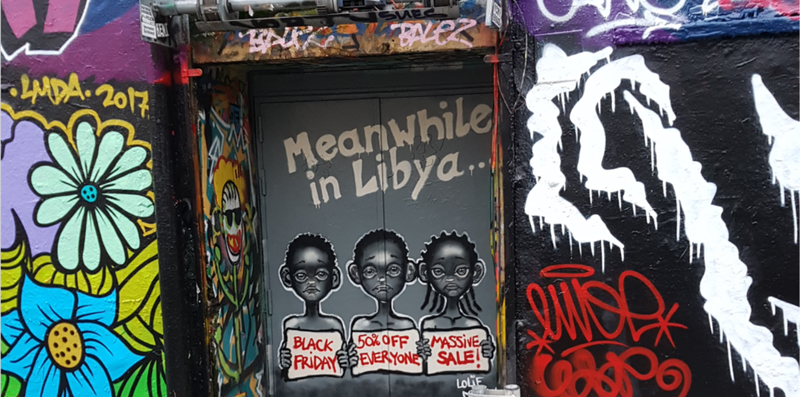 Photo by Dhehz, Meanwhile in Libya, Français: Graffiti rue Dénoyez, via Wikimedia Commons/ CC 4.0
The enslavement of African migrants in Libya has surprised many folks online. This is a gentle reminder that oppression has no expiration date. Yes, slavery exists in 2017 and is likely to continue existing with the preservation of oppressive systems. Slavery manifests in modern forms such as mass incarceration in the United States or sex trafficking in all parts of the world. Most recently, news of slavery in 2017 is reported in Libya where an estimated 1 million migrants are trapped and are being forced into hard labor or forced sex work.  
Current news of human trafficking happening in Libya was initially revealed by CNN with a video of a slave auction of migrants sold for 400 dollars. People of various ages are pictured with empty eyes, not knowing what their future holds. Although CNN reported the news of slavery in Libya mid-November, reports as early as 2016 can be found on the topic of the trafficking of African migrants.
Why exactly are large numbers of African migrants in Libya anyway? Migrants from different countries in Africa have been consistently fleeing for various reasons such as political turmoil, lack of access to resources, or hope for a better future. Libya happens to be one of the main stops along the way to Europe for many Africans. In 2016, over 170,000 African Refugees migrated to Italy dangerously by boat with Libya being the main gateway.
Who is being held accountable? This is a slightly difficult question to answer because Libya is currently in a state of political unrest. As of 2015 the UN formed the "Presidency Council," led by Faye Sarraj, which is supposed to serve as the acting government. However, there is a competing power named the Libyan National Army led by Khalifa Haftar. The Council has confirmed that they are launching an investigation into groups involved with human trafficking, while the UN has considered sanctions.
The selling and exploiting of African people is nothing new. What is new, is the way in which people are reacting to the heinous inhumane crimes. Many celebrities and influencers such as Rihanna and Pharrell Williams have used their platforms to bring light to the atrocities. However, folks have forgotten to be careful with the images they chose to spread. Countless images of brutalized or dead Black bodies have been circulating the web. Keep in mind that spreading graphic and violent images not only normalizes the death of Black beings, but can also retraumatize many people whose ancestors have suffered the brutality of slavery.
National Human Trafficking Awareness Day is on January 11th. One day is not enough to shed light on the atrocities of Human Trafficking and slavery. Ways to help fight against slavery is to first call your representatives and demand they take stronger stances against Human trafficking and demand that they reach out to Global leaders to take stronger stances against Human Trafficking. Secondly, you can support by donating to any number of organizations fighting against human trafficking. Remember to center abolitionist principles in your ideology and recognize that none of us are free until all of us are free.