Social Identities in STEM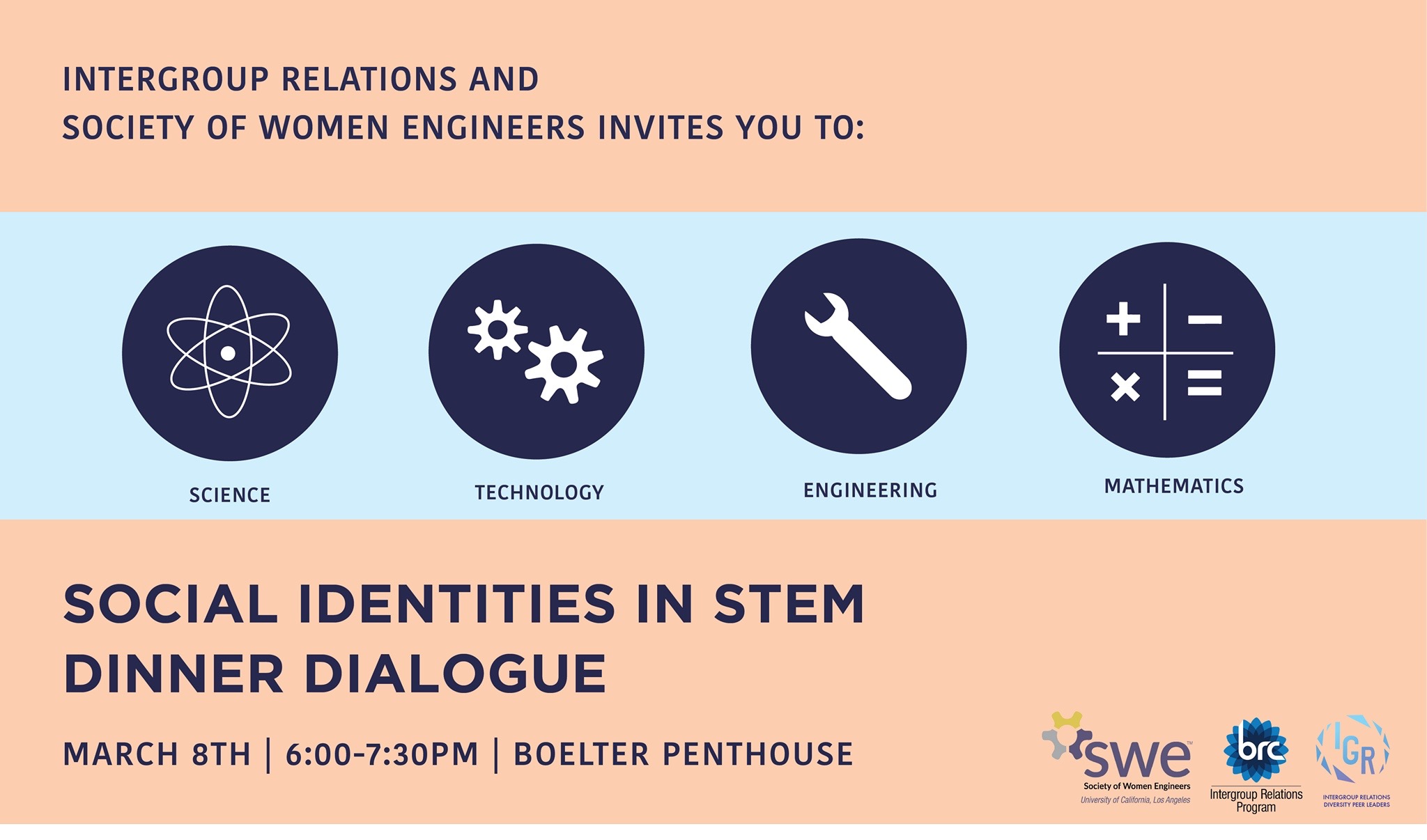 Image courtesy of Intergroup Relations
The Bruin Resource Center's Intergroup Relations (IGR) and the Society of Women Engineers at UCLA (SWE) co-programmed their first event together, a dialogue on social identities in STEM fields, on Wednesday, March 8.
STEM stands for science, technology, engineering, and math, and these fields traditionally have low percentages of marginalized peoples, such as women and people of color. In engineering and computer sciences, for example, only 18.3% of engineering bachelor's degrees awarded in 2014 went to women, which is representative of the past decade. It is unclear if non-binary genders are included in this statistic. In addition to the gender gap at the undergraduate level, women are also more likely than men to leave the engineering field after entering the workforce.
At UCLA specifically, 23.7% of engineering undergraduates enrolled during Fall 2016 were women and 9.1% were "minorities," though it was unclear how the engineering school defines "minorities." The percentages of women fluctuate by major, however, with 42.6% for bioengineering and 14.2% for electrical engineering.  
The goal of the dialogue was to discuss the way participants' different social identities—such as race, gender, sexuality, or disability—affect them differently when they are in a STEM context, including classes or internships, in comparison to a non-STEM context. There was an emphasis on intersectionality and on creating a safe space for participants to voice their experiences as members of underrepresented groups in STEM.  
The first part of the activity asked for participants to move to different signs around the room in response to a series of prompts. Signs were labelled with different social identities and prompts included questions about the participants own identities, such as the identity they think about the most and the identity with the most effect on how they view themselves.
The second part posed the same questions, but asked participants to answer for when they are in a STEM class. For instance, instead of asking about the social identity they think about the most in general, activity facilitators asked for the social identity they think about the most in a STEM class. Most of the participants identified as women, and most participants indicated that they think about their gender more than any other social identity when they are in a STEM class.
One post-activity discussion question asked why some participants had different answers for part one and part two. One participant stated that she usually sees her race as her most defining identity, but in her STEM classes she is more conscious of her gender. This seemed to be the trend for most participants: the identity they think about the most is the identity that "others" them from the rest of the group, for whatever group or context that may be in.
The discussion moved to how communication styles differ for people of different identities, and the effects this has on members of underrepresented groups. Experiences of self-imposed tone policing and attempting to appear less intimidating resonated with many of the women, especially in regards to group project settings. One participant also noted the conundrum she faced at an internship when she experienced racial microaggressions in a conversation with a friend of her boss. The conversation made her feel uncomfortable and unwelcome, but  she felt that she could not bring up the topic to her boss.
Despite discussing the problems that women and other marginalized groups in STEM face, participants regarded it as a learning experience. Rachel Bax, a third-year Mechanical Engineering student, said she learned that "social identities are something that should be talked about more often in order to know people and provide a nurturing relationship/environment for one another."
Marsha Noeline, a second-year Mechanical Engineering student and an IGR intern who facilitated the discussion, enjoyed "being able to delve into experiences of miscommunication or self-imposed silencing that women, especially women of color it seemed, experience in STEM classes." Noeline noted that self-imposed silencing refers to how women of color "make themselves seem smaller to avoid [social] consequences," and does not imply that they are the cause of their oppression.
Second-year Sarah Barukh, a Political Science and Sociology student and another IGR intern who led the event, was also happy with how the discussion went. She "loved how people were so open and willing to share their experiences" and "how much of the conversation revolved around solutions, both at UCLA and in the workforce."
With the low percentages of marginalized groups in STEM fields, both at UCLA and throughout the United States, it is important to discuss the personal experiences that may be fueling those numbers. Discussing the different situations that people of different social identities face is the first step in taking action for tangible change.