Strike For Our Safety — Protesting the Push for In-Person Classes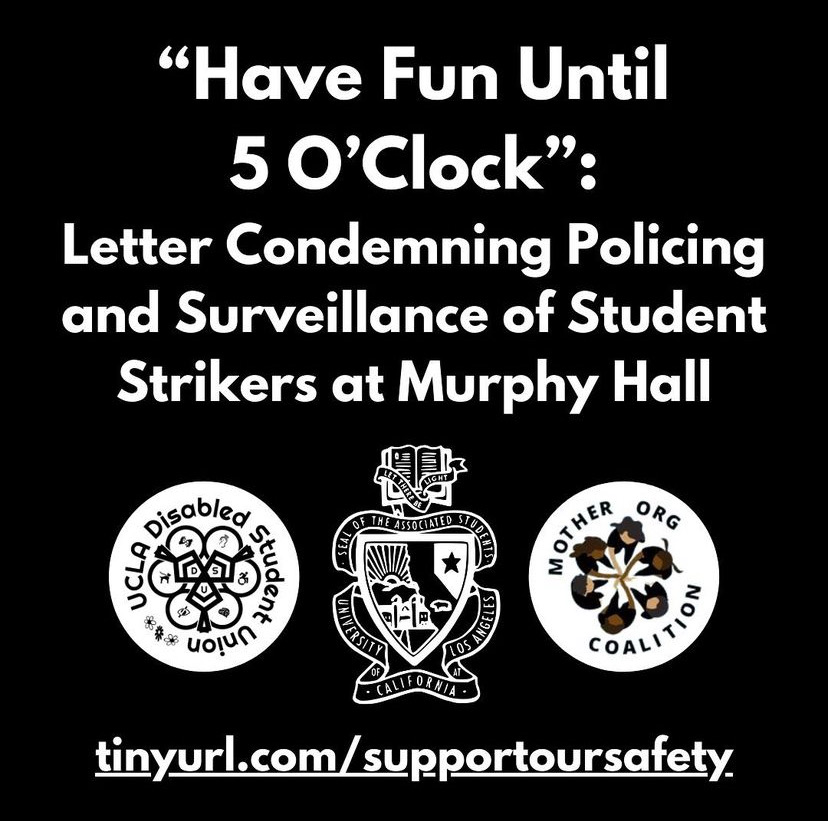 Image Description: A screenshot of a post from @uclapresident on Instagram. The post has white lettering on a black background and reads "'Have Fun Until 5 O'Clock': Letter Condemning Policing and Surveillance of Student Strikers at Murphy Hall. The logos of the Disabled Student Union, the UCLA President, and the Mother Org Coalition are included at the bottom of the image, as well as a tinyurl link.
From the start of the COVID-19 Pandemic, UCLA promised to put students first, by going remote and offering free testing and masks for all students and faculty. However, UCLA failed its students when it decided to switch back to fully in-person classes, because this decision essentially barred immunocompromised students and students with disabilities from their right to safely access their education. While the administration has been working remotely throughout the pandemic — holding meetings over zoom and refusing to meet with students in person — they are not allowing the same access for students.
On Monday, January 31st in the fifth week of winter quarter, after UCLA emailed students informing them that in-person classes were back in session, students from the Disabled Students Union (DSU), Mother Organization Coalition (MOC), and the Undergraduate Student Association Council (USAC) organized a strike by Royce Hall urging the administration to provide students with hybrid education; that is, offering the choice of going to class in person or attending via zoom. going to class or attending via Zoom. A post made on the @uclapresident Instagram account, said that the organizations "demand that UCLA cease to require in-person attendance and mandate continued remote access to courses through lecture/discussion recordings."
With UCLA failing to address these concerns during and after the strike, students took matters into their own hands and gathered at Murphy Hall for a sit-in , waiting to meet with the administration to discuss access to hybrid education as well as UCLA's neglect in addressing the problems with retention projects. Upon hearing that the administration would not be returning to campus until Friday, February 4th, organizers extended the sit-in until this date.
A day before the administrators were supposed to come back to campus, I interviewed Promise Ogunleye, the Cultural Affairs Commissioner in USAC and one of the protestors on the front line of the strike and sit-in. Promise said that one of the main things that the students are requesting is, "to hold them [the administration] accountable and give ourselves back agency as students." She and other students gathered in Murphy Hall are upset that there is a push to get back to in-person classes with the pandemic ongoing and without providing remote options.
Some issues USAC is pushing the UCLA Administration to address include resolving the flaws in the COVID-19 mitigations (returning to in-person classes) and addressing the administration's neglect of the Black Bruins Resource Center . Promise also stated that, "everything here is about access and retention [providing students with resources and support to help them succeed in their education] and returning to UCLA's [history of] shared governments with the students."
On day ten of the sit-in, I interviewed Student Body President Breeze Velazquez. With Breeze coming into a position in USAC, she said that "[the carelessness of Admin] has been really disheartening. I think since last year, and really I think for a lot of us here it's a culmination of how often we have seen this university quite literally not care." Breeze shared her thoughts about the strike and what it means to her, and what issues she hopes will be resolved; hybrid learning, access to retention that the university does not provide, and Black and Brown students' treatment in regards to the Community Programs Office (CPO). While the university continues to ignore students and sweep these problems under the rug, USAC has not lost hope and will continue to sit in for as long as it takes.
Although UCLA claims to be an institution that supports safe student-led protests, on Thursday morning, February 10th, UCPD started circling around Murphy Hall, scaring a few students with the intent to remove them. UCPD has also told students to "have fun until 5 o'clock," in response to which @uclapresident released a statement with a sign-on to support students protesting without policing or surveillance. UCPD has also targeted students of color around UCLA who have been seen going to or leaving Murphy Hall, asking them if they have IDs from other countries and circling police cars around them.
The multitude of organizations that have come out to support and show solidarity include the Disabled Students Union, the Mother Organizations, ASU, USAC, and many others including Breeze's office. With the sit-in continuing well into week Seven of Winter Quarter, the students are adamant in remaining in Murphy Hall until the UCLA Administration listens to their concerns by providing safe access to education through hybrid learning, as well as addressing the inequities with the Black Bruins Center and retention projects.
Through the @uclapresident Instagram account, the DSU and MOs met with UCLA Administration this afternoon and came to an agreement, ending the 16-day sit-in.