Students Call for UCLA Administration to Abolish Campus Police Presence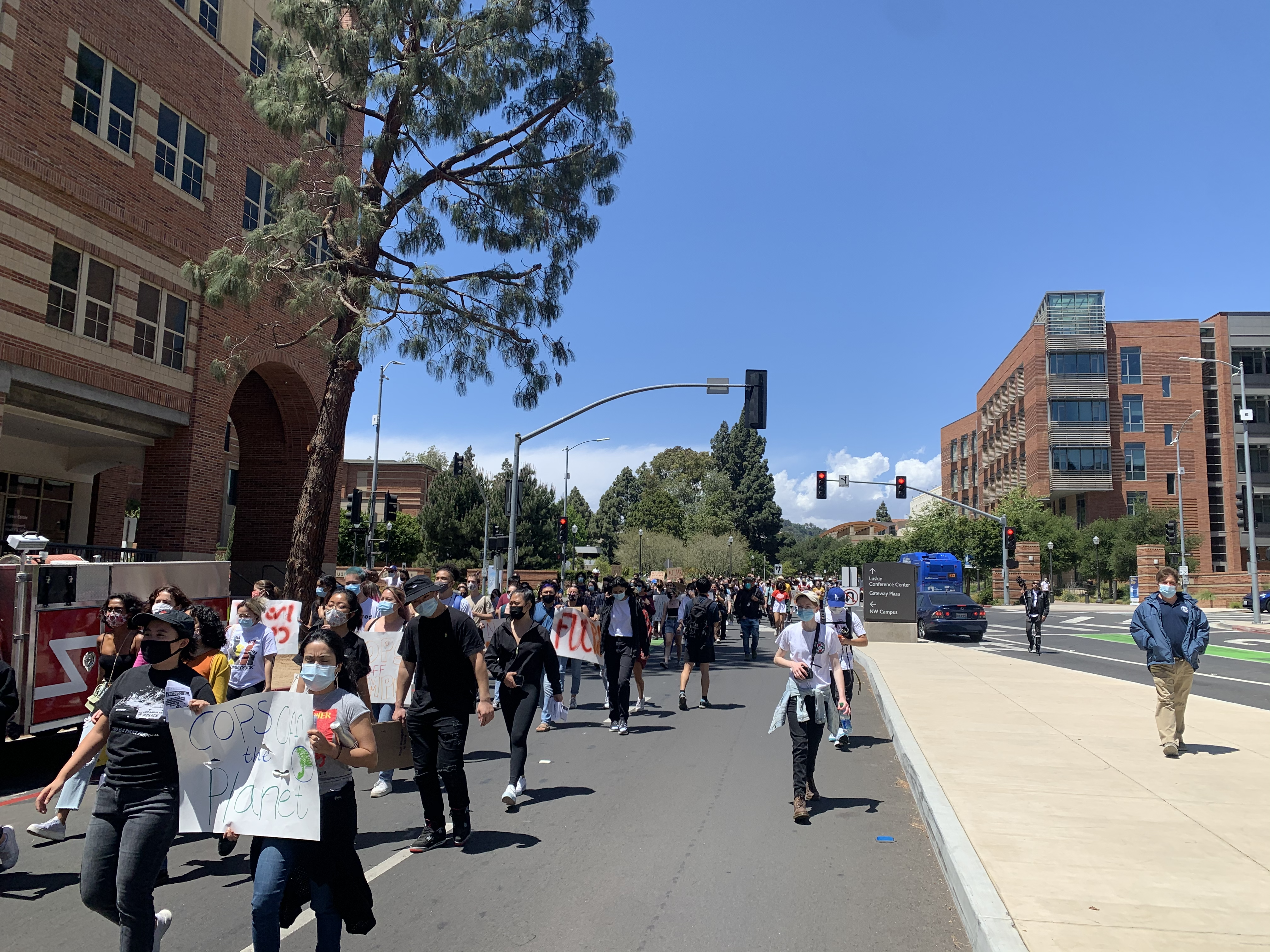 Image Description: A large group of protesters march on Westwood Boulevard near UCLA's police station. A protester at the front of the crowd holds a sign reading "Cops off the Planet."
If you walked by Royce Hall on May 21, 2021 you probably saw it. The sign, in bold, capital letters read: "Cops Off UCLA, Fuck Reforms, Abolition Now." Stretching across the stairs in front of Royce Hall, it caught my attention immediately. Everyone who walked past the courtyard turned their heads to look. 
The protest and gathering was part of Abolition May, a nationwide movement among university students to abolish police presence on campus. May 21 was UCLA's day of direct action. The event was co-hosted by Dignity & Power Now, Justice LA, Jewish Voice for Peace, La Defensa, Luskin Black Caucus, No UCPD Coalition, UAW 2865, UCLA Black Feminist Initiative, UCLA Cops Off Campus, UCLA Divest / Invest Collective, Stop LAPD Spying, and Students for Justice in Palestine.
Speakers from some of the hosting organizations started off the protest with emphasis on the importance of abolition as opposed to reform. The representatives gave speeches about their personal experiences with UCPD and UCLA's complicity in policing.
Cassandra Gatica, member of and speaker for No UCPD, spoke about her experience with a former therapist from CAPS who, without her consent, sent three UCPD police officers to her dorm for a wellness check. She described her mental health being criminalized as she was forced into handcuffs and made to leave her dorm room with them.
Predpol, a predictive policing technology, was brought into focus by a zine that was passed out at the start of the protest and by the speaker representing Stop LAPD Spying, Shakeer Rahman. Created by UCLA anthropology professor Jeffrey Brantingham, Predpol was developed on data gathered in Los Angeles and is now used by police departments all over the country. This technology is based on an algorithm that was made using crime data to predict where certain crimes are more likely to occur.
The crime reports used to make the predictive policing algorithm are biased and thus destructive. The reports are influenced by racism, ableism, xenophobia, transphobia, anti-homelessness and other forms of bias. Therefore, the use of predictive policing ensures the same communities that are over-policed and targeted today will experience even more police presence, attention, and surveillance.
Rahman emphasized that UCLA's role in the creation and corporate stake of Predpol exemplifies UCLA's complicity in profiting off policing that is harming communities of color, specifically the Black community. He noted that predictive policing results in the criminalization of Black and Brown spaces in Los Angeles.
This is not the first time that UCLA has profited off of its participation and complicity in policing. Recall last summer when UCLA's Jackie Robinson stadium was used to process protesters? Facing widespread criticism among the media, students, facility and staff, UCLA evaded responsibility by claiming they only knew LAPD would be using the stadium parking lot as a "staging area." Even if the stadium was just used as a staging area, complicity in any type of police activity on UCLA property is complicity in the harm that policing causes to marginalized communities.
This protest comes in conjunction with a recent study from UCLA's Lewis Center and a report released by No UCPD Coalition that mapped and visualized data on policing at UCLA and UCPD activity. The research brings to question who UCPD actually serves.
The Lewis Center study found that 90% of UCPD activity is not related to threat of violence, with the biggest activity type relating to property. A majority of the activity is off-campus, and 80% have no follow-up related to possible crimes. The recent No UCPD Coalition report also found that Black people comprised 29% of arrests made, despite representing only 2% of the Westwood population.
UCPD's budget at UCLA for 2019-2020 was $21,663,372 according to a UC Regents report. The report projected an increased budget at $22,182,739 for the 2020-2021 academic year, despite the entire year being virtual. The increase in funds comes at a time where there is little reason for police presence on campus. What would be a better use of those funds?
After the speakers finished, the group gathered at Royce Hall marched down to the UCPD administrative building. Protestors were chanting phrases like "hey hey ho ho UCPD has got to go" and other chants that have become popular cries for abolition and change during last year's protests.
One chant highlighted the purpose of today's gathering: "who's university, our university." The chant emphasizes that UCLA is our university, meaning our demands should have influence. It brought the focus to UCLA and the university's work to maintain oppression and policing.
When arriving at the UCPD building, organizers passed out chalk and instructed the protesters to write what abolition means to them on the road in the intersection.
The event ended with a chant from Assata Shakur, leading civil rights activist in the 1970s Black Liberation Army:
"It is our duty to fight for our freedom. It is our duty to win. We must love each other and support each other. We have nothing to lose but our chains."