"Suicide: Practice and Policy Implications" the Importance of Regulating the Conversation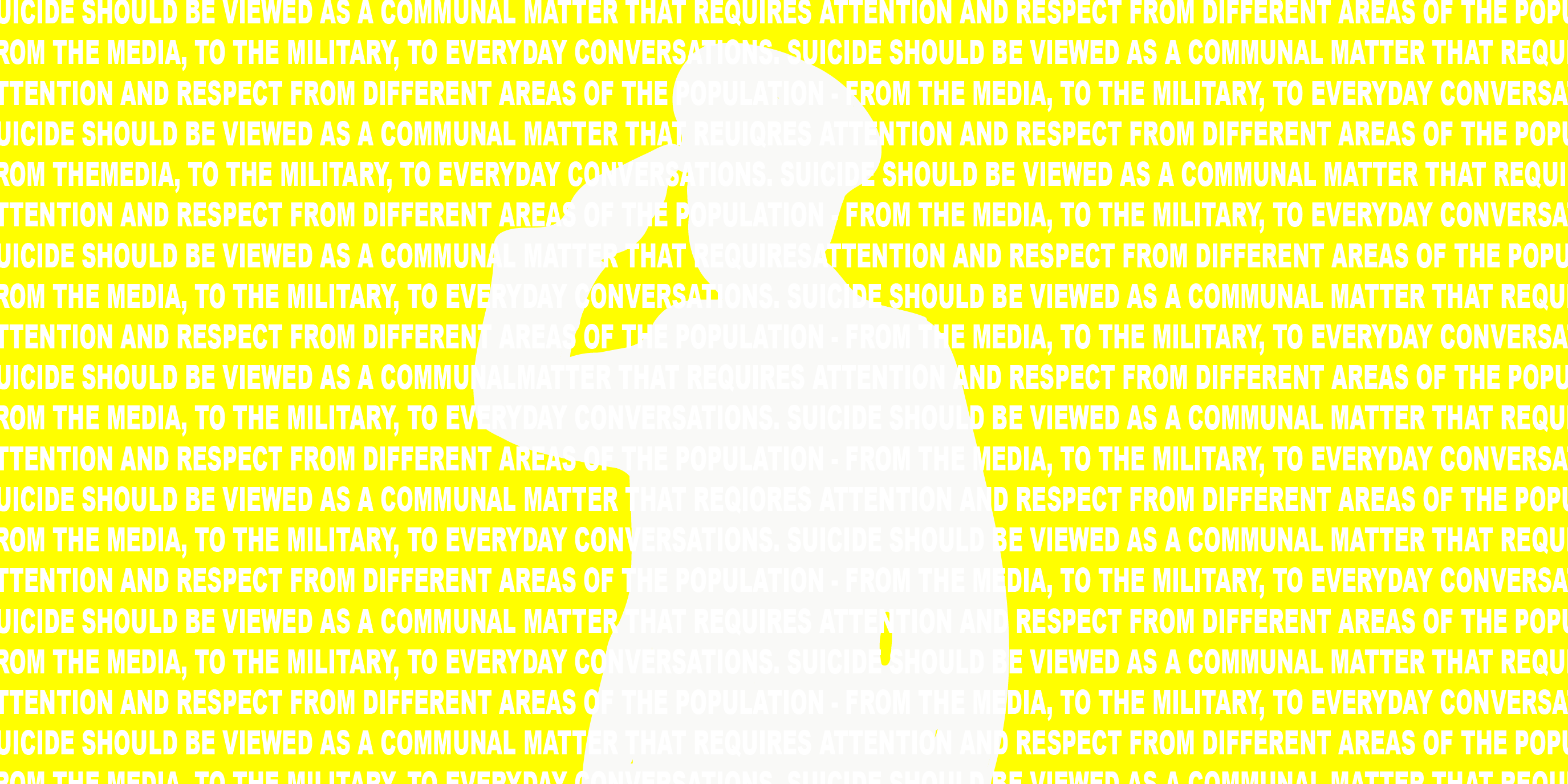 Design by Joanna Zhang
On Tuesday, Nov. 6, an event called "Suicide: Practice and Policy Implications" was held in the UCLA Luskin School of Public Affairs, co-sponsored by the Department of Social Welfare, the Mental Health Caucus, the Mental Health Stipend Program, and National Association of Social Workers Region H. This consisted of four separate presentations by the following panelists about their different involvement with suicide research, prevention, and policy, specifically within the military and veteran community. After each of the presentations, there was 30-minute question and answer panel.
The first presentation was by Mark S. Kaplan, Ph.D, a Professor of Social Welfare in the UCLA Luskin School of Public Affairs, who has received a Distinguished Investigator Award from the American Foundation for Suicide Prevention for his research on suicide. From his research, he found that there are over 44,000 suicides each year, with approximately three-fourths of them occurring among men. Along with these observed suicide rates, there were over 200,000 suicide-related hospitalizations, with over half of them among women.
Among male veterans who died from suicide, under 30 percent disclosed intent to commit suicide, under 30 percent left a note, and under 50 percent had any form of mental health diagnosis. These stats show how the conversation about mental health, PTSD, and depression needs to be normalized among men in the military, so they do not feel that isolation and suicide are their only options. Additionally, 60 percent of male veterans used a gun whey died by suicide, which supported a major theme of gun control during Kaplan's presentation. With easier access to firearms, suicide is more likely to occur because it can provide an immediate response to a rash thought. He pushed that more gun control would, in turn, lead to lower suicide rates, especially among veterans.
Kaplan's research showed that female veterans between the ages of 18 and 24 are three times more likely to die due to suicide. This is due to their "pre-service vulnerability," meaning the problems they faced before joining the military. Many women join the military in order escape abusive home lives and relationships. Additionally, women are two times more likely to experience rape within the military.
The second presenter was Susan Pindah, a suicide prevention worker from the U.S. Department of Veterans Affairs. Her main points were that suicide is not an idea that can be directly placed into one's mind from another person, rather it is something that has to be taken extremely seriously in all aspects as it is the tenth leading cause of death in the United States, with veterans making up 18 percent of all suicides. This means that joking about suicide is not only inappropriate and insensitive, but it also trivializes the seriousness of the matter.
According to Kaplan, the first time suicide among veterans was acknowledged in the public was in the early 20th century in the New York Times, regarding a spike in suicide cases involving Civil War veterans. As Kaplan mentioned, compared to non-veterans, veterans are twice as likely to commit suicide. Factors among veterans contributing to suicide include the recency of their discharge, combat-related trauma, the feeling of hopelessness, development of PTSD and/or depression, gender, age, relationship status, and social support system.
The third presenter, Sam Coleman, Ph.D and Masters in social work, is a lecturer at California State University Long Beach, and a Coordinator for Veterans for Peace PTSD Working Group. He focused on the idea that veterans' problems are a communal problem. Although not all branches of the military have equal suicide rates as Kaplan pointed out, with the Army and Marines having the highest numbers, it is necessary for all branches to be conscious and informed of these issues. In order for veterans to succeed emotionally and socially, they must come into a supporting and healthy community, which means working together.
The last presenter, Carolyn Levitan, is a Crisis Line Director for Didi Hirsch Mental Health Services and Suicide Prevention Center. She mainly spoke about the line and its resources, which has over 200 volunteers, is open 24 hours and seven days a week, and accommodates to any language. They not only take calls on high-risk cases, but also low-risk and interventional cases for people who are concerned for someone's safety. They provide empathy for callers and a safe place to discuss options. While this line is not a solution to suicide, it does provide an outlet for those who may be contemplating the decision.
A question during the Q&A section revolved around suicide portrayal in the media, specifically on the show, "13 Reasons Why". With suicide being the second most common cause of death for teenagers and young adults, it is important that the media doesn't glorify, glamorize, or romanticize it. It is important to responsibly discuss suicide and to have a conversation about it, but it is a delicate topic that can prompt strong feelings and actions. The contagion effect is when people turn to suicide after they have seen it in the public, whether through the news or through media. This is why the media must recognize the power it holds, especially when speaking about such an intense topic.
Since suicide is one of the leading causes of death among citizens and the leading cause among veterans in the United States, it is a prevalent issue within all aspects of society. Because of this, there is shared responsibility to discuss it in a conscious and attentive way while normalizing the topic in the hope to comfort those who may be affected and prevent future cases. Suicide should be viewed as a communal matter that requires attention and respect from different areas of the population — from the media, to the military, to everyday conversations.