Sunday's Anti-Trump Demonstration Highlights the Hypocrisy in Donald Trump Jr.'s New Book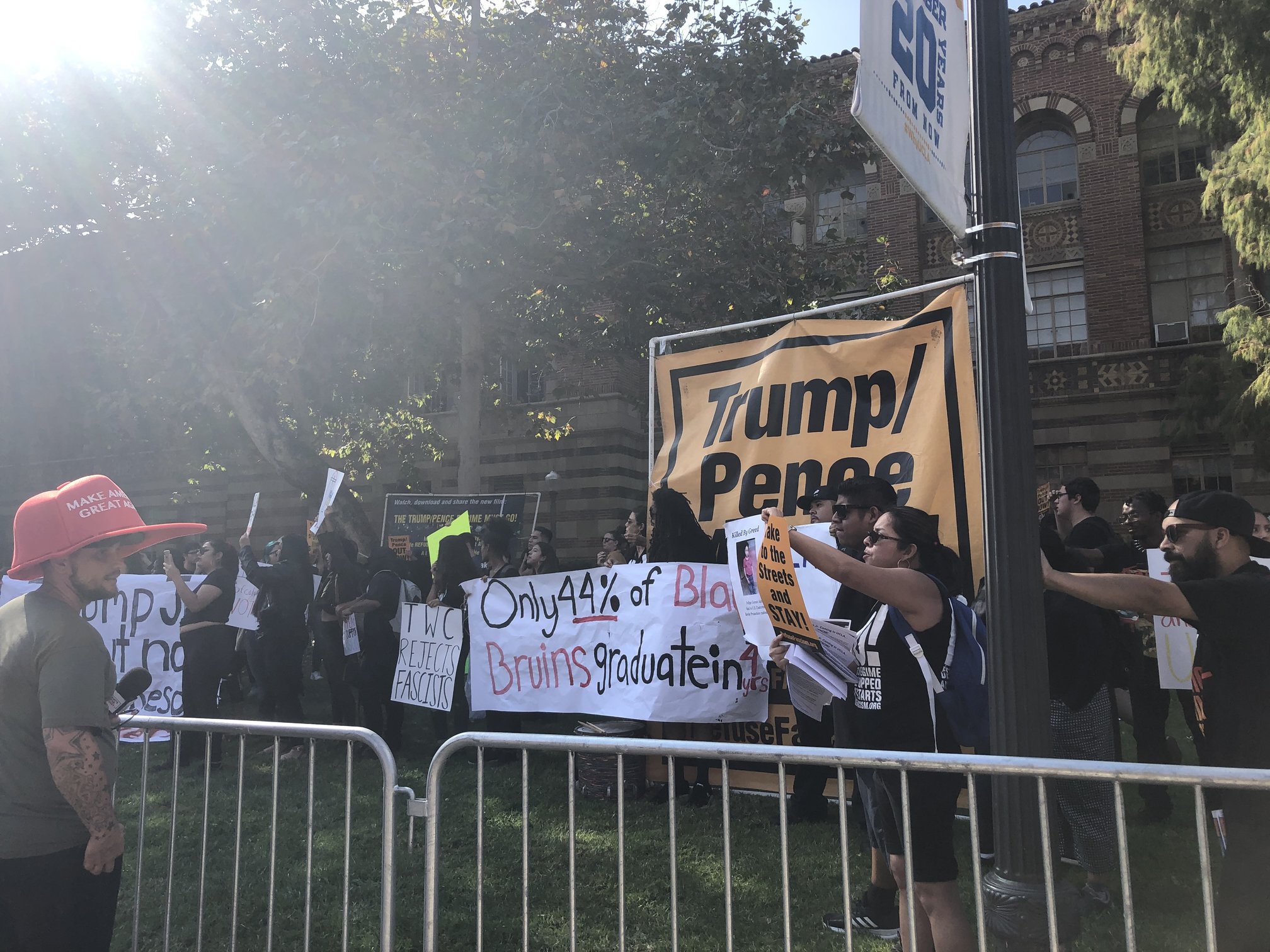 "Humanity first!" This was the chant of UCLA students, Los Angeles community members, and others who came out to protest Donald Trump Jr.'s book launch on Sunday, Nov. 10. In response to Trump's "America First" agenda, UCLA's platforming of Donald Trump Jr., and more generally to the humanitarian crises occurring in America today, these protesters stood by their message when faced with taunts from Trump-supporters attending the event.

Trump Jr.'s book, entitled Triggered: How the Left Thrives on Hate and Wants to Silence Us, is marketed as "the book leftist elites don't want you to read," claiming to "[expose] all the tricks that the left uses to smear conservatives." Though Trump Jr. paints American liberals as violent and hateful, Sunday's peaceful protest carried out by members of the political left and the way Trump-supporters responded demonstrate how the opposite is true.

Starting at 11:00 a.m., the protest lasted for over two hours. It was initially located in front of Moore Hall, and eventually spread to other parts of campus. The protest was organized by Refuse Fascism, an organization calling for the removal of Donald Trump from office.

Chantelle Hershberger, a local organizer with Refuse Fascism, explained that what we see with the Trump administration is "an American form of fascism." She went on to say that the way Trump is "ruling through violence and terror" in many ways "mirrors what Hitler did." In an America where immigrants are separated from their families and forced into concentration camps at the border, it's easy to see why she thinks this way.

A number of UCLA students participated in the protest. Ethan L. Stokes, a second-year student studying psychobiology, claimed that although he is not affiliated with Refuse Fascism, he supports their anti-Trump platform. He believes the problem lies within what the Trump administration enables, referencing the violent "Unite the Right" rally in Charlottesville.

Protesters held signs reading "In the name of humanity, let in asylum seekers and refugees" and "at least 7 children died on our watch" to promote Refuse Fascism's "humanity first" message. The biggest sign reading, "#OUTNOW", highlighted the group's central stipulation: impeach Donald Trump. Although the protester's signs and chants demanded action, they remained peaceful throughout the entirety of the demonstration.

In contrast, a number of event attendees formed a group of anti-protesters, who heckled other demonstrators and harassed media representatives. Though the alt-right often responds to criticism by referencing their right to free speech, they continue to impede on the ability of those with other political beliefs to demonstrate. At one protest organized by Refuse Fascism, a Trump-supporter assaulted the demonstrators with bear repellent. Events like this and the Unite the Right Rally are part of a larger pattern of the alt-right taking violent measures to intimidate and silence the left.

While Trump Jr. tried to promote a narrative in which conservatives are the victims of hate from liberals during Sunday's event, the flaws in his reasoning were further exposed when heckling from Trump-supporters at the event forced him to leave the stage. Meanwhile, the anti-Trump protesters marched peacefully down Bruin Walk.
So who is silencing whom?