The Facing Project Celebrates LGBTQIA+ Narratives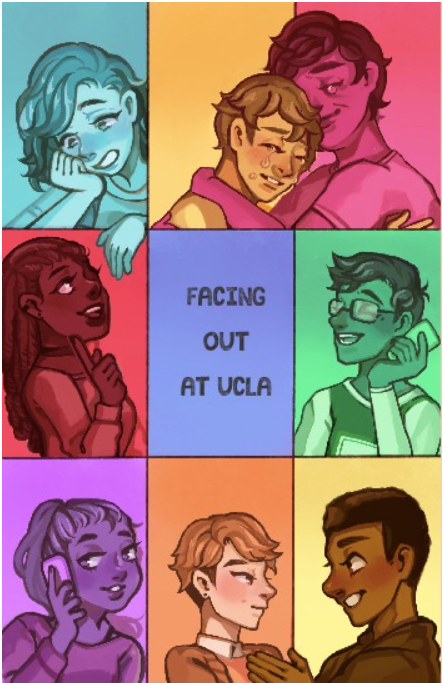 The Facing Project was launched by the USAC Community Service Commission in order to create awareness in the UCLA community about the challenges and social stigmas faced by marginalized communities through the art of storytelling. Each year, the Facing Project gathers writers and storytellers in order to create a book that talks about the experiences of the community the group has chosen to focus on. The editor-in-chief, Nicolette Olson, told us more about the Facing Project's newest book centered on LGBTQ+ stories.
What are the main goals of the Facing Project and how do you aim to fulfill those goals?
Well, our main goal is to focus on groups and communities whose problems and issues we feel should be brought to light. With this project, we aim to create a safe space for people in those communities to share their stories and experiences. Last year, we focused on mental health, and this year, our theme is LGBTQ+ issues, more specifically, coming out and identities.
What made you choose LGBTQ+ issues as this year's theme?
Each year's theme is voted on by our members, and for us, our choice was decided based on the sociopolitical situation in our world today. We believed that it was important to focus on this community that's being marginalized and make sure that LGBTQ+ voices are heard.
How was the book put together and organized?
Over the fall and winter quarters, we recruited writers and storytellers, and also asked for submissions of artwork and poetry. Storytellers met up with writers and shared their experiences. The writers would then create the written story based on what the storytellers told them, and then together, they would edit the story. The writers and storytellers not only created a beautiful story for people to read, but they also crafted their own bond of friendship through this face-to-face process. After the stories were done, we sent them to our artists, whose work was made to reflect the themes and emotions of the stories.
How did the editing process for this go?
It was certainly difficult considering how sensitive the topics are and how personal the pieces are. But we made sure that the safety of our storytellers and writers was our main priority. For some storytellers, it was not safe for them to be identified, so in order to protect their identities and privacy, we created an Excel sheet with everyone's names and stories and who was willing to be named and who wasn't. Our writers made sure they didn't push the storytellers' boundaries, and worked very hard to make sure the written product was exactly how the storytellers wanted their experience to be represented.
For me personally, it was definitely a stressful, challenging, and time-consuming experience, but I think there's something to be said about leadership in being editor-in-chief of this project because it was also a learning experience, one that let me forge stronger bonds of friendship while creating this beautiful book.
How did the reading event for the book's launch go?
We intended the launch event to be as social as possible, so that people could be comfortable and make friends. We had a performance by a band for the first half of the program, and there was a lot of mingling, snacking on foods, the usual party-type atmosphere. Then, for the second half, we started with a give-one-take-one activity. We basically made posters around the room, and people could write positive post-it notes to attach to the posters, and take a post-it from the poster in exchange. That way, they could have a keepsake of this event that would serve as a positive reminder and note of encouragement for them. After that, writers and storytellers spoke and read the stories, although some storytellers chose to remain anonymous and didn't want to speak, and in those cases, the writer would just take the stage solo. We gave out copies of the book and there were cameras around the room so that people could take pictures and preserve their memories of this event.
Where can people get copies of the book?
Copies of our book are still available for those who missed the launch event. People are welcome to come to the CSC Office on level 4 of the Kerckhoff building to pick up a copy to read.
Speaking of reading, how do you suggest people read this book and process its messages?
I personally read it all in one sitting, after the whole editing process was done, of course. However, I think the reading experience is completely up to each person. I would like for people to savor the book, however slow or fast they read it. But whenever they feel emotional from reading these stories, taking a break is definitely okay. People should process the book and its messages at their own speed.
Is there any advice you have for young LGBTQ+ writers, artists, and storytellers who want to come out with their work?
Find a support group! Workshop with friends and have people around with the same goal, because it's important to have positivity in your life. Surround yourself with good people, and know that you're not alone.
What do you hope this book will accomplish and what legacy do you hope you have created as the project's editor?
I hope that the book will go on to illuminate and address issues within the student body, especially the LGBTQ+ community we have reached out to with this book. As editor, I definitely dealt with a lot of creative decisions, and I personally made a lot of the artwork for the book, but I'm proud to have had a hand in making this book.
Any final words on the project?
It was a wild ride of an experience. But I think my editor's note really sums up my feelings on the project. The book was meant to be a collection of experiences that readers could resonate with and draw strength from, and the real heart of the story is storytelling and self-expression.