The False Justice of Betsy DeVos' Title IX Revisions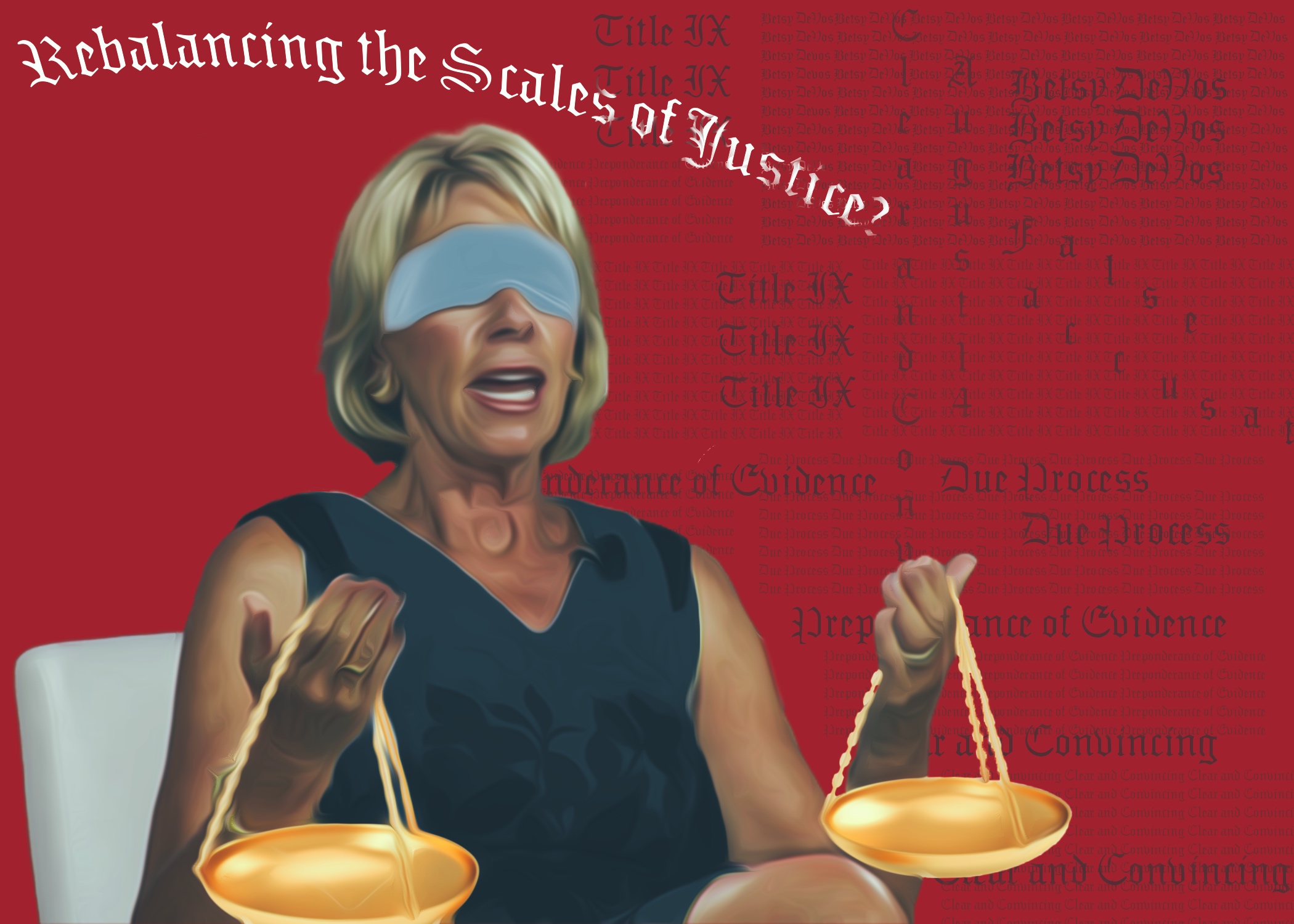 Design by Jemina Garcia
Trigger warning: Mentions of sexual violence

On May 6, 2020, Education Secretary Betsy DeVos publicly released plans for reforming Title IX regulations that will weaken protections for survivors and increase the rights of the accused to due process. Barring any significant opposition, the rule will take effect on August 14 — making it harder for survivors who come forward to receive adequate protection from those they accuse. Across the United States and within UCLA, administrations and social justice organizations are mobilizing to mitigate the damage of these new guidelines, but severe consequences loom. As COVID-19 devastates schools and DeVos further uses the crisis to exacerbate inequality across America's public education system, the Trump administration's decision to continue reducing the rights of students facing sexual harassment and violence is unacceptable.
In a 2019 article, FEM writer Jenna Walsh wrote a cogent, accessible guide that laid out DeVos's initial proposed changes, which would detrimentally affect survivors of sexual violence. Without regurgitating everything Walsh already competently outlines, the main points of DeVos' revisions to Title IX are that she seeks to heighten the standard of evidence survivors must submit to pursue legal protections against the accused and aid the accused so as to facilitate more direct confrontation with the survivors, such as allowing the former to cross-examine the latter. In the revision period until this May, some of the harshest proposed changes have half-heartedly incorporated some mitigations: survivors may request to be cross-examined in separate rooms from the accused instead of directly in front of them. A garishly named "rape shield" also now allows survivors to keep their medical and psychological records private. These changes are paltry victories that activists have bitterly fought for, which do not offer any real trauma-informed protections and spit in the face of survivors who have worked hard to regain their confidence and credibility after being taken advantage of.
Among some of the most harmful Title IX repercussions to school safety are increased opportunities to ignore and mistreat survivors, unfair investigative procedures like the live cross-examinations previously mentioned, other harmful responses that can coerce students into mediations with the accused, and no requirements for notice of religious exemptions — all changes that have prompted advocacy organizations to sue DeVos [National Women's Law Center (NWLC)]. According to Elizabeth Tang at NWLC, DeVos's "explicit goal is to 'reduce' the number of sexual harassment investigations in schools […] by making it harder for victims to come forward, ensuring many are ignored when they ask for help, and subjecting them to policies that favor their rapist or abuser at every turn." DeVos' changes undermine the spirit of Title IX, which was enacted to prohibit discrimination on the basis of sex in schools — by shifting the burden of proof from rapists and rape apologists to survivors, who must, with even fewer protections and in spite of their trauma, reassert that they matter and deserve protection.
Betsy DeVos, a billionaire who has seemingly no background in pedagogy, curriculum, or school governance, has nonetheless served as the U.S. Education Secretary for the last two years — and America's public schools are all the poorer for it, literally and educationally. In a role that has the power to champion students and push for equitable opportunities in education, DeVos has instead massively defunded and ripped apart the department to forward an ignorant and prejudiced agenda that favors the rich, white-centric, creationist-Catholic curriculum she was brought up by. Her changes to Title IX regulations represent some of her most ignorant, most damaging work yet, based on the false perception that survivors shouldn't be 'blindly' believed when there are enough barriers to justice to contend with already. Rather than protecting students who have every right to a safe education, DeVos's new rules pit students against their abusers in a system that already leaves most survivors too afraid to come forward.
At UCLA, investments in education about survivors rights and increased avenues to report, among other factors, have recently led to higher reporting of sexual violence on campus. Despite the university's efforts, DeVos's new rules would make it increasingly hard for survivors to speak out. As the Daily Bruin pointed out, "for a Title IX Office already dealing with an uptick in reported cases, a drawn-out process will only lead to more backlog, lengthening the trauma of an extended trial for sexual assault survivors." With the Title IX changes potentially coming into effect amidst the backdrop of increasing awareness about the institutional racism of the American police system, survivors' trust in law enforcement and university authorities may likely be further weakened, and lead to even fewer survivors coming forward. For those survivors who do come forward, it will be up to universities to provide retaliation-free, survivor-centered resources — because universities like UCLA won't be able to look to the law for help.
Chancellor Gene D. Block and Vice Chancellor for Equity, Diversity, and Inclusion Jerry Kang recently sent out a campus-wide email alerting students about the new changes, assuring students that UCLA "will continue to stand by our commitment to combating sexual violence, harassment, and other forms of prohibited conduct on our campus," and listing confidential resources for anyone affected by sexual harassment or sexual violence. The resources were listed as follows:
"Confidential support services are available to anyone affected by sexual harassment or sexual violence. Students can find more information at the Campus Assault Resources and Education (CARE) and Student Legal Services websites. Faculty and staff can access counseling support at this page. Information on making a report is also available at the Title IX office website."
While the resources provided are important and useful, the Trump administration's changes render the road to justice for survivors a long and ugly fight. Although the University of California system has fought legal battles before and will continue to do so now, DeVos's new rules create hurdles that will be hard to surmount for survivors looking to come forward for help. As the state's premier higher education system faces massive economic fallout from stay-at-home orders, it will be imperative for UC's to continue to invest in campus support for survivors, even as the federal government continues to fail them.
Advocates, attorneys, organizers, and activists are working around the clock to stop the DeVos rule from going into effect, but universities like UCLA must continue to fight for due process for survivors no matter what. In the meantime, UCLA should defund UCPD to ensure student safety and re-invest resources into programs that support marginalized students, including Black students, graduate students, and survivors. These redirected funds could support increased efforts to enact affirmative action, stronger protections against sexual violence, the creation of student unions, and merit-based scholarships and financial aid for low-income students, among other changes. For now, let's hope that the August enactment date at least gets delayed through successful litigation. Let's also hope that maybe, just maybe, November's election will lead to a new Secretary of Education who cares about student survivors and acts on their behalf.