The Voices of Southern California's Queer Punk Community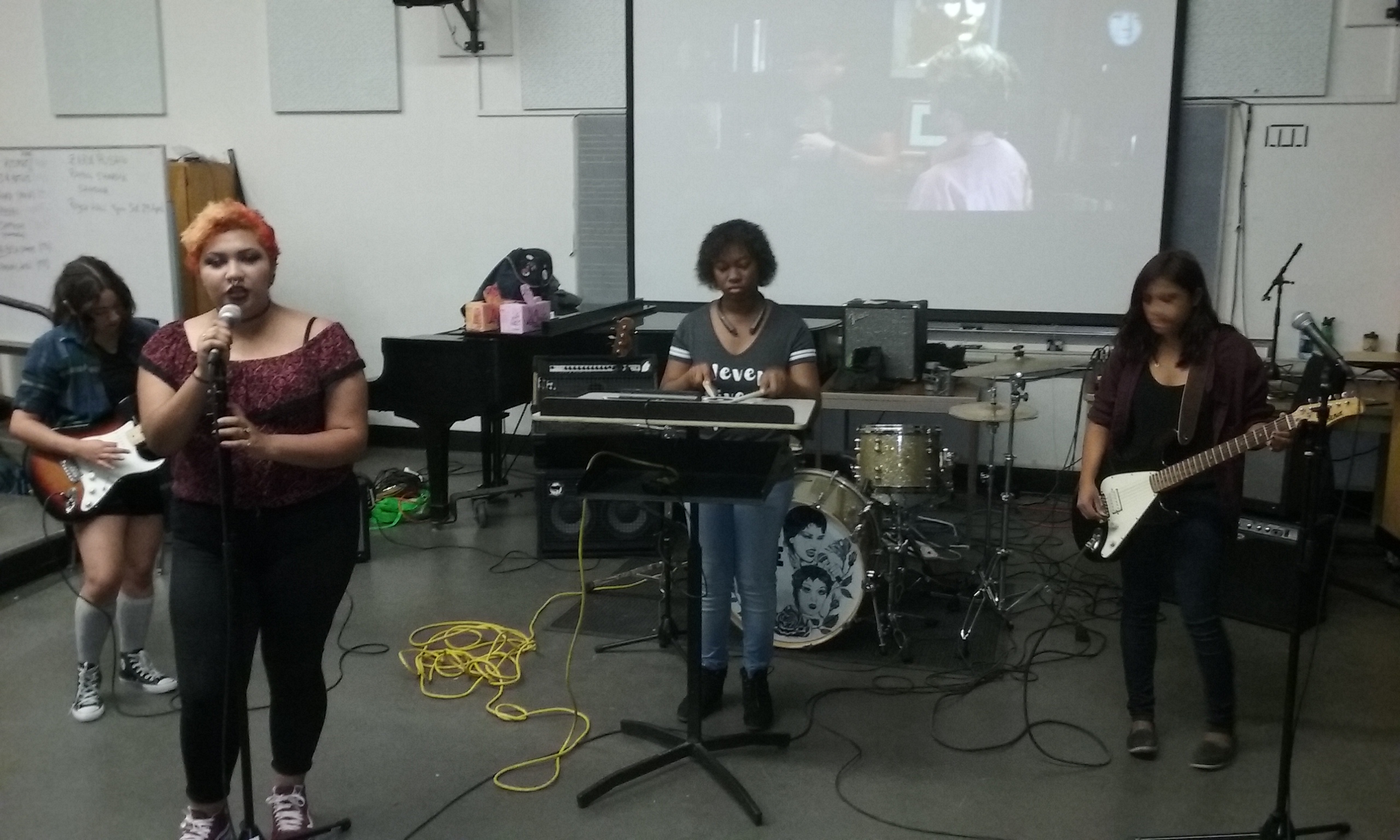 The Vixens, Photo by Crissonna Tennison
The Young Research Library conference room is not where you would expect to run into Southern California punk legends like Alice Bag and Phranc–but that's exactly where they were on Friday afternoon, musing about the early days of the Southern California queer punk scene.
"What made the LA scene so interesting, welcoming, and unique was that it was a place where people who hadn't had a voice in popular music felt like, 'Oh, we can talk about our unique experiences and be heard for the first time,'" Alice recalled.
Radical inclusivity was a recurring theme of the "Queer Punk Los Angeles" panel discussion, moderated by Musicology Doctoral candidate Candace Hansen and Chicano Studies Doctoral candidate Audrey Silvestre. The panel, which took place as part of UCLA's Echo Conference, also included Trap Girl's Drew Arriola-Sands, and Sister Mantos' Oscar Mantos.
The panelists represented several decades of queer punk history, but there were a number of unifying threads—most ironically, the "Decline of Western Civilization" VHS, which Drew, Oscar, Audrey, and Candace all cited as a pivotal moment in their discovery of punk music.
"We'd always freak out on the Alice Bag part," Oscar reminisced. "We were like, 'Look! Look! We can do it, it's like us!'"
"But they didn't let her talk," Phranc chimed in, referencing the overwhelmingly white, male focus of the documentary.
Indeed, punk music is often perceived as a white male movement, but such an understanding erases the rich history of the queer, brown LA scene. As the discussion wore on, iconic names thickened the air: venues such as The Smell in North Hollywood, The Raven, Allen Theater, Our House, Café Cashmere. Bands and musicians such as The Germs, Nervous Gender, Bad Brains, Squab, Xena Xurner, Frisco Dykes, Jeff Zilla.
But the panelists were bonded by more than their shared memories and experiences.
"What I think is interesting about the early punk rock scene in LA and all the things that really translate to the scene today is the do-it-yourself mechanics of—nobody was gonna do stuff for us," Phranc explained. Then, like today, musicians made and passed out their own fliers, hosted their own gigs, and  taught themselves how to play on second-hand instruments.
"When I first started playing music, I didn't have gear," Candace related, "I would just use whatever I could…I got, like, the shittiest drumset and just made it work, and I think that that actually ended up influencing the way that I play music.
"I think a lot of people who come into punk through working-class and queer backgrounds carry those practices with us. Like, we have to invent the way that we play music because no one would teach us…My identity comes through in the actual way I play the drums."
Punk's DIY ethos extends beyond pragmatic concerns. Mainstream American society doesn't provide a template for understanding or embracing LGBTQIA+ or POC identities. For the panelists, LA's queer punk scene continues to offer a space for self-creation and self-knowledge, an environment for exploring one's identity and helping others do the same. Just as Alice Bag talked about making music "on [her] own terms," so too were other participants able to define themselves on their own terms.
Referring to his teen punk years, Oscar explained, "We were a group of many different people from Latin America—immigrants, or sons of immigrants, or daughters of immigrants…We were doing punk stuff, but we were also singing in Spanish, which I didn't think was a big deal…it was just natural, but I feel that maybe that's something that we kind of were a part of, like, being able to bridge these communities together…For me there's like a community that we formed around music and around our many different cultures…we were empowered through that."
Drew had a similar experience after coming out as trans. "Forming Trap Girl was a matter of life or death at that time…I started it and I didn't know any queer people, trans people, who played music." She didn't think she would find a community in the punk scene that would encourage her to celebrate her identity, until she met Oscar, who "opened the door to all these, like, 'queerdos' in music."
Oscar and Drew have both gone to great lengths to strengthen and invigorate the community that gave them their voices. Oscar collaborated with Jeff Galvan to start the CoolWorld collective, which was born out of a "party" spanning four years and 48 concerts. Drew created Queer Queens of LA, a year-round concert series featuring queer artists. Proceeds from the series are used to fund Transgress Fest, the first festival in Southern California to focus on trans punk, hardcore, and rock musicians.  The festival occurs annually in November during Transgender Awareness Week.
After the panel ended, audience members walked from YRL to the Schoenberg choir room to watch two punk bands perform. The first band, The Vixens, is composed of four undergraduate students who formed the band as a project for Professor Jessica Schwartz's Music History 13: Punk: Music, History, Sub/culture class. The members were visibly nervous for their first performance as a band, but they gained confidence as they played through their three-song set, ending on an aggressive note with their anti-Trump call-out, "Chester Cheeto":
"Hello Russia,
We've got your puppet
Grab him by the pussy
I'm sure he'll love it."
The following band, QTPi Xpress, is an all-trans band whose vocalist, Josie, insisted on having an audience member join the performance.
"We wanna invite people to come up and take up space with us," Josie proclaimed. "Do whatever the hell you want. If you don't know, just fucking scream like I do. Or you can sing about cats or unicorns or pizza or whatever the hell."
A lucky blue-dressed audience member named Priscilla gamely joined Josie onstage, where they denied the existence of reverse racism.
"It's also about, like, smashing binaries, right?" the drummer, Ally, later elaborated. "It's like, there's no difference for us between the audience and the performers." Indeed, "Queer Punk Los Angeles" was an energizing and uplifting reminder of the ways that artistic expression can save individuals and entire communities.