Thursday of Consent Week: LGBTQ and Gender-Based Violence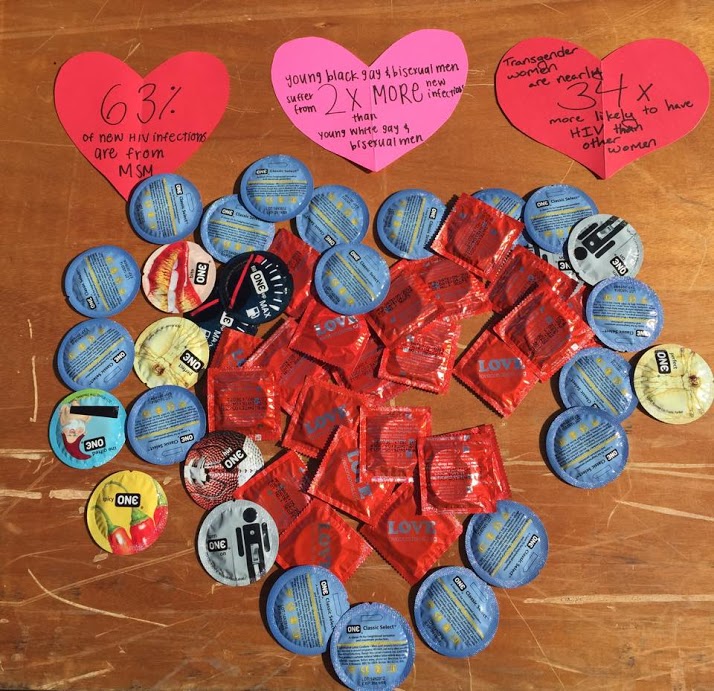 Thursday. January 22nd was the fourth day of UCLA's second annual, Consent Week. Consent week hosted by 7000 in Solidarity, and is dedicated to spreading knowledge about sexual assault, and consent. Each day this week had a different theme from Sexual Assault in Communities of Color to Male Survivors.
Thursday focused on LGBTQ and gender based violence. At the event table, located in the Court of Sciences, markers and colorful construction paper hearts were provided. Allies wrote words of encouragement to the LGBTQ community on the hearts, which come in Red, Orange, Yellow, Green, and Blue. Those words of encouragement are then placed on a gay pride flag made of construction paper, which when finished will be displayed on campus.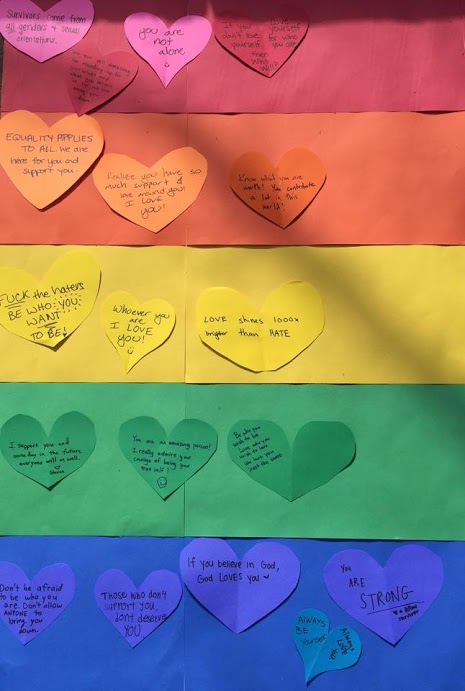 The idea was inspired by Leelah Alcorn, a transgender teen who committed suicide earlier this year.  "We want to make sure we address every community and support every community," said Chrissy Keenan, Co-Director of the Bruin Consent Coalition.  The idea is show support for the LGBTQ community, support that, unfortunately, Leelah Alcorn did not have. "It's tough sometimes for people to find support," said Justin De La Guerra, also a Co-Director of the Bruin Consent Coalition. Each heart is a symbol of the support available for the LGBTQ community. In exchange for each heart that you write, you get a free 7000 in solidarity water bottle–a token of appreciation for your support.
Fun comic books on consent, provided by Oh Joy Sextoy  were also available at the table.  "Take one, they have naked people," said Chrissy. And they sure do. The comic books are a safe, and encouraging way to spread the word about consent. Pamphlets from the previous days of Consent week were also available at the table, along with condoms and statistics on Queer sexual assault.  Each pamphlet contains valuable information about consent and sexuality. It is clear that 7000 in Solidarity is committed to their cause. And if all those pamphlets aren't enough to educate you, representatives from the Bruin Consent Coalition are available to answer any questions you might have, making the first half of Day Four, ultra-informative.