Tunesday: Feminist 90s Jams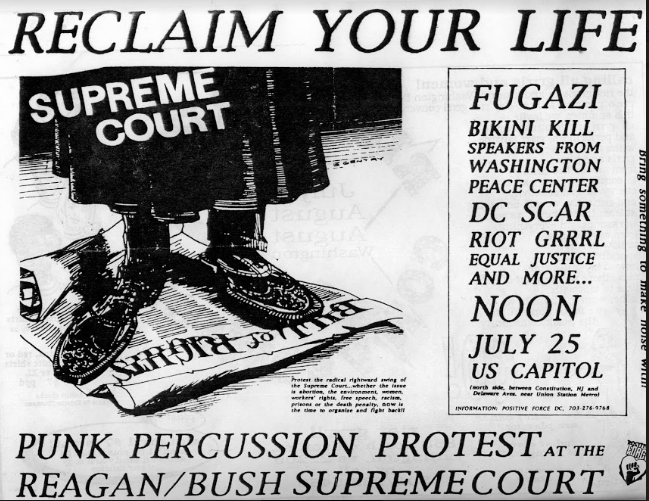 Image by rockcreek via Flickr/ CC BY 2.0
Feminist music thrived in the last decade of the 20th century, its recurring mantra of "girl power" and other explicitly feminist themes carried through many genres including pop, punk, and rock.
Aside from just singing about feminism, most 1990s musicans were putting their beliefs into action. They held benefit concerts, which raised awareness for rape, domestic abuse and reproductive rights issues, as well as inspired other women to take part in creative expression.
The Riot Grrrl movement was the unofficial catalyst for this female-driven brand of music.  The Riot Grrrls were a reactionary movement to the politically conservative 1980s; it was an amalgamation of anger towards the male-domination in the music industry—both in mainstream rock music which regularly objectified women and in the female-exclusionary underground music, and was a necessity for creating a strictly female space. Riot Grrrl bands often dealt with female camaraderie as well as a plethora of other issues ranging from patriarchal values, LGBT oppression, and reproductive rights. With court cases like Casey vs. Planned Parenthood happening during this time, the threat of losing abortion rights were becoming a very serious issues, and because of that many of the songs dealt with a fervent pro-choice philosophy.
Riot Grrrl, which coincided with the Third Wave of Feminism, was a great stepping stone in the early days of the movement. The groundwork for the feminism which exists in the 21st century can thanked, in part, due to this musical and artistic movement– but it is important to note that it is often criticized for being exclusionary and not entirely intersectional.
The beginnings of feminist music was strictly an underground phenomenon originating from the punk rock movement of the late 1990s, and it was only later in the decade that feminism became a marketable brand. When pop groups like the Spice Girls emerged, feminist music became more mainstream and easily digestible for the masses.
Even though some feminist ideology has gone mainstream it is important to remember the counterculture history. The bands may have broken up, the musicians faded into obscurity, but the message of their music remains and proves that feminism wasn't just another musical trend, but an outlet for female artists, and an inspiration for future women.
That being said, here are a few choice picks for some 1990s feminist jams:
Bands like Bikini Kill provided an aggressive and artistic outlet for female rage previously unseen in the feminist movement. Their anthem "Rebel Girl" deals with the importance of female friendships and suppressing the initial urge to judge or compete with fellow women.
Bolder and definitely not radio-friendly songs included 7 Year Bitch's "Dead Men Don't Rape." The title explains it all. Lyrics include, "I'm not turned on by your masculinity…I don't have pity not a single tear/For those who get joy from a woman's fear."
Other female bands which didn't explicitly align themselves with the Riot Grrrl movement still dealt with topical issues of rape culture, like Hole's "Asking For it," as well as  "Doll Parts" which lyricize the dismemberment and value of woman's body parts, and the emotional turmoil that comes with striving for unrealistic doll-like beauty standards.
Sleater-Kinney was gaining popularity as bands like Hole, Bikini Kill, and 7 Year Birth were tapering off into obscurity.  Their song "#1 Must Have" dealt with the commodification and commercialization of feminism and the Riot Grrrl movement. While the song came out in 2000, it was reflective of the last decade of feminism's influence on the music industry and the slow and gradual shift from its underground grassroots movement to the mainstream pop creation it had become. The opening lines are, "Bearer of the flag from the beginning /Now who would have believed this riot girl's a cynic /But they took our ideas to their marketing stores/ And now I'm spending all my days at girlpower.com"
"Wannabe"
by The Spice Girls
The Spice Girls are an example of the family-friendly brand of feminism for the masses. Their take on feminism is much more poppy, both in style of music and the way which they present their brand. Their hit "Wannabe" discusses the importance of female friendship over that of a romantic relationship.
Honorable Mentions (Male):
All male bands were aiding the Riot Grrrl movement as well. It's was not male's co-opting the movement, merely aiding it and drawing more attention to it on a wider scale. Pearl Jam was one of the largest rock bands of the 1990s and had a larger audience than most of the other bands on this playlist, whereas Fugazi was a smaller band with a dedicated underground punk following. With the help of both of these bands bringing female issues to the forefront of their music they actively forced their fans to engage in feminist discourse.
One of the biggest bands of the 1990s, Pearl Jam engaged in more political battles, benefit concerts, and lawsuits then one would consider proper, but they were, and still are, actively engaged in social justice. Casey vs. Planned Parenthood was one of the first causes they picked up on in the early 1990s, and they have continued to be supportive of, and engaged in, feminist issues.
The line "She holds the hand that holds her down" (i.e patriarchy), sums up the content of the song perfectly.
The band's strong DIY ethic and all-inclusive stance on punk was refreshing after decades of hyper-masculine and frankly sexist punk music. Fugazi made their music with the intention that it could be shared and easily accessible, both with pro-piracy beliefs or extremely cheap live shows. In the video linked below, the band had invited fellow musician and friend Amy Pickford onstage to sing the song "Suggestion," which  lyricizes rape culture: "She does nothing to conceal it/ He touches her cause he wants to feel it/ We blame her for being there/ But we are all guilty."