U.S. Ambassador To The UN Nikki Haley Is Not Afraid To Disagree With President Trump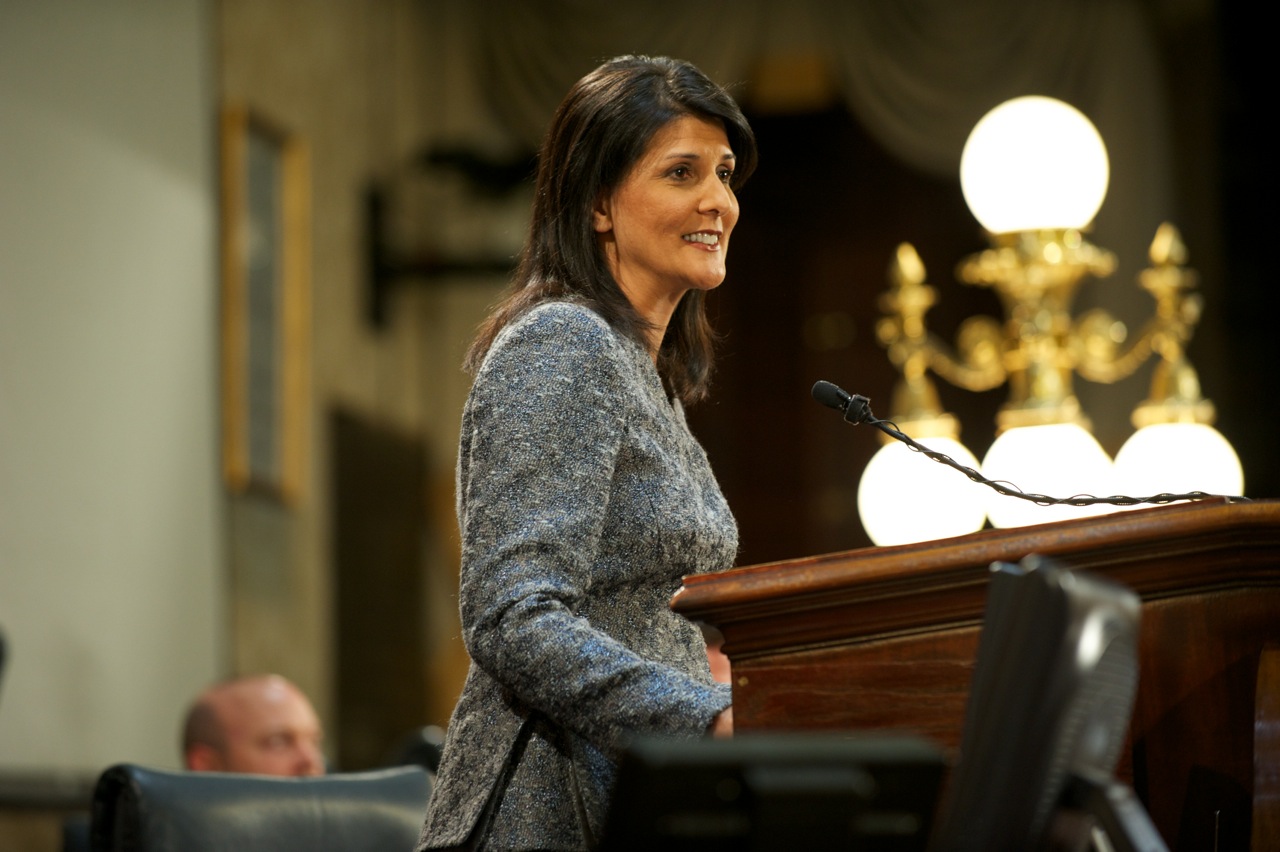 Image by Sam Holland via Flickr / CC BY 2.0
Who is Nikki Haley?
In late November, Donald Trump chose Republican governor of South Carolina Nikki Haley as his administration's Ambassador to the United Nations despite her vocal criticism of him in the primaries.
The daughter of two Indian immigrants herself, in the 2016 Republican response to the State of the Union, Haley offered a softer position on illegal immigration than Trump. She also rejected his proposed ban on Muslim immigration as "un–American" and condemned him for his refusal to disavow Klu Klux Klan support at a rally for Marco Rubio last February.
A more tempered conservative than Trump, Haley's confirmation may be a sign that the Trump Administration is willing to cooperate with the Republican base. Furthermore, Haley adds gender and racial diversity to Trump's overwhelmingly white and male cabinet, somewhat supporting Trump's earlier statement that his cabinet, "will be made up of every, all groups from this country."
What can we expect of Haley as UN Ambassador?
Haley has little foreign policy experience – likely the least experience of any past U.S. ambassador to the UN. As an Ambassador, Haley must represent U.S. interests in the UN General Assembly and Security Council where she will vote on relevant international security matters as well as on budgets and the admission of new members. Some of the issues Haley will immediately face in her new position concern the Israeli-Palestinian conflict, Russian sanctions, and the conflict in Syria.
In the past, she has criticized the Obama administration for allowing the UN to condemn Israeli settlements and, in line with Donald Trump, supported moving the U.S. Embassy in Israel from Tel Aviv to Jerusalem, a disputed area. Haley will likely uphold a traditional Republican agenda at the UN – strong defense of Israel as a U.S. ally, aggressive containment of ISIS, and support for sanctions against Iran and North Korea.
However, even now as a member of his cabinet she has broken ranks with Trump on many foreign policy issues. For one, she supports maintaining the Iran deal of which Trump has suggested the U.S. pullout. Haley also said she is "considering" additional sanctions against Russia; at her confirmation hearing she openly stated Russia is guilty of war crimes in Syria and Crimea, but maintains that the U.S. still needs the Russia's support in fighting ISIS.
Haley's stance on Russia contrasts greatly not only with that of the President himself but also with Secretary of State Rex Tillerson's position. As chief executive at ExxonMobil, he declared he does not support sanctions on Russia.
As governor, Haley and several Republican representatives from South Carolina signed a letter to former Secretary of State John Kerry asking not to resettle Syrian refugees in her state, citing a "lack of historical and verifiable intelligence with many Syrian refugees makes it difficult, if not impossible, to thoroughly vet individuals." Many other Republican governors have also released statements asking the Obama administration to stop resettlement of refugees in their states.
In the future, we expect Nikki Haley to remain committed to her traditional Republican foreign policy beliefs, even when they do not align with those of the President. However, she will likely not be as outspoken as she was before his election.
During her confirmation hearing, Sen. Chris Murphy, a Democrat from Connecticut, pressed Haley on policy contradictions in the Trump administration, asking her if she could, "understand why the world perceives our foreign policy as the exact opposite of what you're articulating it will be?"
Haley presented these disagreements as a positive aspect of Trump's administration, telling the Senate Foreign Relations Committee: "That's how an administration works. You surround yourself with people who don't just say yes to what you think. They actually challenge you, and they tell you of other opinions. And what I know about president-elect is he actually will listen."
Update: Though Haley and Trump have held radically different stances on many foreign policy concerns, within the past few days, their priorities have been the same. Speaking to the UN for the first time on Friday, Haley's vague threat that the U.S. will be "taking names" of countries that "don't have our back" reinforced Trump's "America-first" style of leadership.