UCLA Dance Group Psypher Provides a Safe Space for Dance and Discussing Mental Health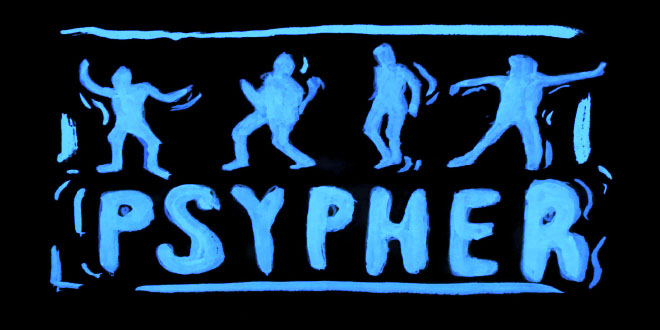 Design by Eve Anderson
"Step out, speak up" is the message of Psypher, a UCLA dance group dedicated to promoting discussions of mental health through dance. The group's mission is to destigmatize mental health by providing a place where dancers can step out of their comfort zones through dance and conversation. On Friday, Nov. 9, the group hosted a Social Media and Body Image Workshop ‒ its fourth workshop of the quarter.
This quarter, every Friday, Psypher has hosted weekly workshops that focus aspects of mental health and its relationship with social media. Other workshop topics this quarter have included: Mental Health and Fiction, Mental Health and Social Media.
In previous quarters, Psypher has hosted a series of dance workshops focused on relationships, ranging from discussions of healthy relationships to providing resources for survivors of domestic violence. Psypher has also done workshops on topics like music therapy, anxiety, minority perspectives, and LGBTQ perspectives. Each workshop features a guest speaker who takes participants through activities and discussions of each theme of the week. Then, a choreographer teaches a dance routine that they feel embodies the theme.
At the start of the workshop, director Tianai Ren, a third-year student at UCLA, talked about the importance of having dance be a safe way to express your feelings. Ren told members of the workshop: "We started Psypher to create a space for dancers where they wouldn't have to focus on looking perfect for someone else. Here, they can dance for themselves and express their own feelings through movement."
After Ren's introduction, UCLA's Body Image Task Force led a 30-minute discussion on the impact of social media on body image. During the workshop, dancers gathered into small groups and were asked to open their Instagram feeds and share what they saw after searching up the word "dancer." Many of the participants pointed out that the majority of images they saw of dancers on Instagram were of muscular, thin, white, cisgender dancers.
"It makes me feel excluded," noted an anonymous UCLA student, "Like I am not enough because of my race and body type."
"Body image is a deeply personal and culturalized experience," added UCLA student, Colin Hwang, as the group discussed how social media often excludes people of color and members of the LGBTQ community from its images of perfection. Many students shared their own experiences with body image, and the pressure to change their body size in order to feel like a dancer. Participants also discussed how social media tends to reinforce the idea that you must have light skin and blonde hair to meet society's expectations of beauty.
As the choreographer of the night, recent UCLA graduate Colin Hwang shared his own struggles with his body image and how, at one point, social media had caused him to have a negative perception of his own body. Colin reflected on the unrealistic images and standards social media creates for dancers, explaining that "social media reinforces the idea that this is how a dancer should be and that you're not there."
"You've got to make an effort to always remind yourself on social media that it's not realistic, and that you are enough," Colin adds.
After Colin shared his story with the room, dozens of dancers, of various shapes, sizes, and ethnicities, bonded together and began to share their own stories. Strangers who had only met 30 minutes before discussed their struggles with their own body images and shared strategies for coping with the pressure to change. Many newcomers in the crowd expressed appreciation for having a welcoming place to talk about their own experiences and how they already couldn't wait to come back for the next workshop.
"I'm not much of a dancer and have always been a little nervous to put myself out there," said a UCLA student who would prefer to remain anonymous. "But Psypher has given me a place where I can be open about my struggles with mental health and feel comfortable learning to express myself through dance."
Psypher not only creates an encouraging dance environment, but also provides a safe space for everyone to share their personal experiences with mental health. This approach to dance provides students with an opportunity to get comfortable in their own skin and improve both their physical and mental health. Psypher's dedication to destigmatizing mental health and unrealistic body standards for dancers creates an accepting and comfortable environment for all dancers, regardless of their level of experience.
Psypher's next workshop on Nov. 30 focuses on mental health and media portrayal and will feature guest choreographer Joshua Fidelis. With its open approach to subjects of mental health, this organization creates a dance experience that is unlike any other and is one that all UCLA students should experience.