UCLA Free Speech Panel Sparks Controversy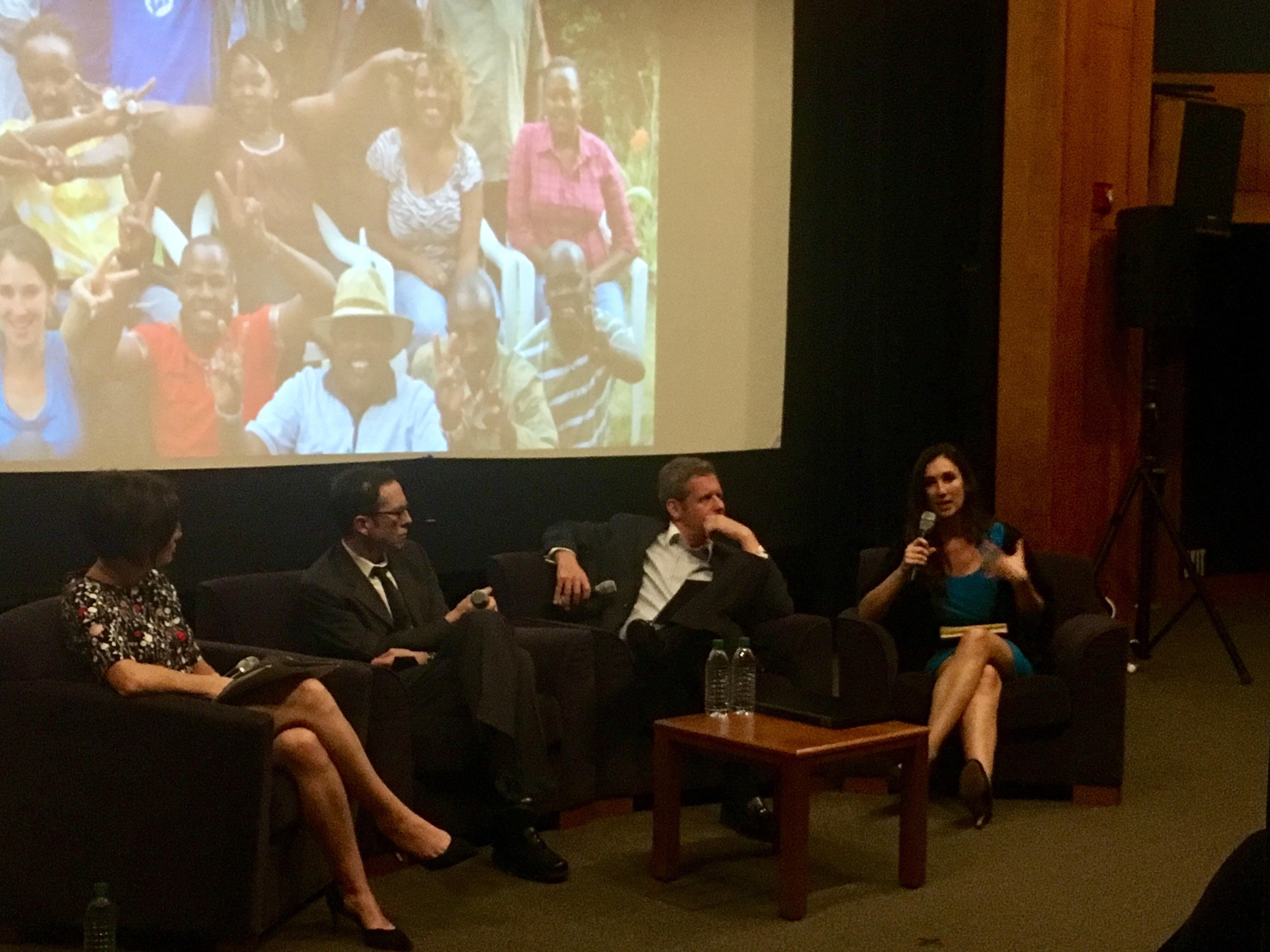 Photo by Gabriella Kamran
A UCLA panel entitled "What Is Civil Discourse? Challenging Hate Speech in a Free Society" ended abruptly when members of activist group Refuse Fascism shouted panelists down during the Q&A session.
The Oct. 17 event, presented by the United States Holocaust Memorial Museum and the Los Angeles Times, took place during "Free Speech 101: UCLA's Week on Freedom of Speech." Holocaust historian Edna Friedberg moderated the panel, which included L.A. Times Deputy Editorial Page Editor Jon Healey, UCLA School of Law professor Eugene Volokh, and Above Zero nonprofit director Rachel Brown.
During the presentation portion, panelists discussed issues such as the meaning of the term "hate speech," the role of technology in the rapid spread of incitement, and whether social media platforms like Facebook have the responsibility to moderate extremism on their sites.
Friedberg drew parallels between the current dynamics surrounding campus political speech — particularly the cultural hysteria about the supposed attacks on free speech by progressive students — and Nazi propaganda strategies, which recognized young people's receptiveness to radical ideology. "It's not a coincidence that Nazi book burnings took place [on college campuses]," she said. "They knew college students were susceptible to their ideas."
When panelists opened the forum to questions from the audience, fifth-year UCLA geography student and Refuse Fascism member Tala Deloria was the first to take the microphone.
"This panel is bull***t," she said. "There is a fascist in the White House, and you're normalizing it by talking about [hate speech] in the abstract. People are dying in the streets."
Refuse Fascism is a grassroots, protest-oriented group that seeks to drive President Donald Trump from power, according to its website. Deloria said she got involved with the group at its inception, one month before the presidential inauguration, with the hope of preventing Trump from taking office.
Deloria continued speaking over Friedberg's requests that she give other audience members a turn, prompting event operators to cut off her microphone. Campus security urged her to leave the venue, but Deloria sat down in the auditorium aisle to resist her removal and accused a security guard of twisting her arm.
Three audience members affiliated with Refuse Fascism rose to join Deloria, chanting, "No Trump, no KKK, no Fascist U.S.A." One activist offered the audience fliers advertising Refuse Fascism's Nov. 4 march in Downtown Los Angeles.
"We don't only say never again about Jews," said UCLA graduate and Refuse Fascism member Luna Hernandez. "We say never again for everyone."
Several audience members booed and cursed at the anti-fascist activists. Healy attempted to take an audience question but was drowned out by the chanting.
"This is a prime example of uncivil speech," Friedberg said to the disrupters.
Event organizers announced that the Q&A would move to the room next door. There, panelists took uninterrupted audience questions about topics including controversial speakers on university campuses and Google's decision to fire employee James Damore following his statements about the company's diversity initiatives.
The Refuse Fascism activists remained outside the room to discuss the event with attendees. "We're Jewish, we're gay and we hate Trump too," one audience member told Deloria. "But we want to hear what these people have to say about how we can resist him."
Deloria said in an interview that she did not enter the event with the intention to protest, but the panelists' defense of speech rights for people like Charles Murray, a social science researcher who has been accused of scientific racism, put her over the edge.
"My heart didn't let me sit there while they normalized death," she said.
Friedberg considered the event a success — not in spite of the disruption, but in part because of it.
"Look, it's never good when conversation is shut down," Friedberg said. "But I actually feel that the disruption in the audience tonight opened up conversation in a way that I've rarely seen at a public program. People were speaking from the heart."
Friedberg was particularly grateful to hear honest questions from students, whose questions spanned the many perspectives regarding freedom of speech.
"Part of the reason that the [Holocaust Memorial] Museum seeks out partners like UCLA is to be present on a college campus," she said. "It shows that our history is relevant."
Deloria, however, is uninterested in musing about the ebb and flow of history.
"We're at the f***ing point of no return," she said.