UCLA Presents Sextravaganza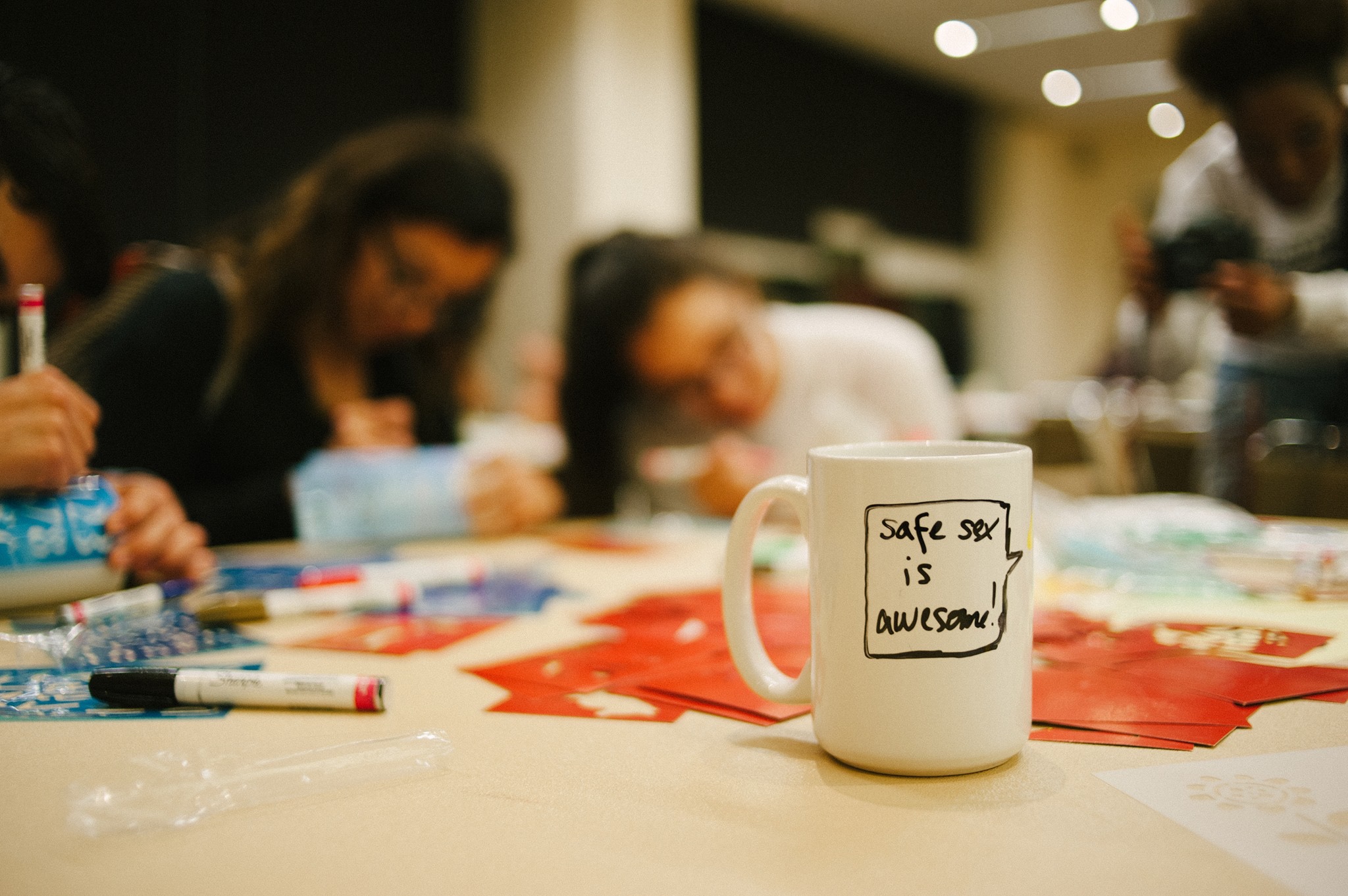 Photo by Cresencio Tano Photography
On April 19, 2017 UCLA hosted Sextravaganza in Carnesale Commons. Sextravaganza is an annual event on the hill, organized by UCLA Sexual Health Coalition. The event featured a resource fair, Condom Couture fashion show, and various workshops all centered around safe, consensual, pleasurable sex.
Sextravaganza took place on both the first and second floors of Carnesale Commons. Upstairs, participants could check in and grab snacks before heading to the resource fair or attending a sensual painting workshop. Downstairs, workshops were hosted by guests to UCLA's campus such as The Pleasure Chest. Downstairs also featured a crafts room where visitors could make condom roses, decorate mugs, or make face and lip scrubs.
One of the workshops was run by The Pleasure Chest, a sex toy store with a location in West Hollywood. The workshop focused on how to have pleasurable and safe sex and how to safely use sex toys. Participants were able to anonymously submit questions into a bucket for Pleasure Chest educators to answer at the end of the workshop. The workshop also allowed participants to get a close look at a wide variety of toys.
The resource fair featured booths from organizations around the LA area, including some UCLA organizations. The organizations included Planned Parenthood, Sexperts, Bruin Consent Coalition, and Screaming O. Volunteers at each booth fielded questions, handed out resources, and educated attendees on the various services each organization provides. During the resource fair, models walked the runway in clothes made from or decorated with condoms for the Condom Couture fashion show.
Arsheeta Kumar, a second-year Microbiology, Immunology, and Molecular Genetics student, helped organize the fashion show. Kumar said she felt Sextravaganza offered unique giveaways and resources students can't find anywhere else on campus.
"Practicing safe sex is important, but it's also important to recognize there are all different types of people and all different types of sex that people have. It's a good opportunity to be aware of everything and learn more about the resources you have available to you," said Kumar.
Several students said that they were drawn in by the idea of giveaways, but quickly decided to stay once they realized how fun and educational the event was.
"Rather than ignore [students having sex], it's really cool that our school provides us with the opportunity to have fun and get free stuff out of it," said Mina, a first-year political science student.
Charles Liu, a student volunteer, said that Sextravaganza was simply a nice place to help students learn about sex ed.
"Not only do I hope the students come away with some great prizes, but also some great education," said Liu.