UCLA's Clothesline Project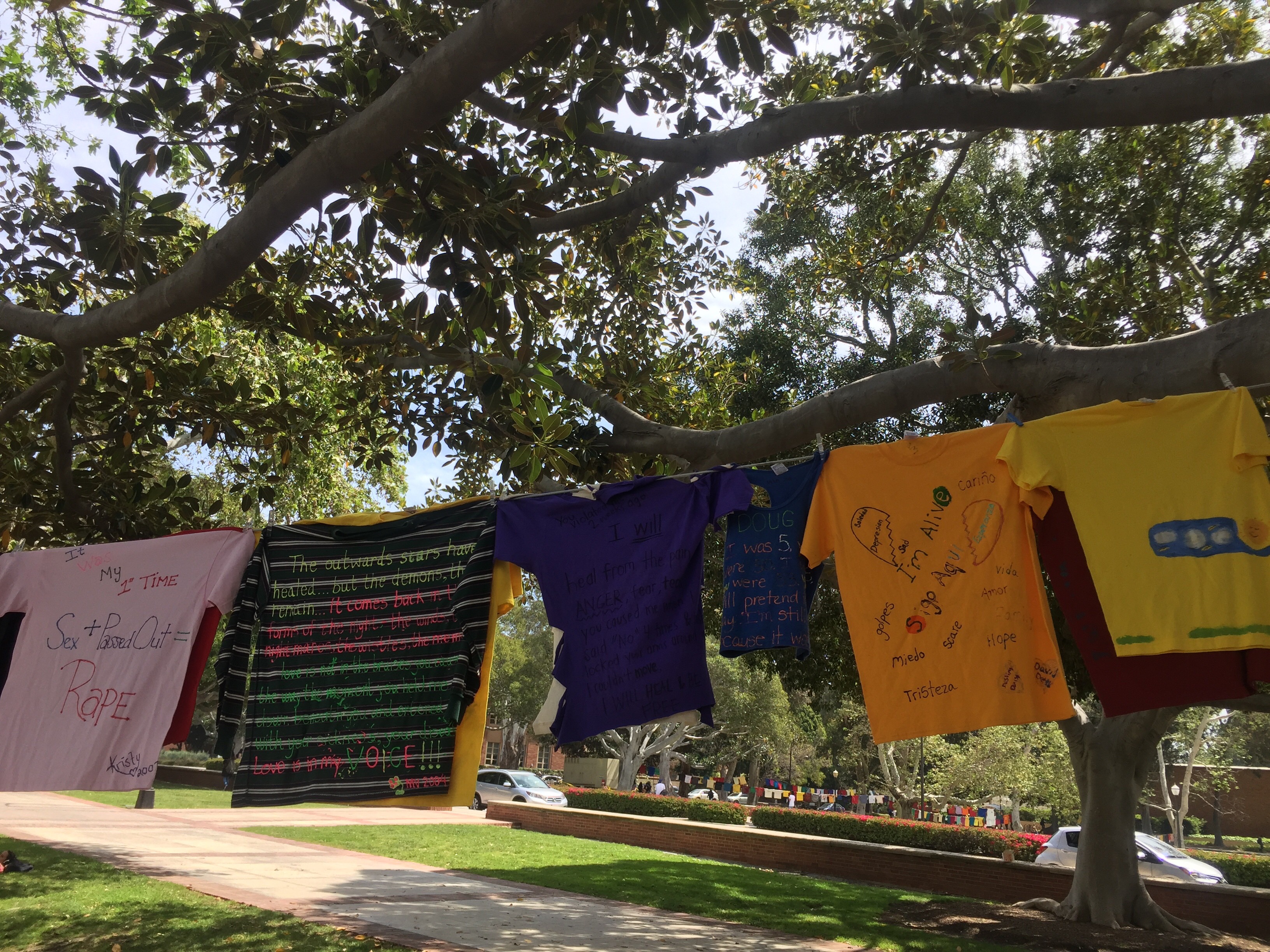 Photo by Laine Gruver
If you happened to walk through Dickson Court on April 4-6, you would have seen a beautiful collection of brightly colored shirts hung up on clotheslines, gracefully fluttering in the breeze. You may have stopped to wonder what exactly this installation was, and upon further inspection, realized that this wasn't just a fun, vibrant exhibit, but the documentation of hundreds of stories of sexual violence.
The Clothesline Project was founded in Hyannis, Massachusetts, in October of 1990, coinciding with the annual "Take Back the Night" march and rally. Based on a motive of honoring both survivors and victims of intimate violence, the Clothesline Project uses different colored shirts as a medium for people to express their experiences with sexual violence, whether that be firsthand experience or empathy for a close companion. Presently, there are an estimated 500 Clothesline Projects nationally, with 50,000-60,000 shirts total, spanning across 41 states and an additional 5 countries.
Each specific color of shirt signifies a different type of sexual violence, and these were the representations used at UCLA:
Red/orange/pink: survivors of sexual assault, attempted sexual assault/rape, sexual battery
Purple/lavender: those who have been raped or assaulted because they are lesbian, gay, bisexual, or transgender, or perceived to be so
Gray: survivors of gang rape
Yellow/beige: survivors of domestic violence
Brown: survivors of ritual abuse (genital mutilation, cult sexual abuse)
Blue/green: survivors of incest or childsexual abuse or molestation, adult survivors have used children's shirts to represent the age when the abuse occurred
Black: survivors of sexual harassment
White: for those who have been murdered or committed suicide as a result of sexual assault or gender-violence crime
Multicolored: survivors of multiple abuses, different colors may reflect different experiences
In incorporating all of these different colors, the Clothesline Project effectively portrays the fact that there is no "typical" story of sexual assault, and that sexual or gender-based violence takes many different forms, none of which should be brushed under the rug. The use of the shirts also allows survivors to remain anonymous if they wish, while still publicly getting their message across, whether that be one of forgiveness, anger, or pain. Each shirt represents a single story in a larger narrative of the prevalent problem of sexual violence.
Over the past 21 years, the Clothesline Project at UCLA has been presented by the Bruin Consent Coalition as one of their many events increasing awareness and discussion of sexual violence. As a part of Sexual Assault Awareness Month, the Clothesline Project is an incredible silent protest against horrific acts of sexual violence, and serves to remind us all just how relevant this issue is today. May we all remember the victims, support the survivors, and continue to fight against sexual violence as much as we are able.