UCLA's EmPower Hour Holds Discussion on Student Activism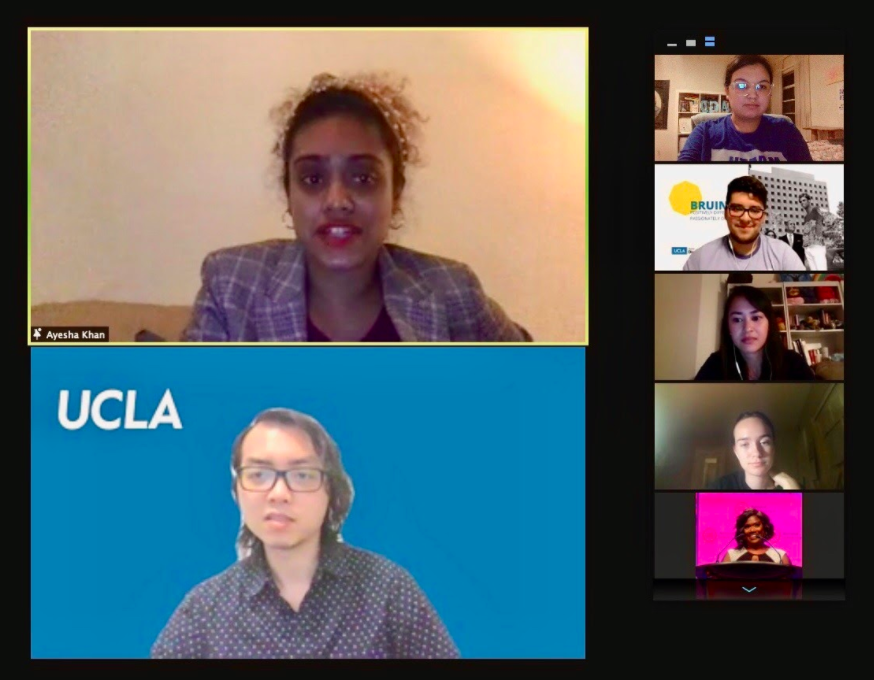 (Image description: a screenshot of a zoom call shows Ayesha Khan and David Sun speaking. Several smaller zoom screens are on the side of the screenshot, showcasing a variety of attendants. End description). 
Dr. Ayesha Khan, who has a PhD in Infectious Diseases and Microbiology, understands the difficulty of balancing activism and college life. While she's passionate about the importance of building up one's community, Dr. Khan explained, you cannot take care of your community without first taking care of your own needs. In her discussion on radical student activism, Dr. Khan reflected on racial capitalism, American individualism, abolition, and how to balance activism and being a student. 
On November 18, 2020, UCLA welcomed back infectious disease scientist, activist, and university alum Dr. Khan to discuss radical student activism for "EmPower Hour" hosted by Alumni Diversity Programs. Outside of her work as a researcher, Dr. Khan described herself as being an educator, leftist, and abolitionist. As a Muslim, Afro-Indian immigrant, Khan credited her lived experiences for kickstarting her interest in intersectional activism, while her work as a student organizer at UCLA introduced her to grassroots organizing. She stated, "[Y]ou don't become an activist overnight … it's a culmination of everything you've experienced," explaining that no one enters activist spaces knowing everything about social justice.
At the heart of Dr. Khan's political praxis is abolition. With the bulk of her talk on the subject, she emphasized that we cannot truly shift U.S. culture until we abolish and rebuild the foundations of the country. Abolishing police, prisons, and capitalism and returning land to Indigenous peoples are essential for the liberation of all people. Harm cannot be rectified by punishing individuals, nor by pushing reforms — As Dr. Khan explained, the system that enabled harm must be torn down, and new systems (which ensure all people's needs are met) must be built in their place. Dr. Khan asks, "What's the point, right? If we're not really working towards abolition?" 
In terms of where young activists should focus their energy, Dr. Khan encouraged work on the ground, such as mutual aid and community organizing. She also explained that one cannot presume to know what every member of their community needs. Thus, you cannot fully help your community unless you connect with a variety of people with different identities and listen to their needs. Furthermore, you can simultaneously be an oppressed person and an oppressor (e.g. just because you're a woman does not absolve you from homophobia or racism, and vice versa. You can cause harm despite also being a marginalized person). Presuming to know what others need without actually listening to what they ask for enables problematic "savior" relationships, wherein a person trying to help is more of a nuisance, as they do not give the help actually needed. In the process of abolishing systems that enable homelessness and crime, talking to those you are trying to help is essential. To exemplify the importance of including members of a community in a discussion when determining their needs, Dr. Khan brought up houseless individuals and felons. As Dr. Khan explained, more tangible forms of help are often more immediately impactful than symbolic actions. Lastly, when one is involved in protests, Dr. Khan encouraged the most privileged members of the protest to put their bodies between the most marginalized participants and law enforcement. One must claim and live a given praxis — as Dr. Khan elaborated, simply reading theory does not make one an activist. 
Dr. Khan emphasized at the end of her talk, when in college, you must focus on "building yourself up first … get yourself to get to a place where you love yourself and care about yourself enough to love others." Without self-love and a supportive community, one cannot give back to their community in their full capacity. 
Dr. Khan is on instagram as @wokescientist.