UCLA's Reproductive Justice Health Center is Here to Stay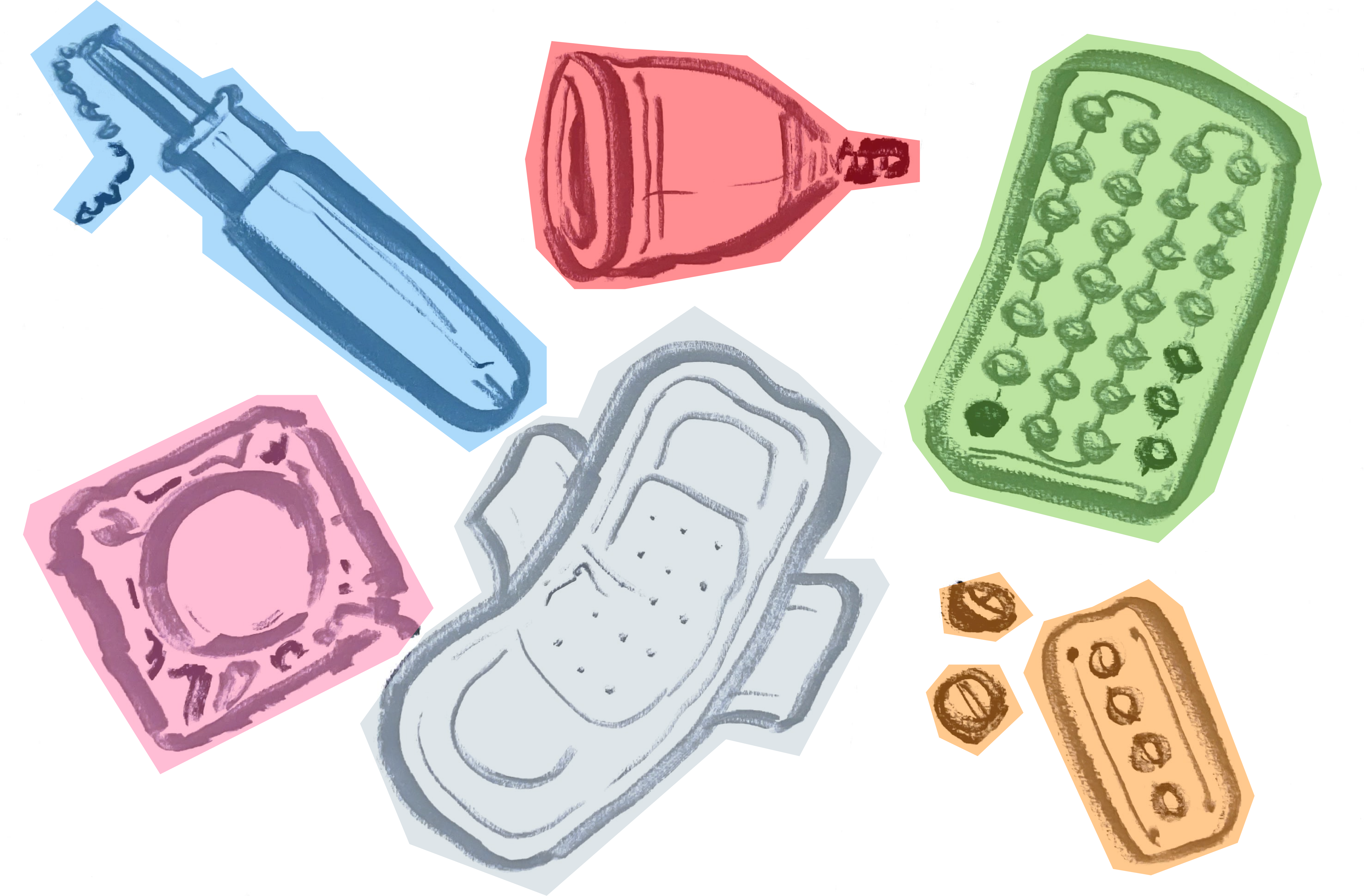 Image Description: A multi-colored illustration of menstrual and birth control products.
For fourth-year Hannah Oltman, UCLA's lack of centralized reproductive health resources became glaringly clear during her first few years on campus. Not only did she notice a need for comprehensive and accessible resources both online and in-person, but she also identified a need for reproductive education that represented all communities; in other words, reproductive education on campus that was truly intersectional. 
This observation eventually morphed into Oltman's fully fledged plan to establish UCLA's Reproductive Justice Health Center (RJHC).
RJHC originally started off as a passion project idea for Oltman's Undergraduate Student Association Council (USAC) committee. However, the USAC projects students choose to pursue are unsustainable in the long run unless a separate organization is created for them. Oltman knew the establishment of centralized and intersectional reproductive health resources had to be a long-term effort to benefit both current and future generations of Bruins.
Teaming up with a small group of individuals who were passionate about reproductive justice, Oltman met with administrative leaders and campus stakeholders to call attention to reproductive justice. Together, they conducted a needs assessment and collaborated with community representatives to determine how they could best support all students on campus. In 2019, RJHC was founded as its own organization under the Financial Supports Commission (FSC), with the mission to increase access to reproductive health products and services, as well as making reproductive education more inclusive and accessible. 
During RJHC's first two years, they focused on conducting research on a wide range of reproductive health-related topics, including different types of birth control, local clinics and the services offered, healthcare inequities, Title IX, and reproductive health conditions. They also worked to build partnerships with other student clubs and organizations on campus, as well as larger organizations such as Planned Parenthood and NARAL. Finally, RJHC collaborated with HoneyPot and Plan C Pills to offer free, sustainable period products and alternative forms of birth control to students during the COVID-19 pandemic.
As of 2021, RJHC is in the midst of its first official in-person year as an organization, now with a large team of dedicated board members and staff. They're currently focusing on building a website and social media platforms with comprehensive educational materials related to reproductive health and policies so that students can stay informed of their rights and the available resources. Oltman also expressed that she would love to continue RJHC's issuing of free, sustainable reproductive health products, hoping to set up a distribution system on campus where students can access the resources they need 24/7. 
In the future, Oltman sees RJHC growing into a mostly digital space, providing comprehensive educational materials centralized in one location to help students stay informed, along with a series of pop-up events to connect students with reproductive resources. Above all, the vision for RJHC centers around intersectionality, striving to ensure that every Bruin on campus can access reproductive health-related products and information specific to their identities.
RJHC's story not only offers inspiration for other students seeking to enact their own change on campus, but also represents a step forward for UCLA in ensuring students on campus are safe, healthy, and can access the resources needed to thrive. Oltman summarized it best: "[Our organization] allows for people to take ownership of their own health so they can make the best decisions for themselves." 
To learn more about RJHC's efforts, visit their Instagram page @rjhc_org.
RJHC is still accepting staff applications on a rolling basis. For more information about getting involved, see the application here.