UCLA's Safe Sex Vending Machines: An Administrative Initiative Aimed at Promoting Student Wellness and Dialogue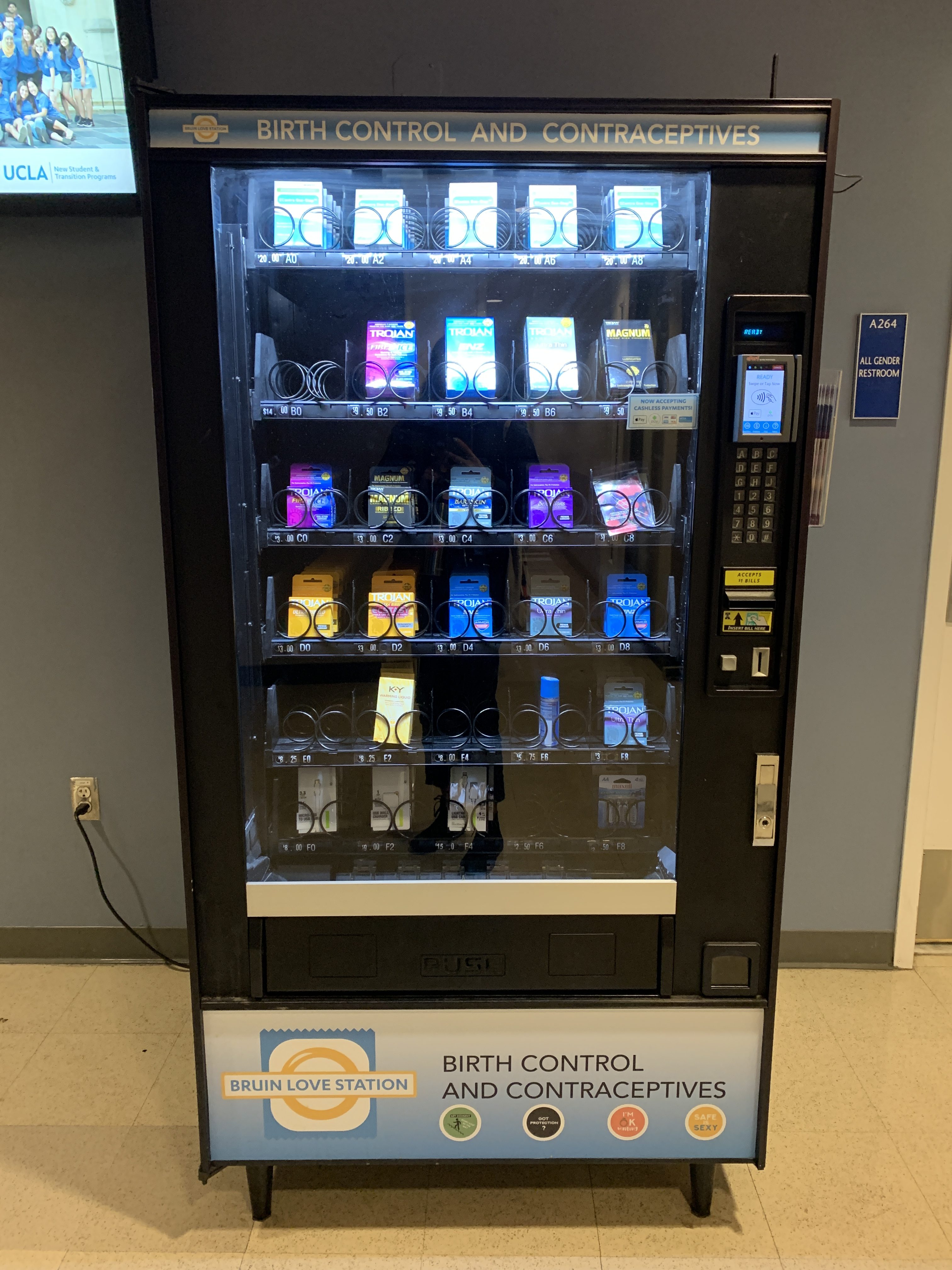 Photo by Madison Thantu
Beginning in early 2017, the Arthur Ashe Student Health and Wellness Center, the primary healthcare provider for UCLA students, began looking into the installation of vending machines that provided contraception and other sexual health products to UCLA constituents. As of now, two machines have been installed, the first of which is located on A level in Ackerman Union, and the second can be found in the mailing center located on the hill.
This initiative was first spurred in response to UC Davis implementing similar facilities on their campus. According to John Bollard, the Chief of Operations and Chief Financial Officer for Ashe, several Ashe administrators visited the Davis campus in order to assess how the machine was implemented. This excursion served as the starting point for UCLA's own vending machine initiative.
However, Ashe's administration sought to take the vending machine initiative a step further than fellow UC's, placing more emphasis on the social and community-based effects that the machines' implementation could have.
Inside, consumers can find a large range of products, including male condoms, female condoms, emergency contraception (Plan B), and lubrication. While a large component of this initiative revolved around making such products more geographically accessible, Mr. Bollard emphasized the significant price reduction in emergency contraception. When purchased from an area-pharmacy, the morning after pill is typically priced at around $50, which is a steep sum to pay for a majority of college students. The Plan B found in the vending machines costs $20, which is a tremendous reduction in price — one that can alleviate emergency family planning methods for many.
Furthermore, the very public sites where the two vending machines are located were specifically chosen due to their high volume of foot traffic. Not only do such spaces allow for accessibility, but it is also aimed at facilitating a dialogue on the UCLA campus regarding family planning and methods of safe sex. According to Mr. Bollard, approximately 19,000 people walk through the A level of Ackerman Union per day. Meanwhile the machine located on the Hill can be accessed by residents 24 hours a day.
Through such public placement, passerbyers are forced to think about sexual health, whether such thoughts are consciously acknowledged or not, which is the starting point of changing how American culture views and discusses topics such as sex and family planning.
As Mr. Bollard said, "It's really about not only removing obstacles and making contraception affordable and accessible, but it's about educating people about the normalcy of it. It's right out there in the open. That machine is right out there on A level, and people shouldn't be embarrassed about contraception access." The machines have been branded by the healthcare provider, and education pamphlets are supplied outside the machine addressing  various methods of contraception and practices of safe sex.
This initiative is one of Ashe's many mechanisms to provide accessible quality healthcare for students. The center provides approximately 30,000 condoms per year at no cost. Prior to implementation, Ashe partnered with Associated Students UCLA (ASUCLA), and sought input from various student organizations on campus, including the Student Health Advisory Committee and Sexperts.
This collaboration between Ashe and UCLA students highlights the critical interplay between UCLA's administration and the student body. If we hope to improve the college's system, individuals must be willing to work together in order to better provide for its constituents.
As of now, there are no additional installations in the works. However, Mr. Bollard stated that if demand for additional vending machines did arise, Ashe would be more than willing to pursue additional machines.
According to Mr. Bollard, the future of safe sex on the UCLA campus still includes creating a more affordable and accessible space. Additionally, the visibility of such resources is critical, as provisions are determined by their demand and usage.
In spite of the vending machines' visibility and affordability, many UCLA students remain unaware of them. Thus, further advertisement may be necessary in order to educate constituents on the resources that are available to them and in order to gain feedback on the efficacy of such projects.