We Want You! (To Watch Marvel's Agent Carter)
Note: This article contains some spoilers for the first two episodes of Marvel's Agent Carter.
Despite all the advertising, the hype, and the excellent reviews, Marvel's Agent Carter opened last week to somewhat average ratings. However, the show is still enjoyable and interesting, and people (including you) should be watching it right now for a number of reasons.
The most obvious one is that it's a female-led show. This wouldn't be an important reason to watch the show if Hollywood created more movies and TV series about female superheroes. But as artist Diana Tamblyn explained to the BBC, studios assume that all female-led movies will fail because they've flopped before. Women aren't being given the chance to have their own shows; I can count on one hand the number of comic book movies or TV shows with a female character as the title character.
That's where Agent Carter comes in. With enough people watching the show, Marvel/ABC and other companies will realize that people want dynamic female characters with their own shows or movies, and studios will create more of them. And it's not like watching Agent Carter is a hardship, anyways.
Agent Carter is about a wonderfully dynamic woman, Peggy Carter (Hayley Atwell), who is more than just a stereotypical "strong female character" in this series. Yes, she's a serious badass, and she uses all sorts of methods to do her job, from beating up bad guys to the admittedly tired cliché of weaponizing her sexuality. But she also is more than that, which we see through her grief over Captain America (her presumably-dead former love interest) and her fear of letting people get close to her. Again, the latter is pretty overused, but it's a welcome change to see it with regards to a woman having this fear, rather than a male superhero like Batman.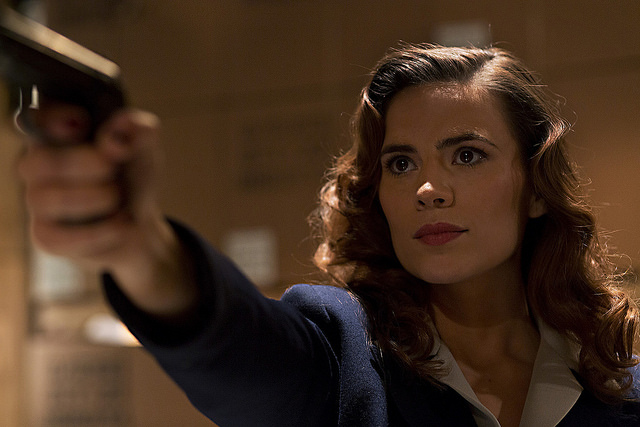 Peggy is fiercely protective of other women, which is another bonus. As a trained field agent who knows how to fight, she uses her skills to protect other women who aren't in a position to defend themselves. Frankly, it's refreshing. One thing that's really bothersome about media is how women are constantly shown as each other's enemies. Hayley Atwell was even asked in an interview about whether her character could beat Melinda May (a character from Marvel's Agents of S.H.I.E.L.D.) in a fight. Women are constantly being pitted against each other, both in fiction and in real life. So far, this hasn't been an issue, which is pretty great.
Yet another positive element is that Agent Carter has a physically disabled character, Daniel Sousa (Enver Gjokaj). For a show set just after the end of World War II, having a character who is a disabled war veteran adds realism. Even better, he's portrayed as a competent agent, rather than just a pitiable character, although he's still subject to ableist remarks from his coworkers.
Finally, Agent Carter does a really good job of portraying sexism and misogyny. The vast majority of the sexist behavior on the show is very obvious—sexual harassment, women being considered incompetent, and so on. It definitely needs some examples of more subtle types of sexism. Nonetheless, the existing images of sexism in the show are really relatable, maybe surprisingly so for a period spy piece. The misogyny depicted is familiar to modern audiences, such as (cis) men's inability to even hear women discuss things like menstruation and Peggy's constant reduction from a badass agent to a "secretary."
Of course, the show does have problems. There were a few things that really stood out in the first two episodes. For instance, there's a huge lack of people of color. The only people of color in the show were minor villains, one of whom was killed off for shock value (to show how the more prominent villains don't respect life). And unsurprisingly, there haven't been any women of color in the show so far. While I didn't really expect for any WOC representation, it still is something that shouldn't be missing.
And in a show about a female character, there's a surprising lack of women in general, at least so far. There is one other woman on the show, in the first two episodes, that has a sizeable speaking part. And while I love that Marvel's Agent Carter depicts women fighting misogyny in their everyday lives, I want to see more than two or three women dealing with sexism. It would be great to have more women supporting and liking one another. Admittedly, the show seems like it's going into this direction, so I'll definitely keep tuning in, and you should too.
You can watch Marvel's Agent Carter Tuesdays on ABC at 9/8c.