Wednesday: CAC's The Word on "Silence and Sexual Violence"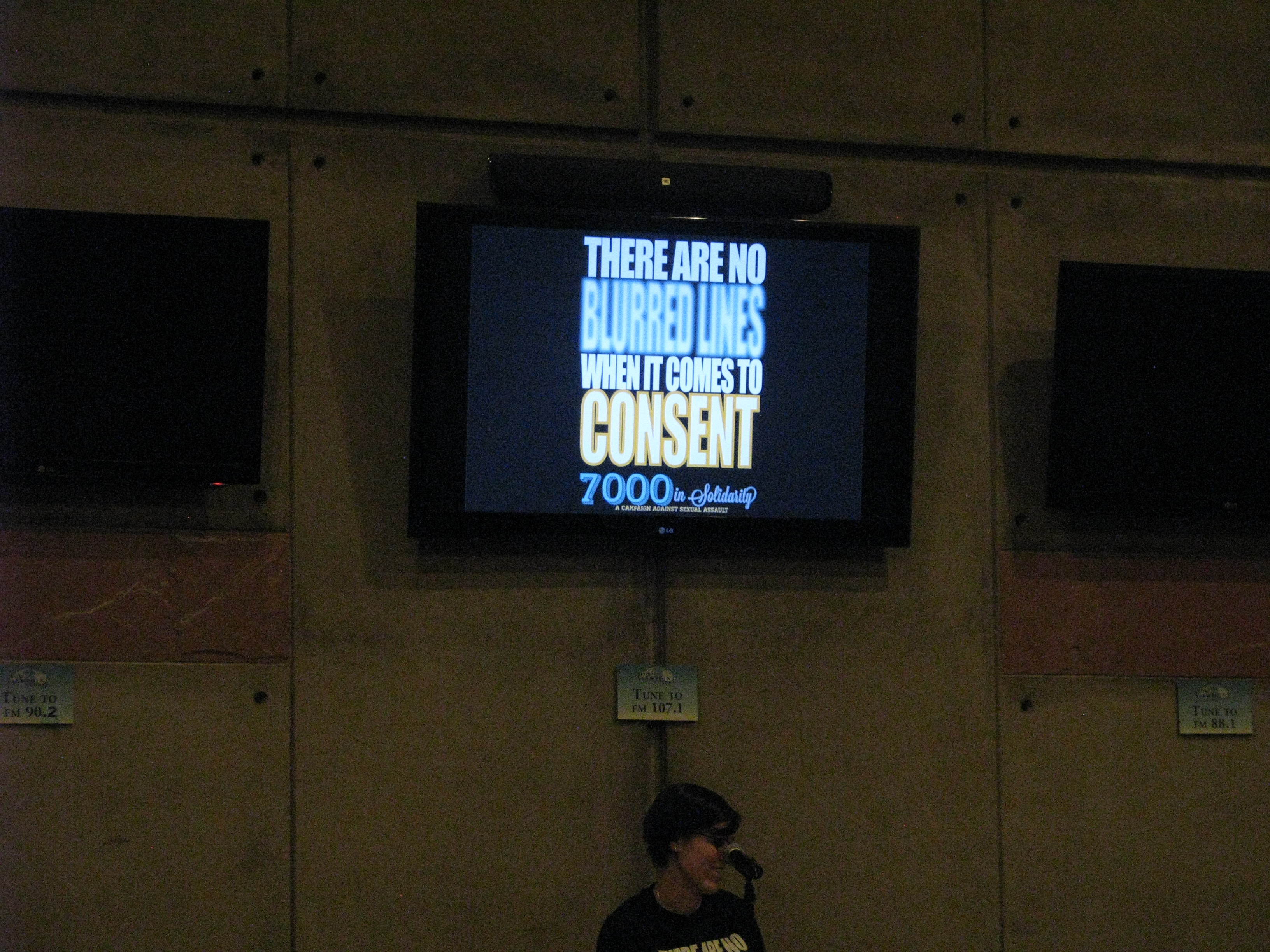 On Wednesday, the Cultural Affairs Commission, CAC, teamed up with 7000 in Solidarity to create a unique variation of their weekly creative lounge, "The Word." The night was called "Silence and Sexual Violence," and anyone who wanted to speak about their assault, the assault of someone they know, or speak in broad terms about oppression was invited to do so.
The Word is a weekly meeting of UCLA students on Wednesdays at 7pm in Ackerman Viewpoint Lounge that focuses on creating a safe space for individuals to express themselves creatively.
While this can be through poetry, they also encourage music, live performances, comedy, etc. Through this group, participants expand their creativity and confidence, along with creating connections between fellow Bruins.
By 7:30, the room in Ackerman was almost completely full. By 7:45, people were standing in the back. People flittered around the room, handing out pens from CAC and asking for everyone to sign their name on pledge cards. These cards asked the audience to support survivors and pledge to be an effective bystander.
Hillary, the host of the event, started off by introducing 7000 in Solidarity. She explained the purpose of the pledge cards, and also pointed out the resource list for on-campus help. Outside of campus resources, Hilary provided information about the Santa Monica Rape Treatment Center, which supports survivors on a long term basis.
Savannah Badalich, one of the campaign leaders, spoke to the crowd briefly before the poets began. She spoke about the name 7000 In Solidarity, which comes from the statistics of rape on college campuses.
Using the estimated undergrad population of UCLA, around 7000 students are or will be survivors of sexual assault by the time they graduate.
One of the many goals of 7000 in Solidarity is to teach the campus community how to be supportive to survivors. This includes holding administrators accountable for their handling of sexual assault cases and starting a dialogue among students about consent and how to be an effective bystander.
The first poem that was shared came from Laura Sermeño, a student at UCLA. Speaking about the male gaze, she got a lengthy segment of snaps after spitting the line, "My sex is mine, and you are not invited." This poem prompted Hillary to speak out, saying that she does not feel safe walking alone around Hollywood anymore.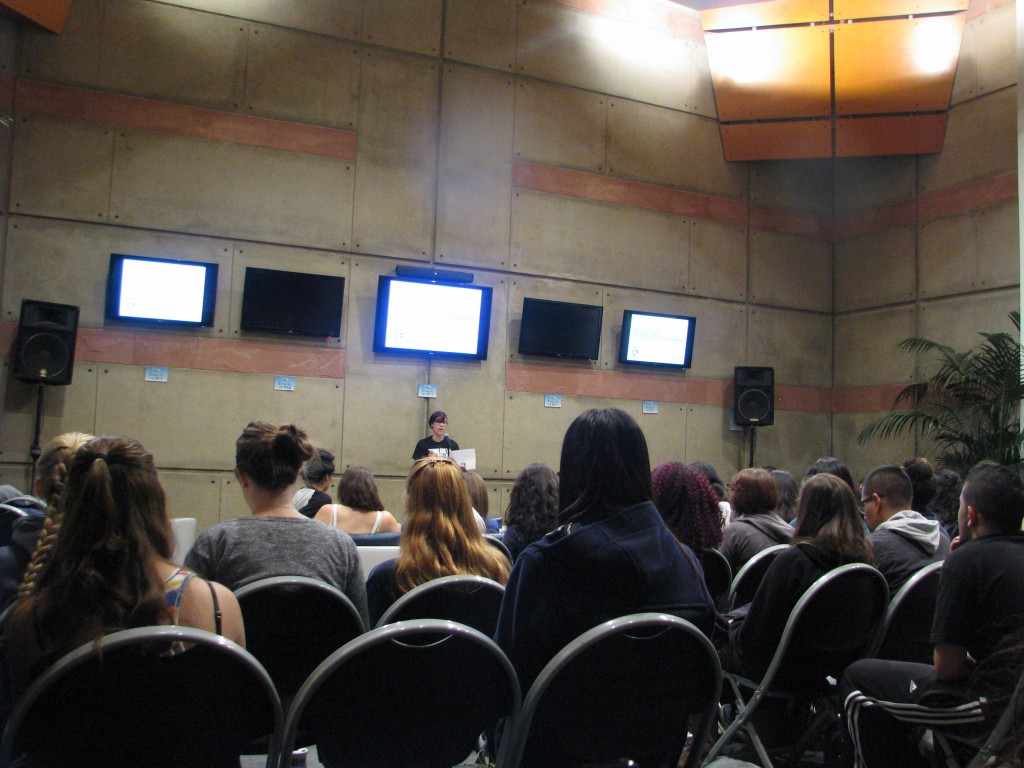 Badalich spoke again, this time with a poem she had written the day of. She covered the story of her assault, stating that "he wasn't a man in the bushes, he was someone I trusted." She told us about trying to talk to someone from the school later on and feeling like she was being attacked when they asked, "what were you wearing?" In her poem she retorts, " like somehow my pajama bottoms and father's old t-shirt was enticing." The poem ended strongly, with one of last lines being,
"Does someone have to be raped mercilessly in the middle of Bruin Plaza before you'll actually listen to what I have to say?"
The next poem, titled "Mama," used the imagery of a leech to explain the negative feelings and emotions that had clung onto the speaker's back following her attack. The speaker processed her feelings as an apology to herself and others saying,  "I didn't mean to let him touch me Mama." She then referred to the guilt following her assault saying it "holds a gun against my head and tells me I'm a bitch and deserved to be attacked."
Ashley, a member of the Peer Health Exchange, also held the room with her narrative.  She stated:
"To the girl who says it was my fault, to the girl who says no one believes me, to the girl who says 'I am ashamed,' I tell you now end the silence, speak up and stop the violence. You are not alone, so strip the stigma of victim and accept the strength in survivor."
People continued to speak after these women, as a few men jumped up to the mic and apologized for not knowing the theme of the event, but spoke about their topic with such passion that even the people who were solely there for 7000 in Solidarity could not look away.
---
In an interview with Badalich, I was able to find out more details about the event and the purpose of Consent Week.
Q. Why did you choose to continue Consent Week with such a large spoken word event?
A. We wanted to provide an artistic avenue for students to break their silence and the stigma regarding sexual assault, specifically people of color and undocumented individuals. CAC's Word of Wednesday attracts many students wishing to express themselves, and we thought it would be the perfect opportunity to collaborate and reach out to a new group of students, that may not always engage in conversations or activism around sexual violence.
Q. Did people have to sign up and get approved before speaking?  Were there any limits on what could be said?
A. No one has to sign up beforehand. There are no limits. They are free to express themselves in any way they choose.
Q. Has each event been successful so far?
A. Yes! The turnout has been amazing and the engagements by students attending has been phenomenal. We've had a few survivors who broke their own silence at our events and fairs and have learned about resources that are available to them. We've also educated students, who are not survivors, but are supporters or friends; we hope they now feel equipped with and empowered by the knowledge we provided to be effective bystanders in preventing others from acting without consent.
---
By forming a unique event, distinct from the others being held on campus for Consent Week, the student turnout exceeded expectations. The attendance at a public forum focused on speaking about sexual violence on and off UCLA's campus means that students are becoming more willing to speak up. This is a major step for everyone on campus who is a survivor and anyone who cares about stopping these crimes.
7000 in Solidarity's events raise awareness of sexual assault while offering effective strategies to combat and prevent it. We should continue to support this group as we fight against all forms of violence, abuse, and sexual assault.