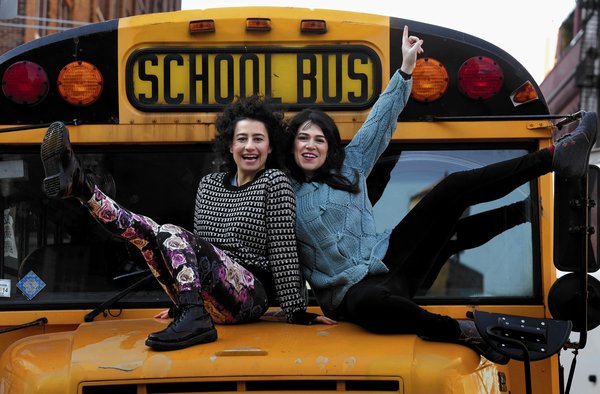 Only two weeks into 2015 and there are already so many great female-led and directed shows and films set to premiere this year that are getting major attention. With most of these racking in nominations and wins at the recent Golden Globes Awards, it looks like Hollywood is catching up (albeit slowly) to the fact that women can definitely bring in the bucks and the awards.
Selma (Currently in theatres):
Having just scored four Golden Globe nominations and a win for Best Original Song, Selma is one of the top contenders for an Academy Award Best Picture win. This intense portrayal of the activism of Martin Luther King Jr. (played by David Oyelowo) is directed by Ava DuVernay, who is now the first black female to be nominated for Best Director at the Golden Globes. The film is also packed with an amazing cast including Common and Oprah Winfrey.
Carol (Scheduled for a fall release):
This film stars Rooney Mara as a young aspiring photographer who falls madly in love with a woman named Carol, played by Cate Blanchet, while working at a department store. Since this film is based off one of the best novels to come out of the lesbian pulp novel craze of the 50's, The Price of Salt by Patricia Highsmith, many people are hoping it will be the "lesbian Brokeback Mountain" that so many have been waiting for.
Agent Carter (Premiered January 6th):
Finally a female-led piece by Marvel! Considering Marvel's abysmal record for female-led movies and shows, this is long overdue. Agent Carter, starring Hayley Atwell, is all about Peggy Carter, a badass secret agent who tackles the bad guys and misogyny in one fell swoop.
A show about clones may not immediately sound enticing, but within one episode, it's hard not to get hooked on Tatiana Maslany, who plays about half of the main characters. Not only is it a strongly female-driven cast, but it is LGBTQIA inclusive with gay, bisexual, and trans main and side characters.
Cucumber and Banana (Premieres January 22nd):
A new group of series from Russell T Davies (of Doctor Who, Queer As Folk, and Torchwood fame). Slate has described Cucumber and Banana "are interwoven series that explore 21st century gay life through the lens of two generations" with Cucumber focusing on a long term gay couple struggling with whether they want to get married or not, and Banana focusing on a group of younger queer characters in the same universe. As of now, these shows will only be playing on the British channels 4, E4 and 4oD.
Transparent (Currently on Amazon):
Amazon's experimental show, Transparent, is actually turning out to be one of the best shows out there right now. It recently won the Golden Globe for Best Television Series in a Musical or Comedy, and Jeffrey Tambor won Best Actor in a Television Series in a Musical or Comedy. Known for his role as George Bluth Sr. in Arrested Development, Tambor really shines in his role as Maura Pfefferman, a trans woman who comes out to her adult children.
Pride (Currently on DVD):
Although Pride was released in September last year, it's been brought to light recently due to it's Golden Globe nomination for Best Motion Picture in a Musical or Comedy. This comedic film is based on actual people and events from the Lesbian and Gays Support the Miners campaign in 1984 in which queer activists fought alongside striking British miners.
Broad City (Premieres January 14th):
https://www.youtube.com/watch?v=NhvBC-Ml01E
This deliciously hilarious, Amy Poehler produced show is coming back for a second season this year. Ilana Glazer and Abbi Jacobson star as alternate-universe versions of themselves that frequently set out constantly to smoke weed, pick up guys, and generally fail in their attempts to do anything with their lives, and hell if that doesn't encapsulate the reality of many women in their 20s.
https://www.youtube.com/watch?v=dbSl-SPyHtg
If you're not already watching How to Get Away with Murder's first season I honestly don't know where you've been these last few months. Really, what's been keeping you away? Viola Davis breaking the unspoken code of how black women are portrayed in media? Come on. Alfred Enoch (known to most as Dean Thomas from the Harry Potter franchise) stars as Viola Davis' law student alongside a cast full of women of color and queer characters. After an amazing mid-season finale, How to Get Away with Murder is coming back strong later this month.