Where is Your Money Going?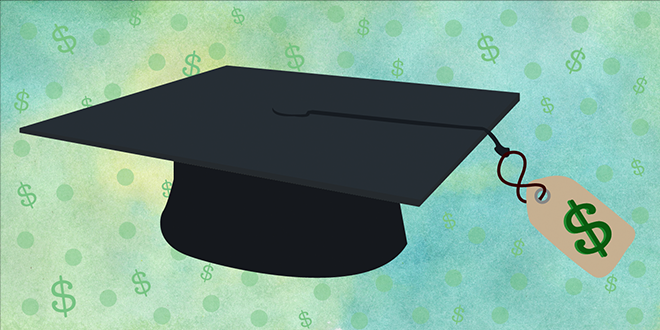 Image by Jenny Dodge
College is expensive these days. From outrageous housing costs to rising tuition rates, the price tag of higher education is growing exponentially each year. Besides basic costs like housing, food, and books, additional fees are tacked on to UCLA students' Bruin Bills to pay for a variety of initiatives on campus — from sustainability efforts to student concerts.
From the university's perspective, this strategy works. With a large student body, UCLA can charge each student some seemingly reasonable amount of money per quarter and end up with enough money to fund large-scale projects. UCLA's student government has joined the model, introducing fees that help support its efforts. While these fees help pay for many student services, they add up. For those supporting themselves financially or facing financial hardship, every dollar counts, and many students don't directly use many of the services they are paying for. Students might not want to go to Bruin Bash, let alone pay for Ackerman if they never eat there. On the other hand, some of these fees help improve student life and safety on campus and support important initiatives like seismic safety efforts and student retention programs that lack funding from other sources.
Whether you believe these fees are part of the cost of living in a community or an unfair burden on the ever-increasing cost of education, it's important to know where your money is going. For the upcoming quarter, here are 11 things you didn't know you were paying for (unless you're a close reader of the BruinBill).  
Winter Student Services Fee

($376.00). . . What?

$376.00

? Pretty general funding that "benefits students" and complements instructional programs. That's a hefty sum of money for something painfully vague.

Winter Undergraduate Student Association Fee

($79.04) I guess you should pay attention when USAC elections come along, seeing as you are funding their projects.

Winter Ackerman Student Union Fee

($21.00) Even if you don't buy Panda Express.

Winter Wooden Center Fee

($11.00) Hope y'all are working out. At least you get unlimited visits to the gym.

Winter Green Initiative Fee

($4.80). Let's protect the environment! This fee goes towards sustainability projects and tuition assistance.

Winter Pledge Fee

($17.65) The fee

supports

"efforts in student-initiated outreach, community, retention, and media programs." Don't know how they came up with the $17.65 figure but hey, maybe you're helping out.

Winter Acker/Hoff Seismic Fee

($38.00) Hopefully retrofitting is underway to keep us safe before the next earthquake strikes.

Winter S.P.A.R.C Fee

($36.00) Pays for renovations and expansion in the Men's Gymnastics building and the John Wooden Recreation Center. Because the Wooden fee just wasn't enough.

Winter Bruin Bash Fee

($1.40) Even if you didn't get into the lottery.

Winter IEI Fee

($108.00) Instructional enhancement fees anyone? Yes, even if those computers in your lab don't work. Let me repeat, $108.00.

Winter Arts Restoring Community Fee

($1.62). Let's give it up for the arts. Also some of the revenue goes towards financial aid.
For more detailed descriptions of where your money is going, click here. It's imperative to keep UCLA accountable and know what you are supporting.
On the bright side . . . No matter what you think of these fees, UCLA students do receive some benefits included in tuition that many students don't take advantage of. Some apply only to those students living on the Hill, while others help support the general student body or graduate students. Here is a short list of just some of the things you should take advantage of if you're a student at UCLA. After all, you're paying for it!
Amazon prime – free for six months and then half price after that

HBO Go (only for students living on the hill)

Resflix – student streaming service (only for students living on the hill)

Transportation discounts

for several LA buses, as well as

free trips

on the Bruin Bus, weekend grocery shuttles, and other UCLA bus services.

Most sports events besides men's basketball and football.

Westwood discounts

at some stores/restaurants

Subscriptions

to academic databases

UCLA Food Closet

and resources

Menstrua

l products at Ashe

Museums:

Fowler Museum

and

The Hammer Museum

Flu

shots

Free

or discounted printing

Specialized resources like the

writing center

, as well as the newly introduced

maker space

.