8 Essential Feminist Filmmakers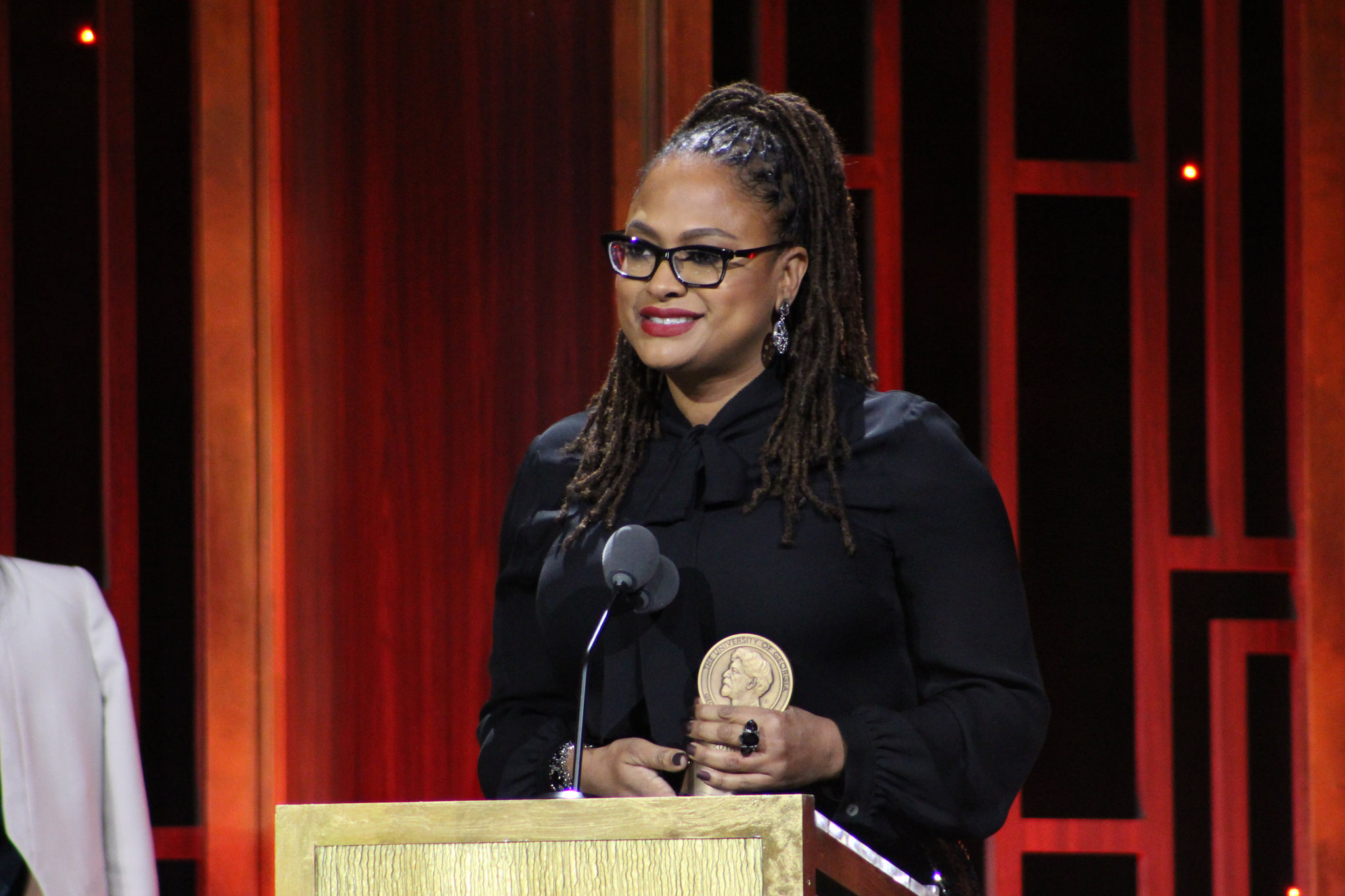 Photo by Stephanie Moreno via Flickr / CC BY-SA 2.0
As we all know, the film industry disproportionately celebrates films and filmmakers that are decidedly not feminist. Despite the biases and challenges that come with being a feminist filmmaker, countless filmmakers throughout history have worked to express themselves and create iconic, paradigm-shifting feminist films. Here are eight of the many filmmakers who we at FEM think everyone should know about.
At 89 years old, Agnès Varda just became the oldest person to ever be nominated for an Oscar for her documentary film "Visages Villages." But to Varda, the nomination is just one tiny accomplishment of her 60 year long career. Varda is a French film director whose fictional and documentary films employ an experimental, lyrical style to convey strong political messages as well as nuanced portrayals of women's emotions and lives. She was the only woman director of the French New Wave, a French film movement during the 1960s that is too often only remembered as being dominated by filmmakers like François Truffaut and Jean-Luc Godard. Varda's documentary-fiction film "La Pointe Courte" is actually regarded as the first New Wave film. Her 1962 film "Cléo from 5 to 7" follows a singer named Cléo from 5 pm to 7 pm in real time as she waits for the results of a cancer test. The film discusses feminist themes like how the way in which women are perceived affects how they see themselves and existentialist themes like mortality and what it means to live a good life. It also includes a subtle yet strong critique of France's colonialism in Algeria.
Cheryl Dunye is a Black lesbian writer and director who was an essential part of the New Queer Cinema movement of the early 1990s. Born in Liberia but raised in Philadelphia, her films feature her distinct narrative voice that is deeply influenced by her past as well as her sexuality and race. She has made over 15 films, but is most known for her 1996 film "The Watermelon Woman." "The Watermelon Woman," the first feature film directed by a queer Black woman, is the semi-autobiographical story of a woman named Cheryl (played by Dunye herself) who struggles to make a documentary about Fae Richards, a 1930s Black film actress known as "the watermelon woman." According to Dunye, the film is important because "…people still don't know what a black queer person looks like, unless it's a farcical, drag queeny, commercial way. That's not all that we are. We're a varied, beautiful 'rainbow' of identities." Dunye's films set examples for future queer filmmakers of color and remain as relevant and beautiful as they were 20 years ago.
Věra Chytilová (1929-2014) was a Czech new wave director who is best known for her boldly subversive, anarchist, experimental style. Her most famous film, "Daisies," was banned in Czechoslovakia for its cutting critique of the country's government as well as the patriarchy. "Daisies" is experimental both in its style that features garish colors, surreal effects, and incongruous editing as well as its narrative and themes. It follows two young women, Marie I and Marie II, as they decide that since the world is a bad place, they will be bad too. They engage in hedonistic activities that parody and smash the rules of femininity. For example, one of the first scenes in Daisies depicts Marie I and Marie II lounging in front of an Edenic apple tree in their pyjamas while sloppily eating as much food as possible.
Just this year, Yance Ford became the first transgender filmmaker to be nominated for an Oscar, for his documentary called "Strong Island." The film is deeply personal––it tells the story about how Ford's brother, a young Black man, was murdered by a white man and how the "criminal justice" system failed Ford's family after his brother's death. "Strong Island" is a deeply layered, emotional, human story that deals with themes like gender and race. In an interview about his Oscar nomination, Ford stated that his goal for the film is to expand the audience's imagination and empathy. In his own words, "[h]opefully, the humanity at the end will help people begin to see through what I think is just a profound lack of imagination. It would be easier for people to grasp that gender, sex, and sexual orientation are different things if we had as much imagination in real life as we do when we are making our movies."
Ava DuVernay is undeniably one of the most important filmmakers of our generation. Over the past few years, she has accumulated numerous awards and broken several records, but her work speaks for itself. She directed "Selma," a film that follows Martin Luther King Jr.'s 1965 Selma to Montgomery march for voting rights. The film earned her the first ever Best Picture nomination for a Black woman director. She also directed "13th," a documentary that explores how since the ratification of the 13th amendment that supposedly ended slavery, systems like convict leasing and the prison-industrial complex have perpetuated slavery under a different name. Most recently, she took a break from directing overtly political films and made "A Wrinkle in Time," an adaptation of beloved children's book that DuVernay decided to change slightly by centering a Black girl as the hero who saves the universe. Through directing this film, DuVernay made history once again as the first woman of color to direct a $100 million movie. But she doesn't worry about the pressure that might come with hitting all these firsts––in a recent interview, she assures us, "I know it's $100 million for the studio. They'll be fine." DuVernay also uses her power and influence to make space for other women filmmakers; she hired an all-women directing team for all three seasons of her show "Queen Sugar." In response to those skeptical about her hiring choices, she stated simply, "If 'Game of Thrones' can have three seasons of all-male directors, why can't we have three seasons of all-women directors?"
Barbara Hammer is an iconic experimental lesbian filmmaker whose career has spanned 40 years. In 1973, she came out, left her husband, and "took off on a motorcycle with a Super-8 camera." That year, she directed "Dyketactics!" which is widely known as the first lesbian film made by a lesbian filmmaker. According to Hammer, her films work to achieve "independence and freedom from social restriction" by depicting taboo images like menstruation, female orgasms, and lesbian sex. Since then, she has created several other films including "Nitrate Kisses" and "Welcome to this House" that are equally radical. She does not care about reaching the mainstream discourse or about offending people with her imagery; in her own words: "[i]f someone responded to me after seeing my films that all they saw were 'pretty pictures,' I'd have to respond that they didn't see my films."
Hayao Miyazaki is the Japanese film director, writer, and animator known for his legendary animated movies like "Spirited Away," "Kiki's Delivery Service," "Howl's Moving Castle," "Princess Mononoke" and many more. His films simultaneously critique broad issues like pollution or war while also weaving poignant, personal stories of growing up and girlhood. His breathtaking animation style as well as his unique stories and characters have made a generation of viewers to fall in love with his movies. His films are deeply feminist––they often center complex women protagonists who are in charge of their own stories. Unlike the many animated movies starring young women and girls, the women in Miyazaki's films are never "damsels in distress" to be saved by a man who loves them romantically. Miyazaki states, "[m]any of my movies have strong female leads—brave, self-sufficient girls that don't think twice about fighting for what they believe with all their heart. They'll need a friend, or a supporter, but never a savior. Any woman is just as capable of being a hero as any man."
Julie Dash is a director, writer, and producer whose unique storytelling and visual style have made her an icon in independent film. She is best known for her poetic, luscious film "Daughters of the Dust," the first feature-length film to be directed by a Black woman (in 1991!) that depicts the lives of a family of Gullah people, or descendants former slaves who developed their own distinct culture and language while living in Georgia and South Carolina. The film uses a unique non-linear narrative and dream-like, lush visuals of women dancing, cooking, and talking among the water and trees of the island they live on to craft an incredibly beautiful ode to Black women. Before she made "Daughters of the Dust," Dash also made the film "Illusions" which critiques the racism and sexism of the film world by showing the life of a Black woman who passes as white while working in the 1940s film industry.