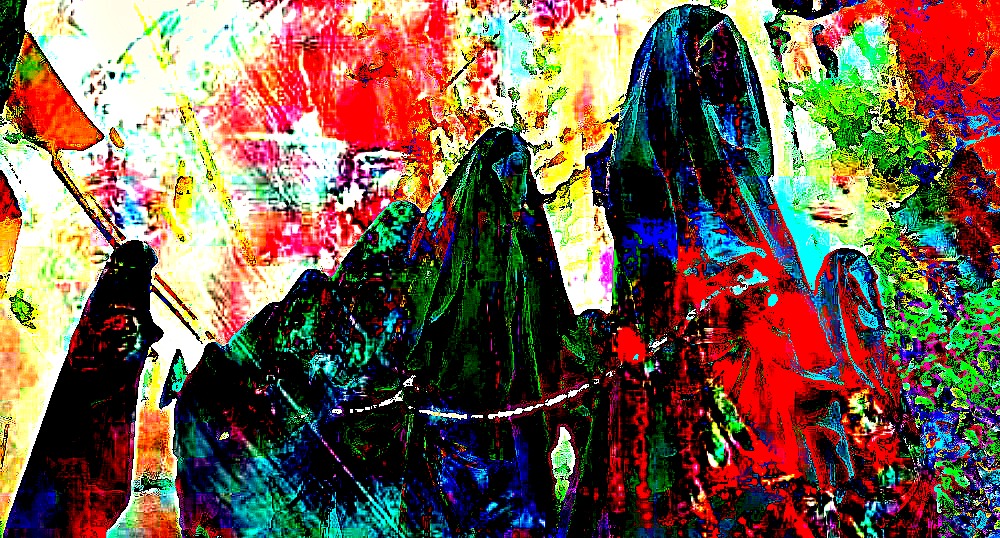 A poem remembering the forgotten faces of girls manipulated into joining ISIS and told never to come back.
See, my name is Samra
Samra Kesinovic.
By now, the letters that string together into the formation of my name
Have disappeared into the horizons of numbers and numbers ticking into television screens, tallied dashes,
And flying announcements.
"One gone!" the media screeches!
"Never come back!" they cry.
See, my name is Samra and my story
remains untold
And yet, my story intertwines into the faces of young girls who pass by on flying Boeings
And unfinished plots.
My face has joined the Data.
The Numbers.
The Statistics.
Months have now passed since my departure and it almost seems as if centuries have flown
My years now quadrupled into the sad truths of confusion, murders, and lies
As the crumpled body of my once friend, Sabina, is now carried away
Shrouded in black
I clutch my elbows unsure of when my own body will be carried away.
See, my name is Samra.
Samra Selimovic and I am 17 years old now.
And by now, my name has become a number.
Forgotten and unimportant.
I remember the first day he approached me
He told me he knew the answers, the troubles, the economic stings, the insults flung at me.
I was too European to be Muslim.
And too Muslim to be European.
And my blue eyes and white skin only separated me from the ranks of young Muslims
Donning scarves and beautifully spoken Arabic verses.
I was 16 when he approached me.
"I too am a European" he comforted me. "I know your troubles".
"I know the truths of war that you know. I know the passing of names that my lips mutter each prayer, fathers and uncles killed in Bosnia, and I know of the disconnect that has widened the gap between your parents and yourself."
And so I listened to him,
My ears filling with naïve hope and belief that one day, I would be understood.
I would be accepted.
See, my name is Samra
Samra Kesinovic
And I am a Jihadi Bride.
I was lied to, manipulated, socially isolated, and by now, my name has just become a number.
A part of the Data.
A part of the Statistics.
My story has by now been forgotten:
The story of the man who told me he knew the answers.
The story of the man who took advantage of me at 16.
The story of the man who claimed he understood me and my social separation.
The story of the man who told me that he had a place where a Muslim ummah remained a sisterhood,
A part of the collective grouping that fought against the colonialism of the West
And stood strong in face of diversity and Islamophobia.
He told me he had the place of true equality,
And I believed him.
See, my name is Samra.
Samra Kesinovic,
And my story by now has been forgotten and replaced
Replaced by Aqsa Mahmood.
Shamima Begun.
Amira Abase.
Kadiza Sultan.
My name is Samra and the stories of how I was lied to, manipulated, and forgotten by both the Muslim and non-Muslim peoples is now buried into the ground with my close friend Sabina
Shot trying to escape the confines of where we live.
And I wait here in Syria for the result of my own fate,
Twisted by foolish youth and shaped by a broken past of genocide, war, and separation.
Oh Ye who told me of sisterhood and a united Muslim state!
The ones who had driven me away to Syria and now, has kept me here
For who will accept the apologies and the mistakes of a young 17 year old?
Which lawyer will stand to defend the naiveties of youth manipulated by lies, abuse, and manipulation?
Which group of humanity will step forward and claim me as "Gone"
"Missing"
And "Important"?
And the answer is clear:
There will be no more to defend me if I was to escape from Syria,
Then there is now.
Where are the social movements? The acts to stop my sisters and my cousins in womanhood from making the same mistakes I did?
Ah yes,
There are none.