Blurred Lines: Where Exactly Do Each of the 2016 Presidential Candidates Stand on Women's Health Issues?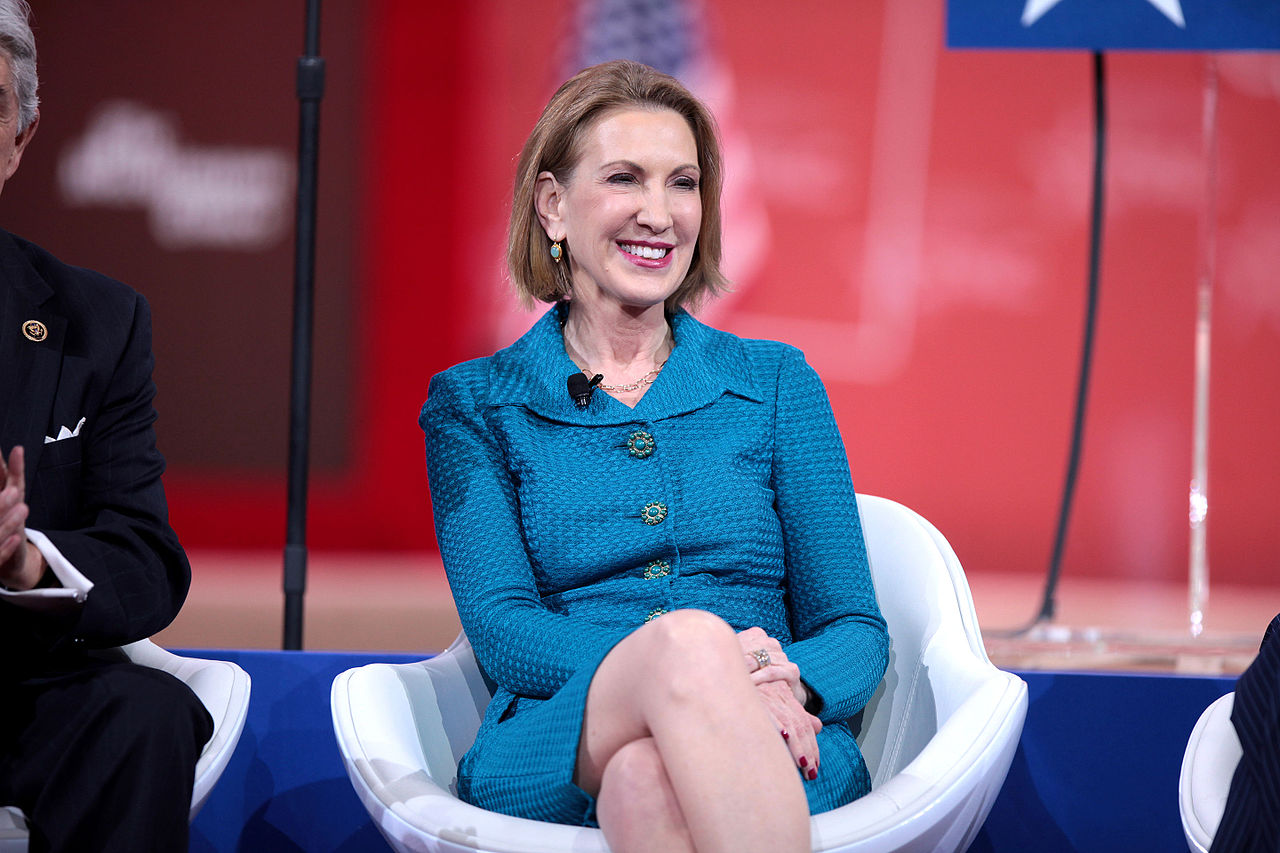 Image: "Carly Fiorina speaking at the 2015 Conservative Political Action Conference (CPAC) in National Harbor, Maryland" by Gage Skidmore [CC BY-SA 2.0], via Wikimedia Commons
The upcoming 2016 presidential election is rife with numerous candidates, copious issues, and views that overlap and also widely diverge. This article attempts to summarize the positions of the candidates on the specific concept of women's health, with major sources of contention being access to abortion, funding of Planned Parenthood, and the overall role of the federal government in controlling the sovereignty people of all genders have over their bodies.
Republicans
Jeb Bush:
In early November, former Florida Governor Jeb Bush reaffirmed what he claimed had been his view all along: "abortions should be allowed in cases of rape, incest, and when the life of the mother is at stake." When asked to clarify what he meant by the "life of the mother", Mr. Bush responded to NBC's Chuck Todd with the distinction that saving the life of the mother is different from what may be argued as maintaining the overall "health of the mother." As governor of Florida, he increased regulation of abortion clinics and limited their number in the state, while also driving through an amendment requiring parents to be notified when their daughters sought an abortion.
In August, Mr. Bush questioned whether "we need half a billion dollars for women's health issues." In a September debate, he continued by asserting, "I don't believe that Planned Parenthood should get a penny from the federal government," instead implying that that 13,000 community-based organizations dedicated to women's health should be able to fund and provide all the necessary services.
Ben Carson:
In contrast to Mr. Bush, in October, neurosurgeon Ben Carson provided an even more extremist position on abortion: he believes it should be banned all together. Dr. Carson likened abortions to murder with no exceptions even in the case of rape or incest, leading New York Magazine to proclaim the presidential hopeful as "worse for women than Trump." On NBC's "Meet the Press", not only did Dr. Carson pronounce that he would "love" for Roe v. Wade to be overturned to make abortion illegal nationwide, but he compared abortion to slavery. As reported by People Magazine, Dr. Carson equated women who chose to have abortions to slave owners who "thought that [they] had the right to do whatever they wanted to that slave."
Consistent with his stance above, in August, Dr. Carson denounced the prospect of a "war on women" and instead affirmed that the war is against "what's inside of women." Referring to the "cute little baby inside of them," Dr. Carson instead maintained that women need to be "re-educated" so they understand it is their supposed duty to "defend" their children.    
Chris Christie:
New Jersey Governor Chris Christie explained why he is pro-life in a New Hampshire television ad that aired in September, in his words, "because I believe that every life is precious… a precious gift from God, and it's not up to us to decide when that life ends." In March, he endorsed a ban on abortions following 20 weeks of pregnancy, several weeks earlier than the restrictions imposed by Roe v. Wade. At the same time, as with Mr. Bush and in contrast to Dr. Carson, as of October, Gov. Christie supported exceptions of rape and incest.
Gov. Christie joined Mr. Bush at a conservative conference in June where he touted his achievement of being "the first governor to veto Planned Parenthood funding out of the budget," holding that "there is no room for compromise there." In fact, in 2010 he abolished all family planning funding in the state of New Jersey, amounting to $7.5 million that had supported fifty-eight clinics. In spite of this, intriguingly, Gov. Christie admitted he used birth control at one point, a contraceptive service that Planned Parenthood helps provide.
Ted Cruz:
Texas Senator Ted Cruz outlined what was deemed at the time to be "the most anti-women agenda yet" following the announcement of his presidential bid in March of this year. Amongst other conservative views across issues of education,immigration, marriage, and ObamaCare, his plan unsurprisingly included "a federal government that works to defend the sanctity of human life." Sen. Cruz opposed exceptions on the prohibition of abortion for rape and incest as of earlier this fall. Despite his hardline stance, in September, the presidential hopeful stopped at the National Federation of Republican Women's annual conference in Phoenix and pronounced those in attendance "a room of fighters… a room of women that stand up and win elections and are going to save this country."
Sen. Cruz brought to the Senate last April a resolution opposing a ban on discrimination by employers for their employee's reproductive decisions in Washington, DC that had passed in the House of Representatives. A statement released by the White House explained that "the legislation would give employers cover to fire employees for the personal decisions they make about birth control and their reproductive health." However, the measure was too late to reach the Senate and White House, allowing the opposite bill to go into effect and thus ban this discrimination, at least for the time being.
Carly Fiorina:
Former Hewlett-Packard CEO Carly Fiorina is seen by many female Republican voters as a counter to the argument that the GOP is waging a "war on women" because of her personal gender identity. Regardless of the reasoning behind this notion, Ms. Fiorina is staunchly pro-life, with the one exception according to The Washington Post being in circumstances involving rape or incest. In September, Ms. Fiorina argued for defunding Planned Parenthood based on its supposed sale of baby parts (implied in a fictional video).
During the Republican debate at the end of October, Ms. Fiorina declared Ms. Clinton's policies as "demonstrably bad for women." Ms. Fiorina insisted that she (herself) supports women's health care, but that Planned Parenthood's "butchering" of fetuses causes her opposition to the organization.
Lindsey Graham:
South Carolina Senator Lindsey Graham concluded that the nation needed to address the "definitional problem with rape" in January of 2015 to clarify what situations deserved exceptions in an overall opposition to universal access to abortion. As of this October, he deemed what qualified as rape and incest worthy of exception. Lifelong bachelor Sen. Graham supported a bill to ban abortions at 20 weeks, similar to Gov. Christie. Nevertheless, in August he transformed the question of the "war on women" into another opportunity to prove his hawkish nature, stating: "the only way we're going to defund Planned Parenthood is [to] have a pro-life president. You want to see a war on women? Come with me to Iraq and Afghanistan… I'll show you what they do to women."
Sen. Graham was the 2006 South Carolina Citizens for Life Legislator of the Year as a result of his work to implement a pro-life agenda on both the state and federal levels.
Mike Huckabee:
Former Arkansas Governor Mike Huckabee addressed the recent shooting at a Planned Parenthood clinic in Colorado Springs by denouncing the attack as "unfathomable." He confirmed: "there's no excuse for killing other people, whether it's happening inside the Planned Parenthood headquarters, inside their clinics where many millions of babies die, or whether it's people attacking Planned Parenthood." Mr. Huckabee opposes all abortions, regardless if pregnancies are a consequence of rape or incest.  As a demonstration of his position, he defended the Paraguayan government when they denied an abortion to a then 10-year-old girl who had been raped by her stepfather.
In 2012, Mr. Huckabee supported Mr. Akin of Missouri who assured, "if it's legitimate rape, the female body has ways to try to shut that whole thing down." Mr. Huckabee insisted at the 2014 Republican National Committee's winter meeting that:  "Republicans don't have a war on women, they have a war for women, to empower them to be something other than victims of their gender." He also criticized the Democratic Party for implying that women "cannot control their libido or their reproductive system without the help of the government." In other words, he claimed that the provision of affordable preventive health care – including birth control coverage – tricks women into thinking they are dependent on the government to protect them from their uncontrollable sexual desires.
John Kasich:
In November of 2014, Ohio Governor John Kasich did not offer support for the "Heartbeat Bill" that would have banned abortions after six weeks of pregnancy, yet contrary to his desire to portray himself as a "moderate" candidate in the 2016 presidential race, he has been consistently conservative in the area of women's health. As a summary of his position reveals, as of July 2015, Gov. Kasich opposed abortions.  In his stance, however, he made exceptions for rape, incest, and when the life of the mother is in danger. Responding to Chris Wallace of Fox News during a September interview, Gov. Kasich asserted his belief that, "Planned Parenthood ought to be defunded, no question about it. We're doing everything we can in Ohio to figure out how to get that done."
Since taking office as governor of Ohio in 2011, Gov. Kasich has enacted 16 anti-abortion measures that either directly restrict abortion or limit the work of abortion providers. A bill amongst these measures revoked $1.4 million in federal planning dollars from Planned Parenthood and another provision forbade state-funded rape crisis counselors from referring women to abortion services. Applications for waivers allowing medical centers to perform abortions now take months to approve, threatening as of September to make Cincinnati the largest metropolitan area in the country without a surgical abortion clinic if a Planned Parenthood clinic and Women's Med clinic are to close.
Rand Paul:
Kentucky Senator Rand Paul raised eyebrows of pro-life and pro-choice activists alike when in May he responded to the question of if he would designate abortion a key issue of his campaign with, "I didn't run for office because of this issue." Nevertheless, in an August appearance of CNN's "State of the Union", Sen. Paul affirmed that, "we have 9,000 community health centers that do everything that Planned Parenthood does, but they don't get abortions." He therefore declared that he "supports any legislation that will defund Planned Parenthood," like with Ms. Fiorina, due to their role in providing safe abortions and allegations of their sale of fetal tissue. Although Sen. Paul later expanded on his pro-life reasoning by expressing that the issue of abortion is best handled by the states, as senator he undertook numerous efforts to curb women's rights.
In 2013, Sen. Paul introduced the Life at Conception Act in an effort to protect fertilized eggs (and therefore ban abortion) using the Fourteenth Amendment – even if the woman was impregnated through rape or incest. Moreover, he voted against reauthorizing the Violence Against Women Act, and in 2012, he opposed the Paycheck Fairness Act that would assist women in obtaining equal pay. On the other hand, he has supported victims of sex trafficking and established an internship program with the Christian-based group Refuge for Women.
Marco Rubio:
On a radio show in August, Florida Senator Marco Rubio emphasized his increasingly hardline stance on abortion with no exceptions for rape or incest, stressing, "I believe a human being is entitled to life, irrespective of the circumstances in which that human being was conceived." Furthermore, in September, Sen. Rubio accused Planned Parenthood of "pushing women into receiving more abortions" and pronounced that "if you go to these centers, young women are provided very few options, in many places they're not told anything about, for example, adoption services that may be available to them." Sen. Rubio and Mr. Huckabee held that the Constitution would give them as president the power to make abortion illegal nationwide during a an August Republican presidential debate.
In 2012, Sen. Rubio played a role in bringing the Religious Freedom Restoration Act to Congress in an effort to give companies the ability to deny birth control coverage as part of their health insurance plans based on the employers' religious beliefs. He also voted against lessening the gender pay gap and against the re-authorization of the Violence Against Women Act, the same as Sen. Paul.
Rick Santorum:
At an October Faith & Freedom Coalition event in Dallas, former Pennsylvania Senator Rick Santorum articulated his viewpoint that, "Planned Parenthood isn't a women's health clinic, but rather an abortion clinic. If we really care about women's health… we need to reallocate the money to places where women can get better care." He previously expanded on this position when featured on The View at the beginning of the same month despite incorrect or absent evidence to support his claims regarding the services provided by Planned Parenthood and other health centers.
During his 2012 bid for the GOP nomination, Mr. Santorum told rape victims to "make the best out of a bad situation," even proposing that physicians who perform abortions to victims of rape or incest to be "criminally charged."
Donald Trump:
In August, businessman and television personality Donald Trump pledged that women's health "will be a very major thing" in his presidential campaign, going further to say that he "will take care of women's health… better than anybody and far better than Hillary Clinton." He stated that in part due to efforts by his wife, Melania, and daughter, Ivanka, as well as in response to comments by Mr. Bush about reducing the amount of funding for women's well-being that, "I will take care of women".  Nonetheless, during an interview on Fox News in October, Mr. Trump he stated, "Planned Parenthood should absolutely be defunded" and labeled it "an abortion factory."
Moreover, in August, Mr. Trump began to strengthen his pro-life position, yet he still appears to retain a greater sense of uncertainty than many other Republican candidates which has made anti-abortion activists unconvinced about awarding him their support. For instance, at least as of October, Mr. Trump continued to support exceptions for rape and incest, and back in 1999, he had described himself as "pro-choice with reservations."
Democrats
Hillary Clinton:
In August, former Secretary of State Hillary Clinton compared the stances of the Republican candidates to "those of terrorist groups," specifically calling out Mr. Bush, Mr. Kasich, and Mr. Rubio for conservative views on reproductive rights that are "dead wrong for 21st [century] America." She also termed Mr. Trump's claim that he would be a superior authority on women's health issues "laughable" in a September interview with ABC's David Muir. Ms. Clinton went on to pronounce that, "as a woman, I believe my ability to make decisions about my own body is a fundamental right." The presidential hopeful defended Planned Parenthood for the range of health care services they provide in a September conversation on CBS's "Face the Nation". In response to an inquiry about the alleged Planned Parenthood videos, Ms. Clinton lamented, "this is really an attack on Planned Parenthood, which provides a lot of health services, from cancer screenings, to contraceptive services, to so many other of the needs women have."
In addition to being a staunch supporter of access to abortion and other medical needs, Ms. Clinton has maintained that by and large, "women's issues are family issues, economic issues, and crucial to our future competitiveness." She affirmed that she will also work to close the pay gap, fight for paid family leave, and make affordable childcare a reality.
Martin O'Malley:
Former Maryland Governor Martin O'Malley stated that abortions should be legal without intrusion or interference from the government in May of this year.
In October of 2010, Mr. O'Malley affirmed his belief that, "[abortion] is an issue that is best left to the individual conscience of women." O'Malley received a "100% rating from NARAL Pro-Choice Maryland" for his support for abortion rights and increased access to contraception. In 2012, O'Malley signed the Family Planning Works Act to provide low-income women with pregnancy counseling, STI testing, and cancer screenings, bringing subsidized medical services to 33,000 more women in the state. He also signed the Maryland Parental Leave Act in 2014.
Bernie Sanders:
Similar to Ms. Clinton, as explained by a May article, Vermont Senator Bernie Sanders has been consistently and firmly pro-choice, and comparable to Mr. O'Malley, maintaining a 100% rating from NARAL Pro-Choice America. Sen. Sanders has focused on expanding education and ensuring methods of contraception are accessible to everyone. In July, Sen. Sanders declared, "the current attempt to discredit Planned Parenthood is part of a long-term smear campaign by people who want to deny women in this country the right to control their own bodies." He asserted: "Federal funding for Planned Parenthood does not pay for abortions. The vast majority of government funding… is through Medicaid reimbursements. Cutting that funding will be devastating to the health needs of millions of women who desperately need the quality services Planned Parenthood provides."
In 2013, unlike several Republican candidates, Sen. Sanders voted to reauthorize the Violence Against Women Act.  He also previously helped to sponsor the Women's Health Protection Act to lift restrictions on abortion.