Cate Blanchett: Feminism's Sweetheart
At the 21st Annual Screen Actors Guild Awards, E!'s Giuliana Rancic greeted Cate Blanchett on the red carpet, and even the six-time Academy Award nominee couldn't escape the dreaded "glam-cam"—a camera perspective that manifests the male gaze as it inspects a woman's entire body from head to toe. The interview seemed to be going per usual: The camera zoomed in on the hem of the actress' blush Givenchy gown, and slowly began to peer upwards, when Blanchett suddenly hunched down into the shot: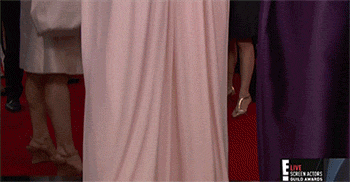 Image Credit: Matt's GIFs
 "Do you do that to the guys?"
The camera man, obviously not anticipating an interjection, quickly tried to defend himself, affirming "Yes, yes, we do!" Yet Blanchett carried on, "What do you think is going to happen down there that is so fascinating?"
And right then and there, a star was born–or reborn.
Cate Blanchett has been one of Hollywood's most prestigious and versatile actresses, garnering accolades for her performances in films such as Elizabeth (1998), The Aviator (2004), and this year's Blue Jasmine, for which she is expected to win the Oscar—again. Yet this time around she's emerging as not only a critically acclaimed actress, but a prevalent advocate of women's rights.
An audacious force on and off the screen, Blanchett didn't yield when she witnessed more double standards that evening. After Matthew McConaughey gave an aberrant, long-winded speech upon receiving the Best Actor award, Blanchett noticed her time to accept the Best Actress award was remarkably shorter: She motioned at the teleprompter, "29 seconds? Matthew McConaughey spoke about Neptune…I think I can have five seconds." The room immediately filled with applause, and so did the internet.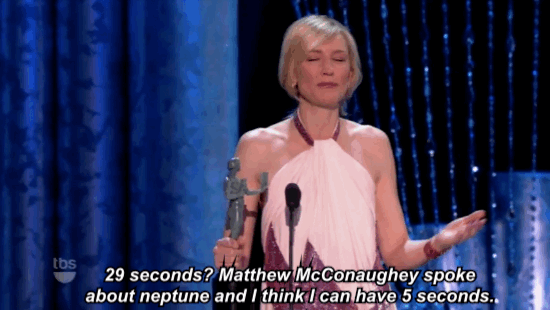 Image Credit: BuzzFeed
In light of the red carpet backlash, E! News attempted to make their case: "But is it really so hard to understand why we'd want to get a complete look at her outfit, considering she's one of Hollywood's top fashionistas?!"
Well, last time I checked, Blanchett was an actor.
She has even expressed her waning concern with beauty standards: "Honestly, I think about my appearance less than I did ten years ago," she stated in a recent interview with Never Underdressed.
"People talk about the golden age of Hollywood because of how women were lit then. You could be Joan Crawford and Bette Davis and work well into your 50s, because you were lit and made into a goddess. Now, with everything being sort of gritty, women have this sense of their use-by date."
Given the criteria women in Hollywood are held to, it was not surprising to see the gender inequality infographic reported by the New York Film Academy late last year. The statistics showed significant percentages of gender bias on film and within the industry itself, such as how the top 16 biggest paychecks per film of 2013 all went to male actors.
Yet if the largest salaries are going to men, that must mean they are more highly regarded—so why are they not the ones being scrutinized by the red carpet's glam-cam?
If we are going to pan over the body of every female actor, there must be a reason—and judging by the statistics above—it isn't because women are the more representative figures of the industry.
Just refer back to Blanchett's acceptance speech.
Blanchett doesn't only point out the discrimination women face in Hollywood, but also the discrimination women face in all career aspects. Consider her interview with Sky News back in September where she called attention to the sexist campaign against former Australian Prime Minister Julia Gillard: "Whether you admire her as a politician or not, as a woman and out of respect for the office of the prime minister, how she was treated was quite shocking."
Hollywood is one of the world's most prominent stages, and Cate Blanchett is no doubt one of the best actors in the business. Her declarations for feminism are nothing to be scoffed at, not because of her celebrity status, but because they are enlightening viewpoints on the current state of women's rights.
In the same interview with Sky News, Blanchett remarked that she was reading "The Misogyny Factor" by feminist writer Anne Summers, which compelled her to think "that all of the steps forward that we've made … a lot of those have been rescinded."
In a world where the unfair treatment of women—whether it be in Hollywood, politics, or life in general—is continually tolerated, Blanchett's words and actions are refreshing to witness. Therefore when a woman who proves to be inspiring in her craft as well as in the social forum calls attention to any prevailing sexism, it is crucial that we let her speak—and for more than 29 seconds.
This article was written and published prior to the release of Dylan Farrow's essay. We encourage our readers to speak out on the issue in the best way they see fit.